A Life Rooted in Justice: John McKenna
On October 17th,
John McKenna
, co-founder of Haley House, died surrounded by his loving family and friends after a long illness. Born in Roxbury in 1944, John was a man of action whose life was rooted in fairness and justice.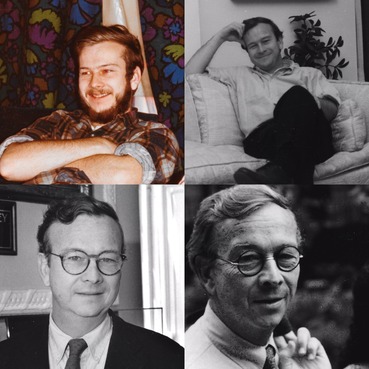 In 1966, John found a kindred spirit and partner in Kathe, his wife of 49 years (they honeymooned on James Meredith's "March Against Fear.") When they saw men sleeping in doorways in the South End in the mid 1960s, they provided hospitality, inviting men to sleep in their living room. When the need to feed, clothe and shelter homeless men exceeded the space in their apartment on Upton Street, together with like-minded friends, they purchased 23 Dartmouth Street and founded Haley House of Hospitality. To cover the bills, John dug graves at Brook Farm cemetery. In order to support their growing family, John became an MBTA police officer, and later put himself through Suffolk Law School. He passed the bar on his first try and practiced law for 14 years. Gov. Weld appointed him to an administrative law judgeship in 1992. John eventually went back to providing direct care to homeless individuals and families at Pine Street Inn and Sojourner House, and continued to serve the community in many ways.
John is survived by his wife, Kathe; daughters Tamara McKenna, Johanna McCarthy, Molly Canick, and Brigid McCaffrey; sons-in-law Thomas Brown, Simon Canick, and Kevin McCaffrey; grandchildren Oscar, Lucy, Beatrice, Miles, Sam, Reilly, Finn, and Amalia; sisters Joan Beth Condon and Maureen Horn; and brothers in-law Robert Condon and David Horn and many nieces and nephews. John's memory and dedication to justice continue to inspire the mission of Haley House, but he is already missed. There will be a memorial service for John on
Saturday, December 5th.
Click here to read the full obituary
.
---
Please Come: A Sweeter Life Fundraiser
Please join us
THIS
Sunday, November 8th
from
3-5 pm
for our annual
"A Sweeter Life" dessert fundraiser
at Haley House Bakery Café. Boston's finest dessert chefs will showcase their signature treats at a "tasting" fundraiser honoring Haley House's Transitional Employment Program, which supports individuals transitioning from incarceration. Tickets for the main event cost $50. From 2-3 pm, the pastry and dessert chefs will host a special meet & greet reception – an early-admission ticket ($100, includes main event) is required for this pre-event gathering.
This year, our fabulous line-up of bakers includes: Lee Napoli (Chocolee Chocolates), Brian Mercury (Harvest Restaurant), Gus Rancatore (Toscanini's Ice Cream), Julius Johnson (Sifted Cakes), Maria Farrah Howell (chocolate + sel), Audley Mills (Dot2Dot Café), Jessica Morris (Flour Bakery + Café), Tara (Blackbird Doughnuts), Gates Cleghorn (Boston Day & Evening Academy), Dana Love (Ice Cream), and Haley House Bakery Café's own pastry chefs, Naun Rivera & Bettina Scemama. This event is generously sponsored by MG2, Shawmut Construction, and Sasaki Associates. For more information or to purchase tickets,
click here
.
---
'Tis the Season for Haley House Pies!
The annual
Haley House Pie Drive
is underway! Time is quickly running out to submit your orders for your scrumptious made-from scratch pies using the freshest (mostly local) ingredients by the incredible team of bakers at Haley House. This year's lineup includes:
Apple Crumb (featuring Granny Smith apples from Brookdale Farm in Hollis, NH)
Blueberry Crumble (with wild Maine blueberries)
Pecan (using agave – no corn syrup!)
Pumpkin (a Thanksgiving classic)
Sweet Potato (the real deal!)
Gluten-Free Sweet Potato (the real deal, minus the gluten!)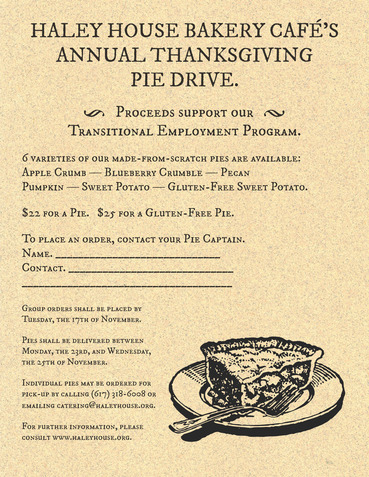 Proceeds from the sale of
pie
s
benefit the Transitional Employment Program (TEP), which assists women and men transitioning from incarceration. P
ies are available for $22 ($25 for gluten-free pies). Pick-up is at Haley House Bakery Café (12 Dade Stre
et, Roxbury) from Monday, November 23rd to Wednesday, November 25th, with complimentary delivery (within Boston & Cambridge) for orders of 10 or more pies. Group orders can be organized by "Pie Captains." The order deadline is
Tuesday, November 17th
. Call (617) 318-6008 to order your pies over the phone, stop by HHBC, or visit
haleyhouse.org/pies
to order online (and find materials for Pie Captains)!
---
Dudley Dough... Open for Business!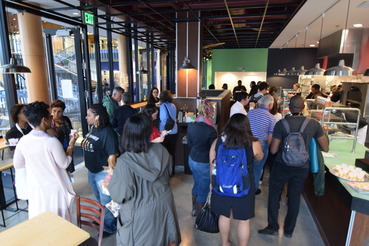 In case you've missed the news,
Dudley Dough
, Haley House's
new social enterprise pizza shop
, is now open for business! Thanks to everyone who stopped by to join in the fun (and good eats) during our opening week... if you haven't visited yet, come on down to try one of our delicious pizzas, soups, salads, HH baked goods, Toscanini's ice cream, Equal Exchange coffee drinks, MEM tea, smoothies, and more. To read more, check out
this article from Boston.com
with some beautiful pictures of the fabulous staff in action. If you've already visited Dudley Dough and you liked what you ate, we'd love to have you write a review (
Yelp
,
Facebook
,
Google
,
Zomato
). Dudley Dough is also hosting a clothing drive for the guests in our Soup Kitchen: men's clothes can be dropped off from
Thurs. 11/5-Tues. 11/24 at DD. Check out the sidebar for
our highest-priority needs.
---
Garden Updates: Come Help Harvest!
It's a busy time of year in our gardens, and we'd love to have a few extra hands to help out! This month's Workday at McKinley Garden will be Saturday, November 14th from 10 am-12 pm (meet at 23 Dartmouth Street, South End). No tools needed, all experience levels and ages welcome. RSVP to Cara.
And we're looking for lots of volunteers to help out at Thornton Gardens & Farm in Roxbury this month. Come join us for one the Saturday Workdays: 11/7, 11/14 and 11/21 from 10 am-12 pm, meet at 95 Thornton Street. Contact Karsten to RSVP.
And contact Cara if you'd like to be included in the monthly garden email updates!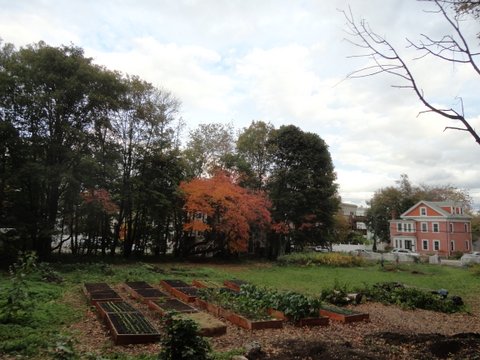 ---
Homelessness + Racism + Social Justice?
"Homelessness mirrors everything that is broken in our society. It reflects our biases, our meanness, our lack of compassion and our views of each other as fellow human beings."
So begins a compelling two-part article by
Jeff Olivet

at
Huffington Post (click here for
part 1
&
part 2
) drawing attention to the ways that racism is at work in our policies about affordable housing, criminal justice, employment law, and social services. While these articles raise more questions than answers, we think they're worth a read and discussion.
---
Neighborhood Harvest Festival: THANKS!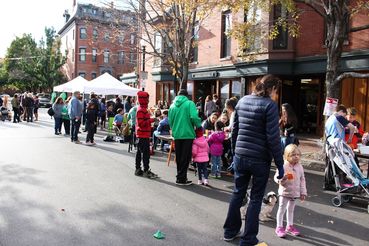 Many thanks to friends and neighbors who helped celebrate autumn during our first Neighborhood Fall Harvest Festival on Saturday, October 17th at our Soup Kitchen. Highlights included an old-fashioned cider press (courtesy of Allandale Farm), treats from Dudley Dough and Lee Napoli's Chocolee Chocolates, and a sampling of Haley House Thanksgiving Pies!

**HHBC closed Thurs. 11/26 – Sun. 11/29**
No Community Tables Sat. 11/28; double seating for Thanksgiving Community Tables on Sat. 11/21 (see below for details)
Events
11/5: Art Is Life Itself!
featuring Fulani Haynes Jazz Collaborative + Spoken Word Artist Jha D Williams + open mic, 7-10 pm at HHBC (
more info
)
11/7: Thornton Garden Workday
10 am-12 pm, meet at 95 Thornton Street (RSVP to
Karsten
)
11/12: Art Is Life Itself!
featuring recording artist Radiant Jasmin + "SpelHouse" Historically Black Colleges & Universities: The Black Ivy League School Experience + open mic, 7-10 pm at HHBC (
more info
)
11/13: House Slam featuring Taylor Steele, doors open at 6:30 pm at HHBC (
more info
)
11/14: Thornton Garden Workday
10 am-12 pm, meet at 95 Thornton Street (RSVP to
Karsten
)
11/14: McKinley Garden Workday
10 am-12 pm, meet at 23 Dartmouth Street (RSVP to
Cara
)
11/17: Roxbury History Series
"African Americans in the Military (and in the Peace Movement)," 7-9 pm at HHBC (
more info
)
11/19: Art Is Life Itself!
Dynamic Duo Poets Crystal Beck & Didi Delgado, You Can Heal Yourself by Lynnette Crosby, 7-10 pm at HHBC (
more info
)
11/21: Thornton Garden Workday
10 am-12 pm, meet at 95 Thornton Street (RSVP to
Karsten
)
11/21: Thanksgiving Community Tables Two seatings: 5-6:30 pm, 7-8:30 pm at HHBC
11/27: The House Slam
Doors open at 6:30 pm at HHBC (
more info
)
12/4: Annual Charlie King Holiday Concert
6:30 pm at HHBC (
more info
)
12/5: Memorial Service for John McKenna 2 pm (further details in next month's newsletter)
12/9: Roxbury History Series: Stokely Carmichael: A Conversation
7 pm at HHBC (
more info
)
2/21/16: 8th Annual Souper Bowl Fundraiser & Kick-off to 50th Anniversary Year at HHBC, details to follow
---
Volunteer Opportunities
We're especially in need of volunteers when our college regulars are out of town. Dates include: Nov. 23rd-30th (Thanksgiving break), and December 10th-January 31st (holiday break). Please
click here to register and view available dates
.
---
Dudley Dough Hours & Menu
MONDAY-FRIDAY
7 am-8 pm
To see our menu, click
here
.
---
Donation Needs
Soup Kitchen:
Silverware
Bowls
Mugs
Plates
Tool Boxes
Food Processor
Screw Drivers
Clothing For Our Guests:
Each Monday morning, we open the "clothing room" for our soup kitchen guests. All men's clothing donations are very much appreciated, especially:
winter coats
boots and shoes
pants
new men's underwear
new wool or cotton socks
thermal underwear
sweaters and sweatshirts
winter hats, gloves, and scarves
backpacks
toiletries
---
Café Hours
**Now open for Dinner with NEW DINNER MENU ITEMS Tuesdays-Fridays**
MONDAY
7:30 am - 6 pm
TUESDAY & WEDNESDAY
7:30 am - 9 pm
THURSDAY
7:30 am - 10 pm
FRIDAY:
7:30 am - 9 pm
SATURDAY:
9 am - 4 pm
SUNDAY:
10 am - 4 pm
---
Apartment for Rent
Can't live without your daily cookie from Haley House Bakery Café? There's a vacancy for an apartment right above our cafe at 12 Dade Street (3 bedroom, 3 bath, $3200 per month). Contact
Jill
for more information.
---
Choose Haley House on Amazon Smile!
If you're purchasing from Amazon this holiday season, please consider supporting Haley House by shopping at
smile.amazon.com
– if you select Haley House, Inc. as your charity of choice, Amazon will donate 0.5% of your purchase price to Haley House.