June 3rd: Haley House Block Party!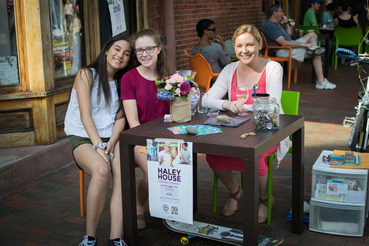 We hope your calendar is marked for the 14th annual Haley House Summer Block Party & Fundraiser on Saturday, June 3rd (4-7 pm), at our original location: 23 Dartmouth Street in the South End (where our Soup Kitchen is located). This fun community event features a fabulous silent auction, live music, games and activities for kids, wine and beer tasting (thanks to The Wine Emporium and Harpoon), delicious juice and sampling (thanks to Purity and MEM Tea), and delicious food from Haley House Bakery Cafe and Dudley Dough!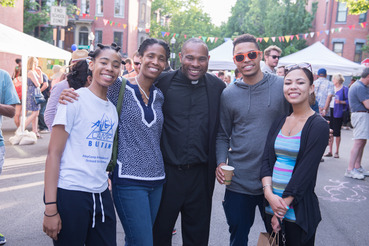 ALL ARE WELCOME-- it is an event not to be missed! Suggested donation is $10 per adult, which includes drink tickets and food, and kids are free. All proceeds from this fundraiser support the critical services for the community offered by Haley House.
Click here
for more information or contact
Catherine
if you'd like to get more involved. We look forward to seeing you there!
---
The World Will Be Saved By Beauty
Many members of the broader Haley House community were grateful to have the chance to meet and hear Kate Hennessy speak this past month in Boston. Kate is the youngest of Dorothy Day's grandchildren, and has recently written a beautiful book about her grandmother and mother. To hear Kate interviewed about this book
click here
, or
click here
to purchase the book.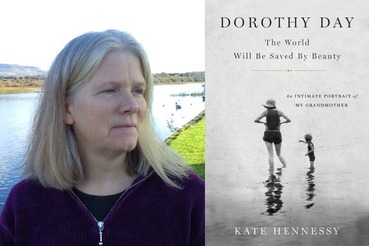 ---
Ice Cream & Scholarships at Pie-R-Squared
Pie-R-Squared, the awesome free math tutoring program located at Dudley Dough, is wrapping up the school year. Everyone is busy now with AP Calculus exam reviews and helping students with homework and math preparation for end-of-year exams.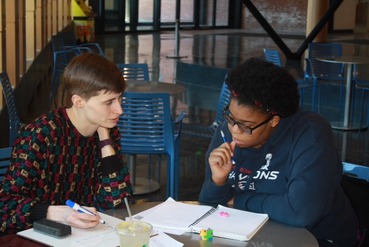 At the end-of-the-year Ice Cream Social on J
une 21st (3 pm
at Dudley Dough) we plan to award our first ever scholarships to two seniors who will attend college in the fall. Awards will be granted to students who have showed great dedication as math students and peer tutors. Funds for these scholarships are being gathered now. (The daily operating budget covers food costs, which average $600/week.) If you would like to help send our scholars off to college, please consider making a donation and supporting our community-based math program. Link to donation page
here
.
---
Jane Jacobs, Pulse, and Haley House at BC

Thirty years ago, on April 10, 1987, the acclaimed urban theorist and activist Jane Jacobs made the first of several visits to Boston College to participate in a symposium devoted to her work. Jacobs's encounters with faculty and students—particularly those involved with BC's PULSE Program for Service Learning—gave new form to her writing. Haley House was pleased to have been included in a special exhibit and celebration of Jacobs at the Burns Library at Boston College (through June 23). Long-time friends of Haley House, Ilona O'Connor and Julia MacLaughlin, visit the exhibit in the photo, above. For more information on the exhibit
click here
.
---
Honoring Our Mothers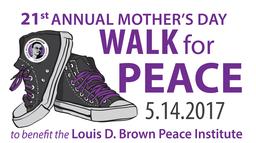 The Mother's Day Walk for Peace is a celebration of our potential to create more peaceful communities and benefits the Louis D. Brown Peace Institute. Every year families from across the state and region walk together toward peace because in unity, there is healing! This Mother's Day, we invite you to join others in demanding dignity and compassion for all families impacted by murder by becoming part of the Haley House Walk for Peace Team on
Sunday, May 14
. The walk begins at Town Field in Dorchester at
8 am
. For more information
click here
and contact
Sharon
if you'd like to join the Haley House team.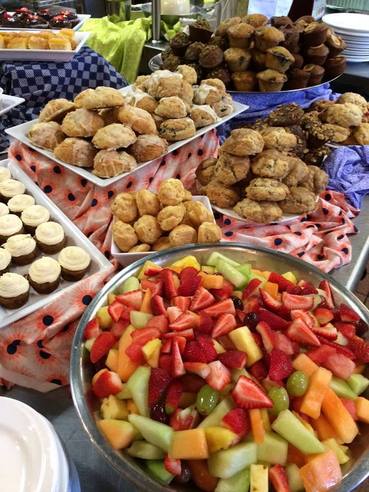 Another great way to celebrate the special mother-figures in your life is to invite them to the Mother's Day Brunch Buffet at the Bakery Café (Sunday, May 14th). There are three ticketed seatings: 10:30 am-12 pm, 12:30-2 pm, and 2:30-4 pm. Each year our dynamite team pulls out all the stops for this special meal: omelets, waffles, chicken, veggies, desserts, plus free mimosas for all moms. Tickets are available right now – but don't delay, they usually sell out quickly. (
Click here for more info or to buy tickets
)
---
THANKS ALL AROUND: Karsten, Students, Ben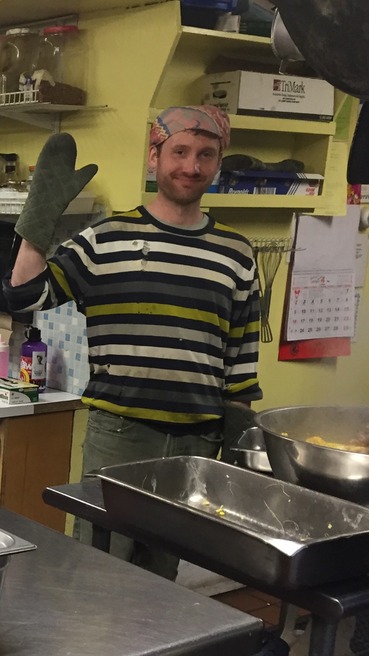 Earlier this month, we bid a sad farewell to Karsten Frey, who has been a wonderful member of the live-in community and farm team for the past three years. Please join us in wishing him the very best of luck and traveling mercies as he begins the next phase of his adventure.
As we approach the end of the school year we'd like to thank all of our faithful student volunteers who joined us this year from schools near and far including Boston College, Tufts, Northeastern, Boston University, University of Notre Dame, Roxbury Community College, MassArt, Wellesley College, Simmons, Roxbury Latin, City On a Hill, Brookline High, Harvard Divinity and many more). Good luck on finals and we hope to see you all again soon!
Big thanks and congratulations also to past summer intern, Ben Tillotson, who completed the Boston Marathon this year (and hit another qualifying milestone) and raised funds to support Haley House with his running!
---
Bags of Spinach: Spring at Thornton Farm!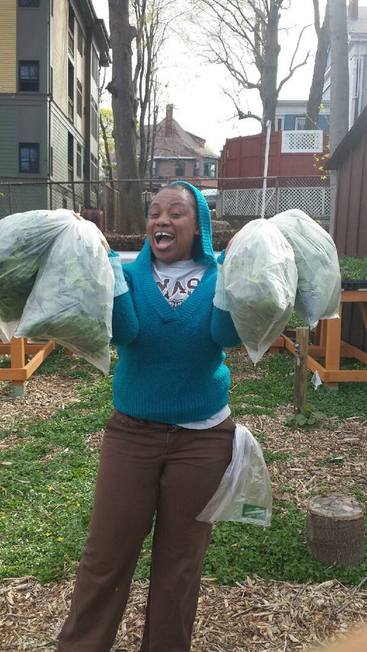 The farm is off to a great start this spring! Already this week, you can find fresh spinach from Thornton featured on pizzas at Dudley Dough, the first Haley House produce to be featured on the menu this growing season. Kale and collard greens have been planted and will be featured on the menu in regular rotation at HHBC and Dudley Dough this summer!
Thanks to all of the volunteers who have already helped out to get the site ready for spring planting. Over the past few weeks, all of our beds have been weeded and turned over, paths mulched, and perennial native plants have been planted around the perimeter of the farm. We are looking forward to many warmer days outside and getting all of crops in the ground!
---
Vagina Monologues Auditions
Haley House Bakery Cafe and Vday Belmont are seeking readers for an August performance of Eve Ensler's Vagina Monologues. Auditions will be held Monday, May 15
from 5:30-7:30 pm in the basement of Haley House Bakery Café. First come, first seen. No prior acting experience necessary, and readings will be provided. This is a unique and exciting opportunity to be part of a diverse community effort to promote and support women and the struggles many have endured. Performance dates are August 16 & 17 at Haley House Bakery Café and funds raised will benefit New Beginnings Reentry Services, Inc., a program designed to support women transitioning back into their home communities from incarceration. With questions click here.


EVENTS
5/4: Fulani Haynes' Jazz Collaborative presents Jazz by Any Means Necessary
, 7-10 pm at HHBC (
more info
)
5/11: Outside the Box Productions Presents Lifted,
featuring Red Sage Stories, Phoenix and More, 7 pm at HHBC (
more info
)
5/12: House Slam
featuring Timothy DuWhite, 6:30 pm at HHBC (
more info
)
5/14: Mother's Day Brunch
10:30 am - 4 pm at HHBC (
more info
)
5/14: Mother's Day Walk for Peace
at 8 am, meet at Town Field in Dorchester (
more info
)
5/15: Auditions for Vagina Monologues
at HHBC (basement), 5:30-7:30 pm (
contact
)
5/18: AiLi Live
featuring award-wining spoken word artist Oompa Will + open mic, 7 pm at HHBC (
more info
)
5/25: Artist Reception for BDEA Student Art Exhibit, 5 pm at HHBC (more info to follow)
5/25: Lyricists' Lounge presented by Boston Day & Evening Academy
, 7 pm at HHBC (
more info
)
5/26: House Slam
,
6:30 pm at HHBC (
more info
)
6/3: 14th Annual Block Party & Silent Auction
, 4-7 pm at 23 Dartmouth Street (
more info
)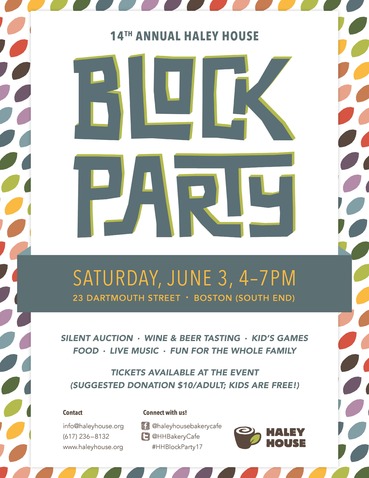 6/5: Non-profit Networking Night
, 7-9 pm at Dudley Dough (
more info
)
6/21: Pie-R-Squared Ice Cream Social and Scholarship Awards, 3 pm at Dudley Dough
8/12: Outdoor Community Tables (more info to follow)
---
Donation Wish List
Clothing For Soup Kitchen Guests:
Each Monday morning, we open the "clothing room" for our soup kitchen guests. All men's clothing and personal hygiene projects are very much appreciated, especially:
NEW underwear (all sizes except small)
Men's socks
Shoelaces
Belts & Suspenders
Pants (especially between size 30-40) & shirts (men's)
T-shirts
Vests, sweaters & sweatshirts
Travel-sized toiletries (soap, body wash, shampoo, conditioner in travel sizes, lipbalm)
Toothbrushes & Toothpaste
Deodorant
Shaving cream & razors
Soup Kitchen & Live-In Community:
Forks
Mugs
Bowls
Plates
Books & magazines (Spanish & English)
Checkers, chess, & scrabble sets
Dudley Dough:
Small shelf or nightstand for community postings and flyers
---
Haley House Bakery Café Hours
MONDAY & TUESDAY
7:30 am - 6 pm
THURSDAY
7:30 am - 10 pm*
*food until 9 pm
FRIDAY:
7:30 am - 8 pm
SATURDAY:
9 am - 4 pm
SUNDAY:
10 am - 4 pm
---
Dudley Dough Hours
MONDAY-FRIDAY
7 am- 9 pm
SATURDAY
11 am- 9 pm
---
Fresh Veggies @DD
Dudley Dough received its first delivery of the season of farm fresh-veggies from Haley House's Thornton Urban Farm right here in Roxbury! All summer long, come enjoy farm-to-table pizza and salad ingredients with locally grown spinach, kale, basil, tomatoes, and more!
---
Walk for Hunger
Consider joining Haley House's team for
Project Bread's Walk for Hunger this
Sunday, May 7th.
Walk a mile or walk the full 20-- there is no obligation to do the full stretch, and the more th
e merrier!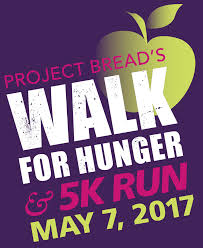 The walk raises funds for Project Bread, an organization that has provided crucial support for the Soup Kitchen at Haley House for many years. To join the team or donate to the
cause
click here
.