Read All About It: HH Annual News 2017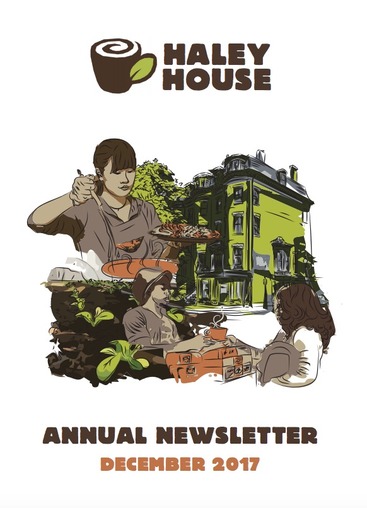 Fresh off the press, what you've all been waiting for: the Haley House Annual Paper Newsletter!
In this issue, we've compiled great stories from our community from the past year, including stories about residents of our housing, the TEP program and updates from all of our programs. Click
here
to check it out online, and sign up
here
to get the next one delivered to your mailbox if you're not already on our mailing list.
---
Winter Gear, Christmas Presents & Fresh Socks

As the weather gets colder, the need for winter gear increases for the guests in our soup kitchen and affordable housing. We need your help to keep them warm:
We are collecting NEW winter hats, gloves, scarves and socks to give to guests in the soup kitchen on Christmas morning. Can you

help us collect these ite

ms over the coming weeks?
Support residents of our low-income housing by donating the following: bed bug mattress covers, sheets & comforters for twin beds, pots & pans, gift cards for grocery & clothing stores.
We're also looking for friends to organize drives year-round to keep our clothing room stocked and our guests warm and healthy.

Some of the most requested

items are: travel-sized toiletries, sleeping bags, and mens' shoes and clothing (especially new socks and underwear).
If you're interested in donating any of these items or organizing a drive, please contact
Rachel
.
---
A Sweet Gift: Holiday Cookie Boxes
Looking for a
holiday gift with purpose
? Consider supporting Haley House by purchasing:
Holiday Cookie Boxes ($25 each)
Handmade Pies ($25 each)
Order by phone (617-939-6837),
email
, or in-person at Haley House Bakery Café.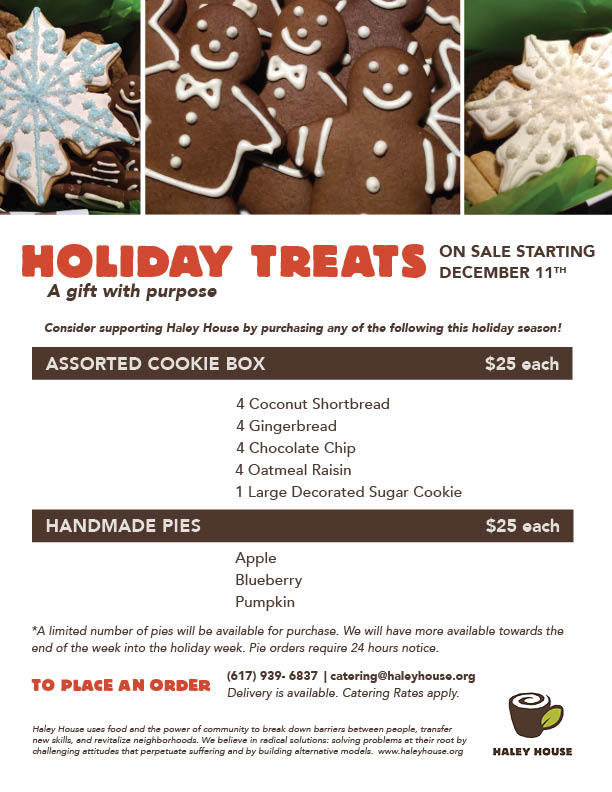 ---
Live With Intent: Join The Live-In Community!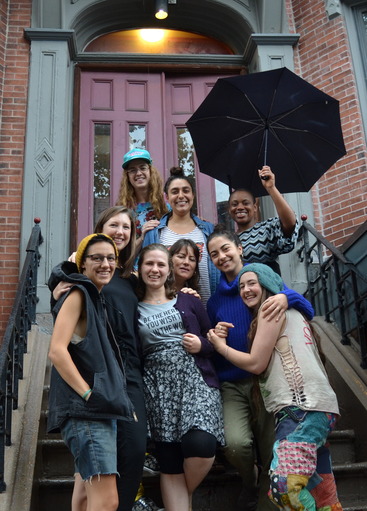 The search continues for new Live-In Community members! For 51 years, Haley House has operated as a soup kitchen run by a community of "live-in" volunteers. This community collaboratively manages the soup kitchen, which has the mission to serve nutritious, made-from-scratch meals and create an atmosphere where friendship and community is fostered across all societal boundaries. In addition, they devote time and energy to forming deep relationships with each other and with our guests.
Living and working at Haley House offers a unique opportunity to experience intentional community living (5-7 people), self-growth, consensus-based decision making, contemplative discussion, interactions with new people each day, hard work, volunteer delegation, lots of cooking, and much joy along the way!
The current community at Haley House is seeking new members who can commit to two years as a member of the community. Applications are processed on a rolling basis and they are looking for applicants to begin as soon as possible. For more information about the live-in community of Haley House, click here
, or email the community here
.
---
Sol y Canto: A Musical Feast for All!
Our friends at Sol y Canto are graciously donating proceeds from the sales of their new release "Sabor y Memoria" to Haley House.
"Sabor y Memoria explores the connections between music, food, and identity, mixing Latin musical genres in much the same way that flavors are blended in the cuisine of a new land." Sol y Canto presents a multi-sensory musical mix of food, sounds, and rhythms from the countries of Cuba, Venezuela, Mexico, Argentina, Peru, Panama, and Puerto Rico. You can listen to and purchase this beautiful album
here
and read more about Sol y Canto
here
.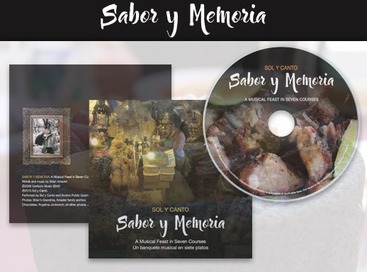 ---
#Thankful for #OurCommunity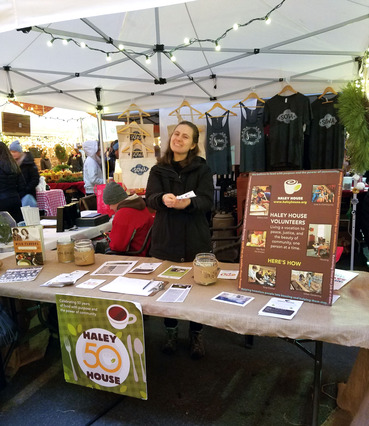 We are so grateful for all those who support Haley House all year round, and in a special way during this "season of giving." This year, during Thanksgiving, volunteers prepared more than 10 turkeys for our soup kitchen guests, and others prepared two rounds of Thanksgiving Community Tables on the Saturday before the holiday.
Leading up to #GivingTuesday, we posted facts about Haley House via our social media channels, and our community responded by setting up Facebook Fundraisers and donating themselves. Every little bit helps to keep our programs up and running- thanks to all who participated. We're so grateful for all the ways you support Haley House!
We would also like to thank the team at SoWa Boston for welcoming us and donating a portion of their sales to Haley House during their Winter Market this year (
click here
for more info about SoWa).
---
Thornton Farm Update: Reflection & Planning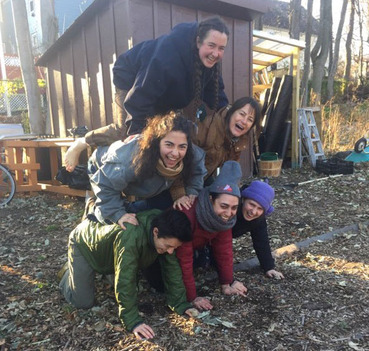 Our Roxbury Urban Farm is entering the slower winter season- a perfect time to reflect on how far we've come and make plans for the next season!
The team has been keeping busy harvesting the very last of the summer brassicas, turning over beds, and raking leaves. We are looking forward to a winter of evaluation, crop planning, and continued learning. Thanks to all who shared in our work during 2017. For more information about the farm, contact
Laura
.
---
2017 Greater Boston Housing Report Card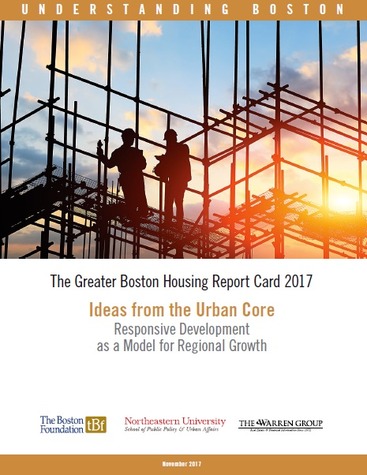 Although Boston has set an example for expediting the process for building multi-unit housing, affordable housing is still lagging behind. The 2017 Annual Greater Boston Housing Report Card, titled "Ideas from the Urban Core: Responsive Development as a model for Regional Growth" chronicles the changes in the housing market for renters and home owners, proposing a 10-point plan includes the development of multi-story, mixed-income buildings. Watch the video and read the report
here
.
---
Dudley Dough Celebration: December 15
All are invited to join together on December 15, 2017 at 4 pm as we
celebrate all the great things that have taken place at Dudley Dough during its two years. Special thanks are due to our strong community of support and the Dudley Dough team. If you can't make the celebration on 12/15, stop by before then to say goodbye and have a last slice of pizza.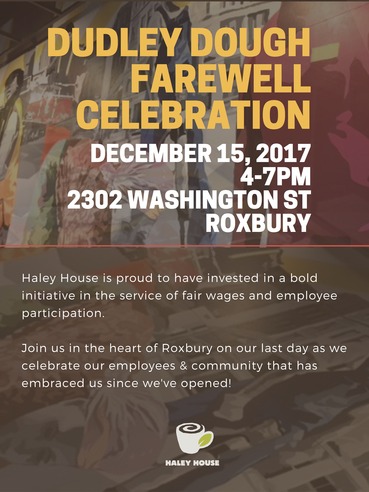 ---
CLOSINGS
HHBC will be closed from 12/24 - 1/1 and will re-open on 1/2/18.
---
EVENTS
12/6: The Yung House Slam + Open Mic
, 6pm at HHBC (
more info
)

12/7: Haiti PeaceQuilts (Still, Life: Haiti) Opening Reception
, 5:30pm
at HHBC (
more info
)
12/7:
Jazz By Any Means Necessary
, 7pm at HHBC (
more info
)
12/8: The House Slam ft. Janae Johnson
, 6:30 pm at HHBC (
more info
)
12/12- 12/13: A Memory, A Monologue, A Rant, and A Prayer
, 6:30 pm at HHBC (
more info
)
12/14: LIFTED Boston (Open Mic + Playback Theatre)
, 7pm at HHBC (
more info
)
12/15: Dudley Dough Farewell Celebration
, 4pm at Dudley Dough (
more info
)
12/15:
Dinner and a Movie ft. "On the Line: Where Sacrifice Begins" (A documentary about METCO),
6:30pm at HHBC (
more info
)
12/20: The Yung House Slam + Open Mic
, 6pm at HHBC (
more info
)
12/22: The House Slam,
6:30pm
at HHBC (
more info
)
2/11: The 10th Annual Haley House Souper Bowl,
2-5pm
at HHBC (
more info
)
---
Haley House Bakery Café Hours
MONDAY- WEDNESDAY
7:30 am - 6 pm
THURSDAY
7:30 am - 10 pm*
*food until 9 pm
FRIDAY:
7:30 am - 8 pm
SATURDAY:
9 am - 4 pm
SUNDAY:
10 am - 4 pm
---
Dudley Dough Hours (until 12/15)
---
Holiday Volunteers Needed!
Haley House is looking for additional volunteer support from mid- December to mid- January in the soup kitchen (23 Dartmouth Street) and at the Bakery Cafe (12 Dade Street). There are morning, afternoon, evening, and weekend spots available!
If you can help, please fill out a
volunteer form.
S
ign up here
for our weekly Volunteer Opportunities Newsletter.
---
Donation Wish List
Clothing For Soup Kitchen Guests: Monday mornings, we host the "clothing room" for soup kitchen guests. All men's clothing and personal hygiene projects are very appreciated, especially:
NEW underwear (all sizes except small)!!
Men's socks!!
Travel-sized toiletries (soap, body wash, shampoo, conditioner in travel sizes, lipbalm)
Toothbrushes & Toothpaste
Deodorant
Shaving cream & razors
Soup Kitchen & Live-In Community:
Silverware (especially forks and spoons)
Mugs
Books & magazines (Spanish & English)
Checkers, chess, & scrabble sets
Mattresses
---
Special Request: A Vehicle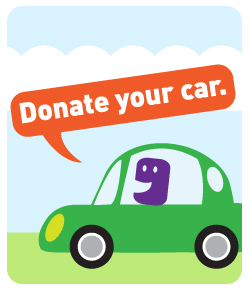 The SUV that is used for all food pick-ups for the soup kitchen and farming chores by the live-in community is on its last legs. Do you have a vehicle that you're willing to donate to a good cause?
Contact us
if you are able to help!
---
Shop / Haley House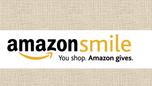 If you shop with Amazon, click on this
link
to choose Haley House as your charity of choice, and they will donate a portion of the sale of each eligible purchase to Haley House.
Looking to shop local? Click here for a directory of local Dudley businesses and click here for South End businesses.
---
Race & Money
On 12/13, our friends at the Boston Ujima Project are sponsoring a talk entitled "Why Race and Money are the same topic." Click on the image below for more information.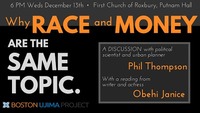 ---
An App with Impact: Appolition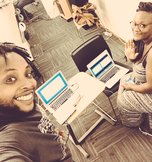 Inspired by the community bail fund work of
National Bail Out
, Black tech founders Kortney Ziegler and Tiffany Mikell partnered to create an app called Appolition that uses spare change from debit card purchases to bail out Black inmates who can't afford bail. Learn more
here
.