Witch Hazel at Haley House's Housing
Haley House is pleased to partner with the Community Outreach Group for Landscape Design (COG Design) to redesign the front yards at our residential buildings on Columbus Avenue in the South End. COG Design provides pro bono landscape design services to under-resourced communities in greater Boston with the goal to create green, sustainable spaces which meet neighborhood needs.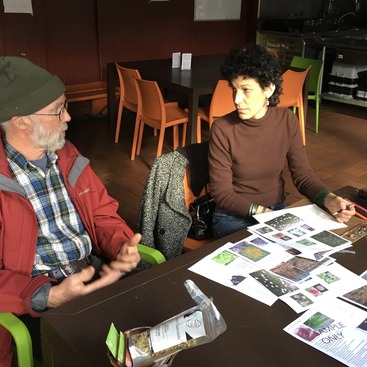 We are excited that COG
Design has connected us with landscape designer
Judy Timpa
of Sun & Moon Landscape Design, who is currently finishing a graduate degree at the Boston Architectural College (pictured on right with HH housing manager KC Williamson).
Judy
's design features a single witch hazel tree surrounded by additional native plants making these two front yards more harmonious with neighborhood planting and more beautiful for our residents. For more info:
COGDesign
;
Sun & Moon Landscape Design
. Stay tuned for updates as this project moves forward!
---
Free TBK Cooking Classes for Elders & Families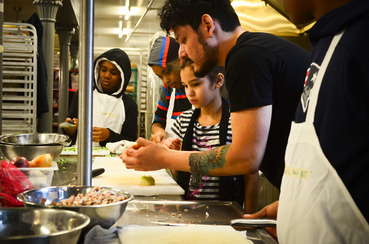 Interested in learning to cook? Consider signing up for a cooking class, made possible by a grant from the
Fellowes Athenaeum Trust
, a program through the Dudley Branch of the Boston Public Library.
One 4-class series is geared towards parents and kids (Thursdays: April 19, 26 and May 3, 10 at 5:30-7:30 pm) and the other 4-class series for those in their later years (Wednesdays April 25 and May 2,9,16 at 12- 2:30 pm). All classes will be held in the basement kitchen at Haley House Bakery Cafe. Come to one, two, three, or all in a series, but since space is limited, please contact
Ricardo
to sign up ahead of time (or with questions).
---
Get Outside & Grow: 1st McKinley Workday!
As the weather starts to get warmer, we are getting excited about another year of growing in our urban agricultural sites. All are invited to join in the first garden workday of the season at McKinley Collaborative Garden (on Montgomery Street, adjacent to our South End Soup Kitchen) on Saturday March 24, 10 am - 2 pm. Please wear comfortable, dirt-friendly clothes, and join us as we prepare for McKinley students to dive into the growing season. There will be coffee and light refreshments! No experience necessary. Please contact
Harriet
for more info or to sign up!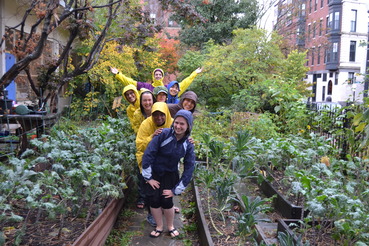 ---
Triple S Day & Free Socks From Bombas!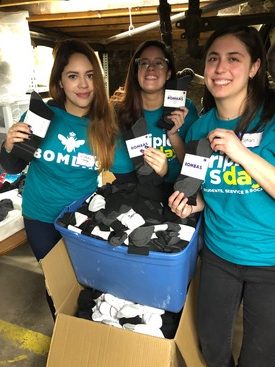 On February 10th, Haley House was part of the first annual
Triple S Day
(Socks, Students, Service) sponsored by Bombas -- a sock company that gives away a pair of socks for each pair they sell. During the event, members of the Haley House community met with students from several different universities who had an interest in volunteering with local organizations. After the event, we welcomed a small group of students from a sorority at Northeastern to help us organize our clothing room. To learn more about Bombas,
click here
.
---
Hunger Costing MA Billions: A New Report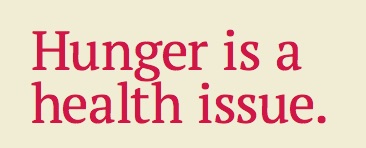 In February, Children's Health Watch and the Greater Boston Food Bank released a report entitled "An Avoidable $2.4 Billion Cost: The Estimated Health-Related Costs of Food Insecurity and Hunger in Massachusetts." which detailed the findings of a joint-study of food insecurity in Massachusetts. Their research revealed how hunger and food insecurity increased health-related expenditures by at least $2.4 billion in 2016 alone. The report puts forward policy recommendations for the healthcare community, the public sector and food-insecurity researchers.
Click here to read more
.
---
Interested in Communal Living + Service?
Living and working at 23 Dartmouth Street (Haley House's home-base in the South End since 1967) offers a unique opportunity to experience intentional community living (5-7 people), self-growth, consensus-based decision making, contemplative discussion, interactions with new people each day, hard work, volunteer delegation, lots of cooking, and much joy along the way!
Both short and long-term members of the "Live-In Community" help to collaboratively manage the soup kitchen (23 Dartmouth Street), which has the mission to serve nutritious, made-from-scratch meals and create an atmosphere where friendship and community is fostered across all societal boundaries. Room and board is included as part of the experience. Currently, the Live-in Community is reviewing applications for summer interns (short term stay) and full Live-in Community Members (two year stay). Click on the links below for more information about this special experience: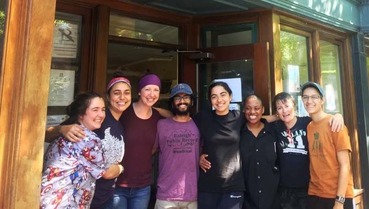 ---
Calling All Artists: Red Sage Stories Auditions
Interested in art and activism? Red Sage Stories (Playback Theatre and Art for Social Change) is holding auditions for those interested in learning and performing playback theatre.
All experience levels welcome. Training auditions will take place on March 13, 20, and 27 from 6:30 to 9:30 pm at the Dorchester Arts Collaborative, located at 157 Washington Street, Dorchester, 02124. RSVP at
redsagestories@gmail.com
or text 857-753-0297.
---
Thank YOU: Souper Bowl 10 = Super Fun!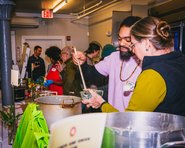 Despite the rainy weather, Haley House Bakery Cafe our 10th annual Souper Bowl fundraiser on February 11th was a success! All afternoon, HHBC was packed with guests eager to pick out their handmade bowl to sample the 16 delicious soups made by chefs from Mei Mei, Future Chefs, Cuisine en Locale, The Food Project, Fresh Food Generation, Daily Table, Global Local Gourmet, Fulani's Kitchen, Paraclete Center, Paige Academy, Haley House Programs, and more.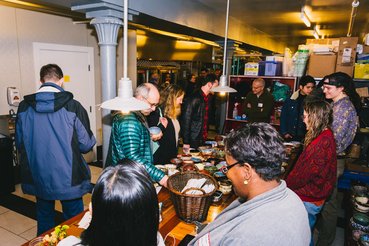 Thank you to all the participating organizations and chefs, including Iggy's Bread for donating all the bread (pictured in the header), wonderful local farms and vendors, volunteers, Mass Art's Clay for Change, Mass Art's Center for Art and Community Partnerships, and our guests! Click
here
to see more photos of the event.
---
More Affordable Housing in Boston
On 2/22, the City of Boston announced $15 million of new funding from the Department of Neighborhood Development (DND) and Neighborhood Housing Trust (NHT) to create or preserve 354 new units of affordable housing in Boston.
Click here for more info
.


---
EVENTS
3/7: The

Yung

House Slam + Open Mic,

6 pm

at

HHBC

(

more info

)
3/8: LIFTED presents Radical Black Girl (Open Mic + Playback

Theatre

)

, 7:30 pm at

HHBC

(

more info

)
3/9: The House Slam ft. Golden,
6:

30 pm
at
HHBC
(
more info
)
3/15:
Artist Reception: Cagen Luse (Lunchtime ComiX)
7pm
at
HHBC
3/15:

AiLi

Live! presents: Tribute to Harriet Tubman

,

7 pm

at

HHBC

(

more info

)
3/21: The

Yung

House Slam + Open Mic

,

6 pm

at

HHBC

(

more info

)
3/22: Boston Day and Evening Academy presents Lyricists' Lounge,
7 pm
at
HHBC
(
more info
)
3/23: The House Slam
, 6:30 pm at HHBC (
more info
)
3/24: McKinley Garden Workday
, 10am - 2 pm at 23 Dartmouth St. (
more info
)
3/28: Elder Storytelling
, 6:30pm at HHBC (
more info
)
3/30: Sanaa with Friends (Paint Night)

, 7:30 pm at HHBC (

more info

)

4/4: The

Yung

House Slam + Open Mic,

6 pm

at

HHBC

(

more info

)

4/5: Jazz By Any Means Necessary,

7 pm

at

HHBC

(

more info

)

4/5: Author/ Poet Series: James Baldwin,

8 pm

at

HHBC

(

more info

)
4/6: First Friday Family Game Night
at 5-8 pm, 23 Dartmouth Street (
more info
)
4/19, 4/26: TBK Family Cooking Class,
5:30- 7:30 pm, HHBC Basement Kitchen (
more info
)
4/25: TBK Adult/Senior Cooking Class,
12- 2:30pm pm, HHBC Basement Kitchen (
more info
)
SAVE THE DATE: 6/2/18: 15th annual Block Party + Silent Auction
---
Haley House Bakery

Café

Hours
MONDAY- WEDNESDAY
7:30 am - 6 pm
THURSDAY
7:30 am - 10 pm*
*food until 9 pm
FRIDAY:
7:30 am - 8 pm
SATURDAY:
9 am - 4 pm
SUNDAY:
10 am - 4 pm
---
First Friday Family Game Night Returns
All are invited to join in Family Game Night on the First Friday of the month at the Soup Kitchen. The kick-off event will be Friday, April 6 at 5- 8 pm. For more information, contact Catherine.
---
Dudley Dough Memorabilia
Interested in having a part of Dudley Dough in your home or restaurant? We are selling some of the equipment. For a full listing of what's available, contact contact
Jon
.
---
Donation Wish List
Clothing For Soup Kitchen Guests: Monday mornings, we host the "clothing room" for soup kitchen guests. All men's clothing and personal hygiene projects are very appreciated, especially:
NEW underwear (any size except small)
Men's socks!!
Travel-sized toiletries (soap, body wash, shampoo, conditioner in travel sizes,

lipbalm

)
Toothbrushes & Toothpaste
Deodorant
Shaving cream & razors
Soup Kitchen & Live-In Community:
Silverware (especially forks and spoons)
Mugs
Books & magazines (Spanish & English)
Checkers, chess, & scrabble sets
Vacuum (for upstairs)
Video equipment
---
Spotlight's Series on Race + Faith
Join people of different faiths for a Community Meeting on March 13th at 6:15 pm at the Cathedral Church of St. Paul in Boston to hear Boston Globe's Spotlight team discussing their recent seven-part series on racism in Boston. There will be 5 guest speakers including three members of the Spotlight Team, the Rev. Greg Groover from the Historic Charles Street A.M.E. Church, and Rev. Peter Gyves, SJ, founder of A Faith That Does Justice.
Register for the event here.
---
Access to Justice Fellows Program

&a
Lawyers Clearinghouse is accepting statements of interest and applications from prospective Fellows and partner organizations wishing to participate in the
Access to Justice Fellows Program
, beginning in September 2018.
This project enables senior lawyers and retired judges to partner with nonprofit organizations, courts, and other public interest entities to increase equal justice for all. There will be an information session Monday, February 26, from 12:30-1:30 pm at the Boston Bar Association.
For more information, click here
.
---
HELP WANTED
Be sure to bookmark our help wanted page (
here
) for our latest job postings, including the Catering Coordinator position right now.