One of the greatest gifts I've received from the Jewish religion
is the practice of taking a sabbath day of rest.
The idea of not working every seven days
was hugely important to the Israelites,
and is enshrined in the Ten Commandments.

Traditionally Jews rest on Saturday,
and Christians consider Sunday the sabbath.
My sabbath is on Friday.
It has become very precious to me,
and has significantly added to the health of my marriage.

It's not just work that you need to take a break from.
Students who pull all-nighters don't do as well
as students who get enough sleep.
Sometimes it's good to take a break from a habit,
a relationship, or the news of the day.

Binge-watching is fine, and running marathons is exciting.
But resting once a week,
taking time to contemplate the progress of your life,
and your relationship to the higher things,
this is deep spiritual wisdom
anyone can benefit from.

Scroll down for upcoming events
June Talk Series: New Thought Pioneers


Sunday, June 4 - Rev. Eric: Emma Curtis Hopkins




Pastor Patrinell Wright and Total Experience Gospel Choir are in the house!
Meditation at 10:00 am / Children's Program opens at 9:55
Celebration service at 10:30 - potluck brunch follows
This Sunday, June 11: Global Service Team meets at noon
Learn more about our Cambodia trip and other projects
Sunday, June 18, 7-8 pm - Tibetan Bowl Meditation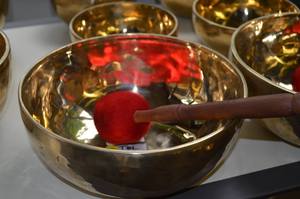 A deep, centering meditation grounded in the toning
of our new set of tuned Tibetan Bowls.
In the Sanctuary - free/love offering
Share with your friends on

Facebook
Seattle Peace Project June-September 2017
Amazing Grace joins a number of other regional faith communities
in encouraging you to participate in this four-month peace experiment.
Modeled on a 1993 peace experiment in Washington, D.C.,
and a number of others since then,
which showed a decrease in local crime when large numbers prayed for peace,
we will meditate or pray for peace daily.
There's an app for Android to record your meditation time to measure the impact -
an Apple app is coming soon.
Learn more

here

and join us!

June Gift of the Month Club collection for Ballard Food Bank
Bring food staples for our neighbors in need,
and we'll drop them off at

Ballard Food Bank

for you.
Global Service Team Cambodia trip January 14-26, 2018
Click "reply" to request information about our next visit to the school we helped build,


Cambodian Children's Destiny

.
Genesis Global Spiritual Center joins us on this voluntourism service trip.
An optional add-on trip to Myanmar, through February 2, is available.
Register your Fred Meyer card and we'll receive donations when you shop
Takes a few second - just click

here
Shop Amazon Smile to benefit Amazing Grace
Easy and simple - click here:
http://smile.amazon.com/
then log in with your own account - Amazon will donate to Amazing Grace
OR click on the Donate/Shop button at

www.amazinggraceseattle.org

.
Search the Amazing Grace Business Directory

here
Find services offered by congregants and friends


To list your own business, email Stacy at

directory@amazinggraceseattle.org

or call 206.779.2485
Love us? Like us! Click

here

to like us on Facebook!
Check out the Science of Mind Magazine webpage - great articles & videos


http://scienceofmind.com/
Sunday service at 10:30 am - prelude music starts at 10:20
Meditation 10:00-10:20
Children's program for ages 2-12 - opens at 9:55
Potluck brunch after service - please bring a dish to share
Street parking - Access by stairs only
Service dogs only, please, on Sundays
Click "reply" to this message to write to us
www.AmazingGraceSeattle.org
Amazing Grace Spiritual Center
Services 10:30 am Sunday
A Centers for Spiritual Living Church
Potluck brunch 11:45
Rev. Eric O'del 206.402.2633
2007 NW 61st St Seattle WA 98107
Rev. Colette Mercier 425.891.7892
at the corner of 20th Ave NW in Ballard