You may have noticed
that there is a lot of suffering in the world.
You may be going through some suffering of your own.

Times like this are when you may be tempted
to harden your heart
in an attempt to ward off some of the pain.

Now more than ever,
it's important to access your heart of compassion.
When you "bend the knees of your heart,"
and bow down before the suffering of the world,
you come closer to the Source.

Turning toward those in need,
you discover the will to serve,
and become part of the solution
to the world's problems.

Find your Buddha Wisdom.
Be useful.
This is, after all,
your highest purpose in being here.

Scroll down for upcoming events
June Talk Series: New Thought Pioneers
Sunday, June 18 - Rev. Colette: Ernest Holmes
Celebrate Father's Day


Spirit of the Sound Choir's last performance til the fall
Meditation at 10:00 am / Children's Program opens at 9:55
Celebration service at 10:30 - potluck brunch follows
This Sunday, June 18, 7-8 pm
Tibetan Bowl Meditation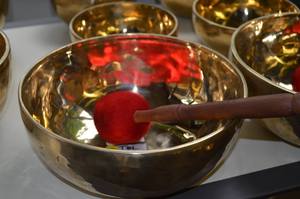 A deep, centering meditation grounded in the toning
of our new set of tuned Tibetan Bowls.
In the Sanctuary - free/love offering
Share with your friends on

Facebook
Global Service Team Cambodia trip January 14-26, 2018
Register by July 2
Click "reply" to request information about our next visit to the school we helped build,


Cambodian Children's Destiny

.
Genesis Global Spiritual Center joins us on this voluntourism service trip.
An optional add-on trip to Myanmar, through February 2, is available.
Seattle Peace Project June-September 2017
Amazing Grace joins a number of other regional faith communities
in encouraging you to participate in this four-month peace experiment.
Modeled on a 1993 peace experiment in Washington, D.C.,
and a number of others since then,
which showed a decrease in local crime when large numbers prayed for peace,
we will meditate or pray for peace daily.
There's an app for Android to record your meditation time to measure the impact -
an Apple app is coming soon.
Learn more

here

and join us!

June Gift of the Month Club collection for Ballard Food Bank
Bring food staples for our neighbors in need,
and we'll drop them off at

Ballard Food Bank

for you.
The Edinburgh lectures by Thomas Troward - class with Rev. Colette
Six Tuesdays, July 11-August 15, 6:30-9:30,
with two additional classes scheduled at students'c onvenience
$175 - Beyond Limits or Foundations prerequisite - click reply for more info
Register your Fred Meyer card and we'll receive donations when you shop
Takes a few second - just click

here
Shop Amazon Smile to benefit Amazing Grace
Easy and simple - click here:
http://smile.amazon.com/
then log in with your own account - Amazon will donate to Amazing Grace
OR click on the Donate/Shop button at

www.amazinggraceseattle.org

.
Search the Amazing Grace Business Directory

here
Find services offered by congregants and friends


To list your own business, email Stacy at

directory@amazinggraceseattle.org

or call 206.779.2485
Love us? Like us! Click

here

to like us on Facebook!
Check out the Science of Mind Magazine webpage - great articles & videos


http://scienceofmind.com/
Sunday service at 10:30 am - prelude music starts at 10:20
Meditation 10:00-10:20
Children's program for ages 2-12 - opens at 9:55
Potluck brunch after service - please bring a dish to share
Street parking - Access by stairs only
Service dogs only, please, on Sundays
Click "reply" to this message to write to us
www.AmazingGraceSeattle.org
Amazing Grace Spiritual Center
Services 10:30 am Sunday
A Centers for Spiritual Living Church
Potluck brunch 11:45
Rev. Eric O'del 206.402.2633
2007 NW 61st St Seattle WA 98107
Rev. Colette Mercier 425.891.7892
at the corner of 20th Ave NW in Ballard