Forum on Peacebuilding and Traditional Arts
Saturday, March 21st from 2:30pm-5:00pm
The Performance Garage
1515 Brandywine Street Philadelphia, PA
RSVP Here or by calling PFP at 215-726-1106
Parking Info available here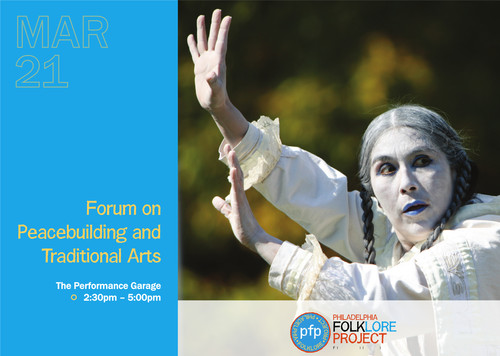 Peacebuilding encompasses efforts that aim to transform conflict by nurturing compassion and creating safe spaces for people to live fulfilled lives, with dignity and joy. Please join us as we explore the relationship between traditional/folk arts and historical memory, reconciliation, anti-violence, immigration rights and other justice work through a screening of the documentary, Acting Together on the World Stage, and a panel discussion featuring artists, activists and scholars.

The Folklore Project is proud to be collaborating on this program with Professor Cynthia Cohen of Brandeis University's Peacebuilding and the Arts Initiative, and local artists and activists Germaine Ingram, Yared Portillo, Ximena Violante and the Liberian Women's Chorus for Change, featuring Fatu Gayflor, Marie Nyenabo, Tokay Tomah and Zaye Tete.
---
THE LIBERIAN WOMEN'S CHORUS FOR CHANGE IN CONCERT
March 6th at 7:30pm
International House
Buy Tickets
The Liberian Women's Chorus for Change inspires awareness and dialogue about domestic violence and other concerns of the local Liberian community through traditional song and stories. Throughout the spring and summer, these exceptional singers and dancers will be performing for Philadelphia's Liberians at various sites, and networking with local social service agencies and activists to connect people with resources so as to foster individual and community strength and dignity.
Presented by Intercultural Journeys
---
PFP 28th BIRTHDAY BASH
June 5, 6 PM- 9 PM
Painted Bride Art Center
230 Vine Street, Philadelphia
Folk Arts and Social Change Awards to local visionaries and artists. Great food, drink and company. Save the date! Become an event sponsor and invest in PFP's future! Call 215.726.1106 for more information. Sponsored by PECO
Click here to buy tickets or become a sponsor!
---
JOIN PFP: Help support
community-based folk arts.
Looking to volunteer? We're always looking for volunteers to help with our programs, facilties and archive. Send an email to: pfp@folkloreproject.org

Visit: www.folkloreproject.org to learn more about PFP