Field to Fork June Newsletter!
Urban agriculture and food security in Washington, DC

Welcome to the June edition of the DC Field to Fork Newsletter! Below you'll find announcements, updates and event information about urban agriculture and food security in DC. 
For updated info, check out the Events calendar on our website or stay tuned to our blog. To contribute to this newsletter, please e-mail dcfieldtofork@gmail.com
Field to Fork website

FIELD
(Production)
Invasive Plant Lecture and Field Workshop
: Learn to identify and combat invasive plants through a FREE lecture and field event. Hosted by NPS and UDC on Thursday, June 3 and Saturday, June 5. For more information and to register see
here
Common Good City Farm Container Gardening Workshop

:

June 12, 2010. For all Common Good events, see

HERE
Support Washington Youth Garden @ DC9's Nerd Nite!
Join fellow supporters on Saturday, June 12 from 6-9:30 at DC9 (1940 9th Street, NW). Drink specials!
Sowing Seeds: A Chesapeake Urban Farming Summit
Featuring Will Allen, CEO of Growing Power. Workshops include urban farm design and business plan basics; community composting; building and using high tunnels. Tickets on Sale Now! See
WEBSITE
for details
Join the Neighborhood Farm Initiative

 for their last weekend/weeknight garden volunteer days until the autumn! Come out to get your hands dirty and volunteer at NFI's garden near Fort Totten on Wednesday evenings from 4:30-dark and Saturdays from 9:00-1:00, now until June 19th.  We'll be working in the garden M-F all summer, so come and get your weekend gardening in now!  Email Volunteer Coordinator Liz atNeighborhoodFarm@gmail.com to receive updates and weekly garden volunteer opportunities, or for directions & more information.
Next DC Crop Mob

- Saturday, June 19th!
Want to get your hands dirty while learning about local, sustainable agriculture? Join the DC Crop Mob, a volunteer group that gets together once a month at a local farm to lend a hand. This month we'll be working at Fields of Athenry farm in Middleburg, VA. Field of Athenry specializes in sustainable, ethical meat production, raising heritage breeds of pasture-raised cows, chicken, turkey, lamb, and pigs. Stick around afterwards to meet Sally Fallon, author of Nourishing Traditions, who will be giving a talk at the farm that afternoon. Carpooling will be arranged. Email info@cropmobdc.com to sign up, or visit www.cropmobdc.com to learn more!
Washington Youth Garden Family & Friends Fun Day


Join us on Saturday, July 24 at the US National Arboretum for a day of food, music, and family-friendly gardening activities. We will be welcoming two additions to our one acre children's garden: bee hives and a Nature Explore Classroom!
City Blossoms Volunteer Opportunities
:

Come volunteer at Girard Children's Community Garden (Columbia Hts) or Marion Street Garden (Shaw). 

Volunteers would help with weekly maintenance tasks and impromptu workshops with our neighborhood kid gardeners. If interested in joining us contact Lola Bloom at lola@cityblossoms.org. For a full schedule see here
Backyard Wildlife Habitat Workshop:
The Fisheries & Wildlife Division has created a backyard wildlife habitat education program that will educate residents about how to create habitat for wildlife in their space. For upcoming events and to register, see here
Join the movement for backyard hens! 
Did you know that backyard chickens are illegal on all properties smaller than a half acre in Prince George's County? Help us change the law by signing our petition at 
http://www.pghens.com
! On the website you'll also find lots more information, including how to get more involved in the campaign. Please pass it along to anyone you know in Prince George's County! 
---
TO
(Distribution)
DC Farm to School Volunteer Opportunity:
Join DC F2S for Strawberries and Salad Greens, a spring harvest celebration in DC schools on June 3rd. For more information, resources, or to volunteer see http://dcfarmtoschool.org/strawberries/
DC Farm to School Internship Opening
The D.C. Farm to School Network's Coordinator seeks a passionate, capable intern to help with a variety of projects, tasks, events, and administrative work for the Summer of 2010.  This paid intern will work part time, primarily from home.  Visit dcfarmtoschool.org for more information, including how to apply.  Deadline:  June 4, 2010
Farmer's Market Openings:
The Brookland Market starts THIS TUESDAY, June 1 under the bridge near the Brookland Metro station. 
June 5, Columbia Hts Farmer's Market, 14th and Kenyon from 9am-2pm. If interested in
volunteering
contact chcommunitymarketplace@gmail.com
June 5, Ward 8 Market at Congress Heights Schools Parking Lot, 500 Alabama Ave, SE from 9:00am-2:00pm
June 8, Anacostia Market at United Medical Center Parking Lot, Tuesdays from 3:00pm-7:00pm
---
FORK
(Preparation and Preservation)
ONE DC Hosting Cookout at New Headquarters:

Join ONE DC and friends on Saturday, June 5 from 1-4pm at New Community Church off the Shaw/Howard Metro (green line) for Tambra Stevenson's presentation on food consciousness and new approaches to food. Followed by a cookout from 4-5pm. Find out what you can do!

DC Central Kitchen @ The Food and Wine Festival:
Visit DCCK at the National Harbor on June 12-13 for the Food and Wine Festival! The festival theme this year is "Think Global. Taste Local" and will feature local food and wine vendors. For more information and to purchase tickets see, http://www.foodandwinenh.com/
Find the SweetGreen SweetFlow Cart!
SweetGreen offers fresh, local, organic ingredients. Follow the
link
for June locations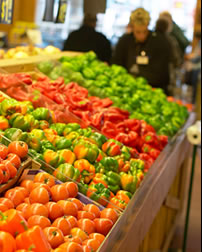 What's Inside:
Washington Youth Garden Family Fun Day
Common Good Workshop
City Blossoms Volunteer Opportunities
Backyard Wildlife Worshop
Sowing Seeds
Farmer's Market Openings
DC Farm to School Volunteer and Internship position
ONE DC Talk and Cookout
DCCK @ Food and Wine Festival
Make your own Sauerkraut!
SweetGreen SweetFlow!
JUNE RECIPE:
Strawberry-Balsamic Dressing
1/4 c. balsamic vinegar
1 tsp. garlic, chopped
1/2 tsp. salt
1/4 tsp. pepper
3/4 c. olive oil
1 c. fresh, local strawberries
2 Tbs. local honey
Blend together vinegar, salt, pepper, garlic strawberries and honey. Once mixture is smooth, slowly add oil. Chill. 
Make a salad with local greens and other veggies from
FRESHFARM
markets and pour dressing on top!
Tutorial Video
Press cabbage to view video!
Thanks to super volunteer John Kinhart for making DC Field to Fork's latest how-to video and Neil Zimmerman for teaching us how to make sauerkraut!
Link to my website