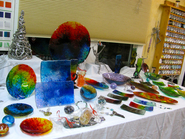 While no one would mistake Hotlanta for a Winter Wonderland, nonetheless we are gearing up again for another Siyeh Sleigh Ride! What, you might ask, is a Siyeh Sleigh Ride? It's our once a year, throw open the studio party where all the Siyeh Studio artists (and some of their friends) bring out their best work for you and everyone on your holiday gift list. As a special bonus, this year the Sleigh Ride is condensed down into one day of sheer, perfect wonderfulness--celebrated in conjunction with
Small Business Saturday
on
Saturday, November 26
.
---
I
n the hotshop, Domenick will be offering blown glass ornaments for sale and he will also be blowing ornaments for you—after you pick the colors—as you watch. These ornaments will be ready for pick-up anytime after Those who've had a Glass Blowing class or Date Night are invited to blow their own ornaments for a nominal fee.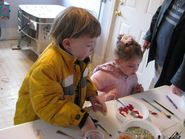 Inside we'll also have a place set-up for kids (and youthful adults) to create their own kiln-formed glass ornament masterpieces. These creations can be made by anyone—no experience required.
As if all the great work wasn't enough we've also put together gift certificates, date night certificates and class cards for the people on your list who would prefer experiences to objects. So come on over! Have some food, have some cider, pick up some beautiful gifts, and share the spirit of this truly wonderful time of year with us.
This Year's Siyeh Sleigh Riders:
Brenda Griffith

– Kiln-formed functional and sculptural glass art and etched glassware


Tadashi Torii

– Blown glass functional and decorative art


Domenick Peronti

– Blown glass functional and decorative art


Dee Janssen

– Dichroic glass jewelry and kiln-formed home accent pieces


Brian Renoud

– Torch-worked borosilicate glass pendants, hummingbird feeders, and icicle ornaments


Todd Briske

– Wire art and other fantastical

creations


Jessie Griffith

– Beaded wire animal Christmas ornaments




Hours: Saturday, November 26, 9 am – 6 pm,

Ornament blowing 11 am – 2 pm, and 4 pm - 6 pm