Upcoming Events


Student Concerts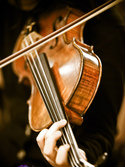 Winter Chamber Music Concert
Sunday, February 8th, 2015

5:30 pm
Prince of Peace Lutheran Church
14514 20th Ave NE
Shoreline, WA 98155



---

Dorothy Klotzman, Academy of Music Northwest's co-founder, original board president, and long-time faculty member, passed away on Saturday, December 6th, at the Cherry Hill Steven's Hospital in Seattle.


Earlier alumni of AMNW will remember her truly fantastic, challenging classes. Dorothy's gifted teaching earned her a Danforth National award in New York. She was a gifted composer, conductor, and teacher, and retired as the Executive Director of the School of Performing Arts at Brooklyn College. She played clarinet and piano, but composition and conducting were her true loves. A proud Juilliard graduate, she was a long-time donor, including leaving them most of her library before retiring to WA. She also remembered them in her will, to sustain her special named gift.

Dorothy was a close friend of Gerard Schwarz and met Jim and Dee through him. She had hired him to teach trumpet at Brookyn College in his earlier years. She joined us in 1995 and was the reason the Academy was started in 1997. She was a major donor, staunch supporter, and a great friend. Dorothy was one brilliant, tough, gifted woman who had been friends with many major musicians, conductors, and composers around the world. She said little, and did a lot. She ran a meeting better than anyone we had ever seen. She was a major person in the life of the Academy, and in our personal lives.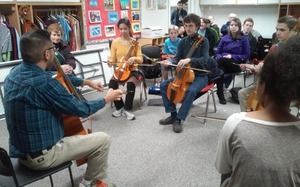 On December 6th, Academy students were treated to a demonstration of the viol family by gambist Chris Briden. Chris brought a whole hoard of these old instruments with him. The viol family (pronounced like "vile", but more pleasant to the ear than that would imply!) somewhat predates the more familiar violin family. In fact, as Chris pointed out, our double bass is actually a bass viol, with a different shape than the other members of the violin family (violin, viola, violoncello). Most viols have 6-7 strings (traditionally gut), are fretted like guitars, and tuned like lutes.

The term viola da gamba ("viola of the leg") actually refers to the manner in which the instruments are held, without pegs like the cello, or held in the arm like the violins and violas. In addition, the bow grip is quite different from the violins.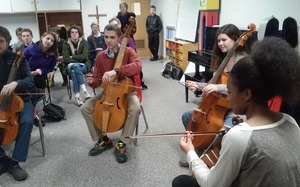 Students not only enjoyed Chris's demonstrations and witty narration, several actually came up to try the various instruments. In the future, we hope to potentially involve interested students in a viol consort.

Chris is a Seattle native. A high school friend of Brianna's, she recalls his fascination with pictures of these instruments, dreaming of one day getting the chance to play on them! He first studied the viol with Margriet Tindemans. He studied at Indiana University Jacobs (where he was friends with Adam), completing his Bacherlor's and Master's Degrees there under Wendy Gillespie. Back in Seattle, he earned his Artist's Diploma from Cornish College of the Arts under Stephen Stubbs. Chris is active in the Seattle Area, teaching viol and performing with several local groups. As a board member for the Pacific Northwest Viols, he has been active in several outreach endeavors including the Roosevelt High School Viols program and as the St. James Cathedral Outreach Coordinator.

If you would like to learn an instrument with an immense and varied repertoire as well as gain new insights into Renaissance, Baroque, and even Classical music, please feel free to enquire directly to Chris or to visit the Pacific Northwest Viols website. By joining PNV, you will be able to rent student viols and have access a broad range of resources.
The Shoreline-Lake Forest Park
Council for the Arts
As part of an attempt to reach out to our new neighbors in the Shoreline community, AMNW faculty member Brianna Atwell and board member Ilene Barnwell had a great meeting with Fred Wong, the Executive Director, and Kelly Lie, Arts Education Manager, at the Shoreline-Lake Forest Park Arts Council. (Fred, incidentally, is also the father of an AMNW alumnus who is currently a graduate student at Indiana University.)
They let us know about some performance opportunities that AMNW students may be interested in:
- The annual Arts Festival (application due January 15th)
- Concerts in the Park (application also due January 15th)
- Annual garden tour
- North City Jazz Walk
They also offer business classes specifically geared for artists.
More info is available on their website,
www.shorelinearts.net
.
The Seattle University Chamber Music Competition for High School Students is open to all chamber music ensembles who play stringed instruments or piano. Chamber music groups must be between 3-9 performers, conductor-less, and be residents of AK, CA, HI, ID, MT, NV, OR, UT, or WA. Each group will present two contrasting movements to a jury of esteemed professional musicians. Application is due Dec. 29th. Preliminary and final performances on Jan. 24th-25th. More info at www.seattleu.edu/arts.

The Seattle Theatre Group (STG), the non-profit organization that runs The Paramount, Moore, and Neptune Theatres is opening audition sign-ups for an STG program called More Music @ The Moore. This program is specifically for musicians aged 14-21. ALL genres, styles, and cultures are encouraged to audition. More Music @ The Moore will have auditions Jan 26-28th. From these auditions we pick about 10 soloists/ groups to be part of the performance. We have rehearsals where young artists are mentored by industry leaders, including an internationally renowned music director, and the whole program culminates with a matinee and evening performance on May 8th at The Moore Theatre. In the past we've had Hip Hop, Japanese Taiko Drummers, Folk, Opera singers, Rock N Roll Bands, DJs, Klezmer, Country, Reggae and more! More info at www.moremusic@stgpresents.org.

Experience the lively art of chamber music! Academy faculty member Allyson Kramer runs her summer program Vivace! Chamber Players annually. The 2015 program is Aug. 10-15. The program is aimed at students aged 6-21, with a minimum of 2 year's experience in strings, woodwinds, brass, piano, or guitar. An informal audition is required to ensure appropriate placement into groups. For details, visit www.vivacechamberplayers.com.

The 2014-15 Merriman Family Young Composers Workshop will begin Wednesday, February 18, 2015. The workshop is free for pre-college musicians who are interested in composition. Young composers will write a composition that will be performed by Seattle Symphony musicians on Monday, June 1, 2015 in a world premiere concert. The deadline for application in January 5, 2015. The Academy has had numerous students and alumni involved in the program over the years. For more information, please visit www.seattlesymphony.org/symphony/community/programs/#workshop
Student Achievements
AMNW alumnus
Justin Almazon
is now a substitute violist with the Seattle Symphony.
Lara Lewison
performed the Beethoven Violin Concerto with the Bremerton Symphony Orchestra on Mar. 30th.
Susanna Haley
performed with the group The Piano Guys, along with 7 other young violinists, on their song "Beethoven's 5 Secrets" at the Paramount Theater, Dec. 17th & 18th.
Support Young Artists
Becoming a great musician is more than weekly studio lessons and hours of solitary practice. Both are essential, but neither provide the sense of community and mentorship that are the hallmark of the Academy of Music Northwest's programs. Keep the community alive with a gift to the Academy of Music Northwest!

To donate, contact us at (206) 935-6908 or info@amnw.org.
Gifts can also be mailed to us at 9109 196th Street Southwest/Edmonds, WA 98026.
Volunteer
There are many opportunities
to volunteer at the Academy!

We are looking for people who are music lovers, creative thinkers, and great organizers.

Please contact us if you have any interest in helping with photography, grant research, database management or organizing special events such as private and public concerts, fundraising events, and benefit concerts.
Stay Connected
We encourage you to share this e-newsletter with your family and friends. Don't forget to join us on Facebook! You will find interesting music related articles, videos, upcoming concerts and news from the academy.
Thank You, Donors!
Each year, gifts from loyal supporters provide 60% of our annual budget and make it possible for the Academy to invest in the future of our talented young musicians. We'd like to take this opportunity to express our gratitude for your support!