Happy Holidays from Scott, Madeline, Daisy, & Scout at The Andiron | Seaside Inn & Cabins in Little River, California!
We've owned The Andiron (formerly Pacific Mist Inn) for just over six months, and it means the world to us to host such lovely, fun guests. Thank you for choosing to stay with us, and we hope to see you in the waning days of this year or in the sparkly new year ahead. Best wishes to you and yours for a warm and happy holiday season,

Scott Connolly and Madeline Stanionis
...and our great staff - Amanda, Imelda, Judith, Matt, and Nicole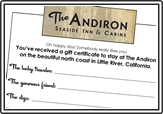 Last minute gifties! Are you a procrastinator like us? If so, we've got the last minute gift for you: an Andiron gift certificate! You can even pick which cabin you'd like your loved one to stay in. Email us right up until about 5pm on December 24th and we'll set you up with a gift certificate that you can print and slip into a stocking. Easy! Contact Scott at scott@TheAndiron.com to make it happen.

Everything but the snow! We've tricked The Andiron out for winter with skates and skis and sleds along with our fantastic tree and its wild collection of glass ornaments - robots and flamingos and soupcans and more. Our happy hours are featuring fondue, raclette, mulled wine and cider, all to be enjoyed cozily by the fire. Grab an old puzzle or game and a movie to bring to your cabin and you're snug for the night. No snow, but who needs it when you have everything else? C'mon up!

...We have a few cabins available through the holidays! Head up the coast for a day or three and enjoy the (mostly) sunny and crisp weather predicted for the next ten days or so. You might even be able to score some last minute deals! Call us up at (707)937-1543 or book online.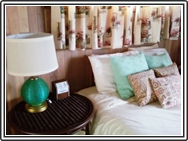 ...From January 3 thru February, we have a seriously sweet deal. We're offering the folks on our email list (that means YOU) a super great winter special. Two nights for the price of one. That's right, half off! Get:

A cozy king cabin with kitchenette and fireplace for $179 plus tax for two nights

A snug queen cabin with electric fireplace for $129 plus tax for two nights

Our suite with king bed, kitchenette, jacuzzi bathtub, living/dining room, and two gas fireplaces for $259 plus tax for two nights

The fine print:

You have to stay for two nights (not one night half off)

You can't combine with other offers or rates (like last minute deals or friends/family rates)

You must be on our email list or be our Facebook fan to take advantage of the offer

This offer is not good on holiday weekends - Jan 16, 17, 18 or Feb 13, 14, 15

Ready to book your half-off getaway? You must CALL us at (707) 937-1543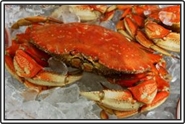 Do you like fresh dungeness crab and plenty of it? If so, then you'll want to head up for Mendocino Wine and Crab Days from January 22 thru the 31st. Lots of fun stuff happening, not to mention at least a couple of crab feeds. People started booking cabins at The Andiron (and tickets for events) a month ago, so don't wait too long. Check out all the crab fun here.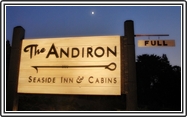 Just in case you don't already know... The Andiron | Seaside Inn & Cabins are 11 one and two room cabins perfectly situated on five acres of meadow and woods in Little River, California. Minutes away from everything - beaches, wineries, diving, hikes, Mendocino, breweries, good food - but quiet, relaxing, and fun. Our cabins are each entirely unique and reflect our love of everything vintage, salvaged, rehabbed, and recycled. Plus, we think your pets are swell, so bring 'em along!
Reservations - book online or call us up at (707)937-1543
The Andiron | Seaside Inn & Cabins | 6051 N Highway 1 Little River CA | (707) 937-1543
www.TheAndiron.com | hello@TheAndiron.com