RBC Honors Student Research

+
Students present research at annual RBC fellows symposium
Writer: Charlene Betourney / Photo Credit: Elizabeth Waters
Thirty-eight presentations on topics ranging from brain disease and stroke to stem cell regeneration and equine muscle damage, were addressed at the annual Regenerative Bioscience Center's (RBC) Fellows symposium..
"It was a great experience to see how diverse regenerative bioscience is and the impact we are making on a wide variety of issues," said undergraduate Ana Maslesa, whose research talk focused on focused on a rare disease called Hypophosphatasia (HPP)...
Awards for best oral presentation went to Maria Naskou, a graduate from the Peroni lab, for .....read full story UGA Columns
| | |
| --- | --- |
| | |
| | |
| --- | --- |
| | |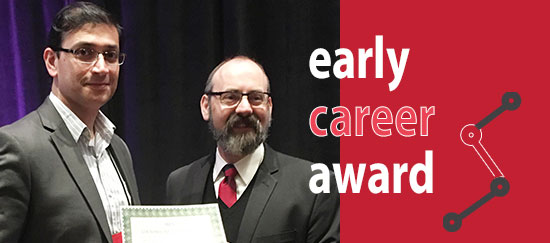 Karumbaiah wins IBIA Neurotechnology Award
Neuroprotective 'glue' traps cells for healing after brain trauma
Writer: Charlene Betourney
Lohitash Karumbaiah, assistant professor in CAES, was honored with the International Brain Injury Association (IBIA) biennial Early Career Investigator Award, in New Orleans at the 12th World Congress.
The IBIA award recognizes an individual whose work as an early career scientist is contributing importantly to the field of brain injury. According to requirements, the candidate must show that they have made a significant contribution to the field of brain injury, in terms of; therapeutic innovation, peer reviewed publications, presentations and educational teaching contributions.
Karumbaiah was recognized for his work in development of a hydrogel matrix termed as Brain Glue™, with a gel-like consistency similar to Jell-O®, that has the unique ability to take the shape of the void left behind after a severe traumatic brain injury (TBIs).
Karumbaiah is working with RBC Director Steven Stice, on a licensed technology for....
| | |
| --- | --- |
| | |

Mason

+

Oxford
Callaway

+

Med School

Hannah Mason of the Karumbaiah Lab

Cali Callaway of the Stice Lab

Hannah Mason has been awarded to become an Oxcam scholar. She will attend the National Institutes of Health Oxford-Cambridge Scholars Program, which is an accelerated, individualized doctoral training program for outstanding science students committed to biomedical research careers.

Cali Callaway is seeking new treatments for patients with spinal cord injuries. In 2016, she was a Goldwater Scholar, a national award for students pursuing careers in science, mathematics and engineering. Callaway will take a year studying artificial intelligence before heading to medical school. MORE
RBC

+

Faculty Focus
| | | |
| --- | --- | --- |
| | | Puliyur S. MohanKumar, a professor in the College of Veterinary Medicine and member of the RBC, has forged research collaborations related to stem cells, nanoparticles and imaging with the goal of improving human and animal health... MORE |
Lui Lab

+

AChemS

Hongxiang Lui and students attended the 39th annual association for Chemoreception sciences (AChemS) conference in Bonita Springs, Florida. The Lui lab presented 5 posters in the research field of taste bud development.
| | | |
| --- | --- | --- |
| | | Host April Sorrow discusses new research, led by Dr. James Lauderdale in UGA's Cellular Biology Department in The Franklin College of Arts and Sciences and member of the Regenerative Bioscience Center, regarding Cornea Repair versus replacement.... LISTEN |
RBC

+

Students and Science

Seth Henry Andrews and Christina Elling of the Stice Lab were Junior Division Judges at the 69th Georgia Science and Engineering Fair. Elling was assigned to the Animal Sciences catergory and Andrews assignment included Engineering Mechanics. Event

Marie McKenzie, doctoral student in the Stice Lab and winner of the prestigious Edward W. Carney Trainee Award, presented at the annual 2017 ITP Spring Retreat, where she placed in the top three.Teratology Society

Funding

+

Available ← ← ←
hope

+

promise
discover

+

learn

+

share
Questions: contact Charlene Betourney, RBC Marketing and Development Coordinator