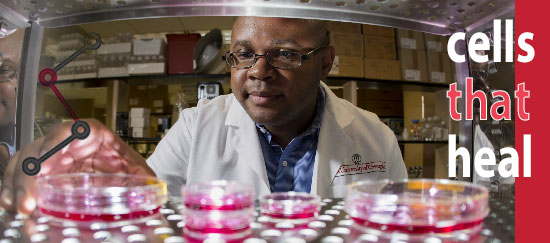 RBC re

+

GENERATING RECOVERY
GA Magzine uncovers how the RBC is creating new therapies
Writer: Lori Johnston / Content Contributor: Charlene Betourney / Pic: Davis Tucker
UGA's expertise in fields such as regenerative medicine and veterinary medicine, combined with partnerships with Emory and Georgia Tech, gives the RBC a strong presence at industry and international meetings. The RBC provides training and education to researchers from around the world, and research findings and papers have appeared in more 1,000 journals and publications.
When they learned about a super-resolution microscope custom-made by researchers with the College of Engineering(who were located next door), the RBC provided a natural way to connect and develop pilot experiments to look at DNA sequences in a 3D structure. The level of resolution was not possible five years ago and is a major breakthrough, De La Fuente says.
"It's valuable access to a lot of people who are doing some very interesting things, and all of a sudden......"
| | |
| --- | --- |
| | |
RBC moving faster
Engineering stem cells for faster vaccine production
Writer: Charlene Betourney Graphics: Katie Walker
"What sets this cell-based production system apart from the others is that it's quick, easy to use and versatile in that it can be applied to multiple vaccine types; for example, Newcastle and, potentially, influenza vaccines, and both animal and human vaccines," said Stice, director of the RBC."
"The use of cell lines for the manufacture of viral vaccines offers additional advantages in the event of a human flu pandemic. Currently, fertilized chicken eggs are used to host the flu virus. This more-than-60-year-old process is not only time consuming, but in the event of a pandemic, it could...."
| | |
| --- | --- |
| | |

Meghan

+

Logun
Karishma

+

Sriram

Graduate, Karumbaiah Lab CAES

Undergraduate, Stice Lab CAES

Meghan successfully defended her Master's Thesis! During her undergraduate career she worked as a research assistant in the Howell lab at the Yerkes National Primate Research Center in Atlanta, where she studied the social effects of MDMA on mice and squirrel monkeys.

2016 UGA student commencement speaker! "I wanted the opportunity to be totally forthright with everyone [who] had an impact on me, whether they realized it or not," Sriram said. "I wanted to share in that moment of excitement but also contentment with how our four years as UGA students have gone." MORE
J.

+

Lauderdale
RBC

+

retreat
CAES

+

Event

Brain Trust

Annual Meeting, Oct 28

CAES honors grads

RBC James Lauderdale is working to understand the basic cellular and molecular mechanisms involved in the central nervous system's development, with particular emphasis on its visual aspects.

Mark your calendars! Since everyone enjoyed last year's format, the day will be centered on round-table discussions concerning funding and research external/internal collaboration themes. Check your email for surprise guest!

The college recognized its best and brightest graduate students at the 2016 Graduate Student Recognition Reception. Forrest Goodfellow, PHD student working with Dr. Stice, won the E. Broadus Browne Research Award, a first time win for the Stice lab.

Jarrod

+

Call
Zion

+

Tse
Shanta

+

Dhar

Minimal Evidence for a Secondary Loss of Strength After an Acute Muscle Injury: A Systematic Review and Meta-Analysis

Social Media's Initial Reaction to Information and Misinformation on Ebola, August 2014: Facts and Rumors.

Mitochondrial dysfunction-mediated apoptosis resistance associates with defective heat shock protein response in African-American men with prostate cancer.
hope

+

promise
discover

+

learn

+

share
Questions: contact Charlene Betourney, RBC Marketing and Development Coordinator