WYOMING NEWS WATCH

LET IT OUT

Wyoming youths are invited to "Let It Out" in an online art contest at www.amillionmilesfromanywhere.com. Submission deadline is July 30. The winning design will be featured on a skateboard, hoodie or T-shirt, and $500 will be awarded to the winner's school art program. Submit a photo to vent@amillionmilesfromanywhere.com of your design, along with your name, phone number, email, art program or department and your design. Entries will be posted online the week of August 6, and the design that receives the most votes by August 20 will win the grand prize.

---

HUMAN TOLL OF TRAGEDY

Powerful storms and flooding that recently hit Wyoming in Campbell County, Gillette, Wind River Reservation and other areas have resulted in millions of dollars of property damage. These losses can place individuals vulnerable to suicide at greater risk. Case in point is the Gulf coast spill, which registered its first known suicide related to the spill. On June 23, two months after the spill, Allen Kruse, a 55-year-old charter fisherman lost his livelihood, then his life. He shot himself in what is the first known suicide related to the spill. The upshot for Wyoming? All residents should be vigilant in watching for signs of suicide in colleagues, family members and friends, particularly after the person at potential risk has experienced significant loss. These losses can include income, job, illness or death, marriage or relationship, career or other.

---

WYOMING YOUTH AT RISK

| | |
| --- | --- |
| | |

Given higher-than-average suicide rates for Wyoming youths—more than double the national average for 15-19 year olds—it seems appropriate that all 23 counties participate in the Prevention Needs Assessment or PNA administered by the Wyoming Survey & Analysis Center ( WYSAC). This annual data collection and analysis, conducted by the University of Wyoming, WYSAC without bias and with the highest standards of validity, helps identify the burden of youth suicide on our state. Yet two of Wyoming's largest counties have schools that have formally announced they will not participate in this year's PNA. The effects of this decision are significant on state suicide-prevention efforts, says Wyoming's Keith Hotle with the State Dept. of Health. "Our collective state data need to be as reliable as possible to fully address suicide as a preventable public health threat in Wyoming," says Hotle. "Absence of the largest counties in our state compromises the collective state data, and with our youth suicide rates as high as they are, we must have a full and accurate picture of the impact of youth suicide in Wyoming."
FEATURED ARTICLE
"Cowboy Up" motto of self-reliance can be deadly for vulnerable Wyoming residents
Rugged individualism prevails in Wyoming and other frontier states, where residents "cowboy up" to take care of problems on their own—even if that may mean taking their own lives.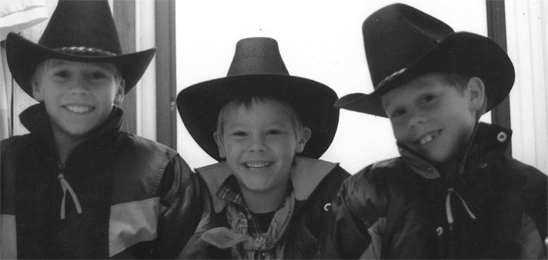 Halloween 1991 was a happy time for siblings Beau, Brett and Blair Wagner of Cheyenne. Yet before one brother turned 20 he would be dead by suicide. A second brother ended his life four years later.
Cheyenne Frontier Days™ had wrapped its 113th year a mere week before Beau Wagner ended his life. The date was August 4, 2009, and while local and national media were reporting on record attendance and rodeo champions, Beau was living his last hours. "He was in such a dark place," recalls his mother BJ Ayers.
Like many who contemplate suicide as a final escape from unrelenting "psychache," Beau hid the depth of his pain—and hid it well. Reflecting the rugged western independence that Wyoming citizens abide by, Beau handled his problems in his own way. So did his kid brother Brett.
Less than four years earlier, Brett too had died by suicide. He was 19 years old, and the youngest of the three Wagner boys. It was December 1, 2005, the day that Brett's sudden and unforeseen death first shattered this Wyoming family.
| | |
| --- | --- |
| | |
| | Beau, Blair, and Brett |
The Wagner brothers (clockwise from upper left, Beau, Brett and Blair) resemble one another in more ways than their rugged good looks. Genetic predisposition to depression, a mood disorder that is often present in people who die by suicide, is something else Brett and Beau likely had in common. But both coped with their emotional pain in their own ways that didn't include clinical treatment—medication, therapy, or ideally both in combination with one another.
After Brett's passing, he left many drawings, sketches and letters that now serve as a testament to his emotional pain—a pain so great he saw no way out other than to end his life. Mom BJ hoped her two remaining sons would be insulated from thoughts of suicide by their youngest brother's death. That was not to be for Beau. Research shows that people who lose a loved one to suicide are at much higher risk of dying by suicide themselves. As unfathomable as it may be, Beau's following in the footsteps of his younger brother, while tragic and incomprehensible, is not surprising to experts in suicidal thoughts, gestures and attempts.
In 2009 the boys' mom established a non-profit organization, Grace for 2 Brothers Foundation. Its mission is two-fold—to serve as a resource for those in emotional crisis or for those who know a person in crisis, and also for people who have lost a loved one to suicide. These "survivors of suicide loss" often experience traumatic, complicated grief and can be prone to anxiety or post-traumatic stress disorder, along with potential onset of clinical depression, as an outcome of coping with a loss as profound as suicide, particularly that of a child.
MARK YOUR CALENDARS! SATURDAY, AUGUST 14: 1st ANNUAL "WALK OF GRACE" at 10 a.m. to 1 p.m. at the Lions Park Amphitheater in Cheyenne. For information or to register, visit www.gracefor2brothers.com. SUNDAY, AUGUST 15: 2nd ANNUAL MEMORIAL GOLF TOURNAMENT the Airport Golf Course in Cheyenne; registration begins at 11 a.m., with tee-off at 12:30 p.m. For information or to register, contact Rick Boheler at 307-432-0547 or rboheler@comcast.net.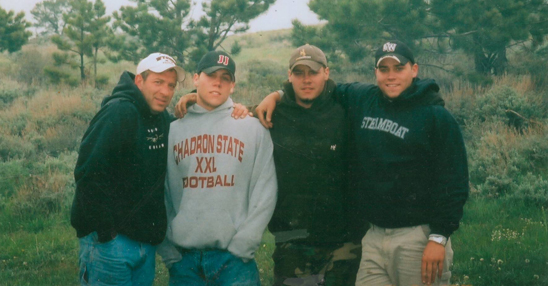 Memorial Day weekend 2005 was the last camping trip that the Wagner brothers of Cheyenne shared before youngest sibling Brett (third from left) died by suicide the following December. He was just 19 years old. Shown here with stepfather Jeff "Pops" Ayers are Blair (second from left), now 25 and the only surviving brother. Oldest sibling Beau (far right) died by suicide in August 2009 at age 26. The boys' mom BJ Ayers honors her sons' memory through the Cheyenne-based Grace for 2 Brothers Foundation, established in 2009 to promote prevention of suicide in the Mountain West.