February Monthly Member Dinner
Geyserville Oriental Community Hall ~ 1000 Hwy 128
Tuesday, February 14, 2017

Happy Valentine's Day! February Members' Dinner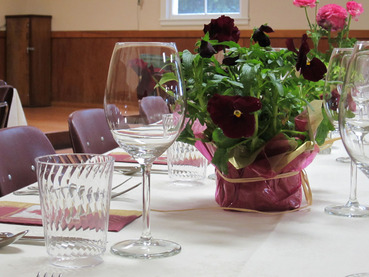 Thank you to all for your understanding and assistance in getting the word out about our January Dinner Cancellation

$26.00 per Person
Tickets go on sale the 25th of each month and can sell out quickly. Please reserve your spot soon*.
Remember to invite family, friends, and potential members
to this month's dinner.
Social Hour: 6:15 to 7:00 pm
Dinner 7:10 pm
Members are welcome to join us just for the Social gathering before dinner without staying to dine
Cooking This Month's Dinner:
Oriental Community Hall


MENU
Spinach and Romaine Salad
Chicken & Sausage Cacciatore
on Creamy Polenta
Sautéed Green Beans
Cheesecake with Raspberry Sauce
Featuring Wines at dinner from
Pedroncelli Winery

We encourage you to bring your own wine glass. We hope to have new Geyserville Chamber logo glasses for purchase in-stock again soon.
This Month
Holly Hoods
Executive Director and Curator of the Healdsburg Museum & Historical Society
*No reservations will be held without payment. All refundable cancellations must be made 72 hours in advance. Those on the waiting list get preference for next month's dinner meeting.

More Geyserville Community News & Announcements
Geyserville Needs You!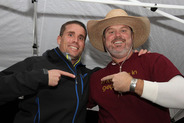 The Geyserville Chamber sponsors several events in Geyserville throughout the year. Once again we finished 2016 with a very successful Tree Lighting & Tractor Parade event. The first Sunday in May brings our May Day Celebration to Geyser Peak Park. The last Sunday in October, the Geyserville Kiwanis and the Chamber sponsor the Fall Colors Festival & Vintage Car Show in the downtown area.
All of these events take much work from many volunteers, and we want to reach out to all of our members and residents of Geyserville.
There are tasks for just about everyone, and we would love to put your talents, interests, and helping spirit to use. If you would like to lend a hand with May Day, the Fall Colors Festival, and/or the Tree Lighting & Tractor Parade, please contact the Chamber at moreinfo@geyservillecc.com.
Chamber Photos Updated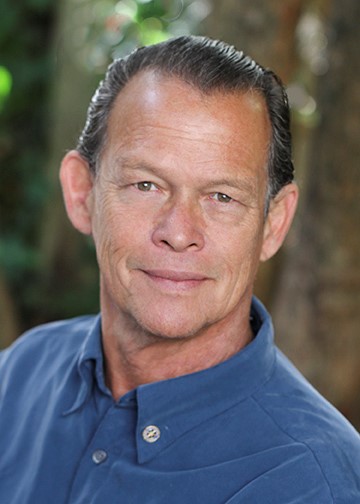 As most of you know, Rick Tang is the official Geyserville Chamber of Commerce photographer. He takes photos at all of our dinners and events, including the recent Tree Lighting & Tractor Parade.
He posts the photos he takes in a special Geyserville Chamber of Commerce gallery on his website. He has recently updated the website to include the most recent photographs, so check it out! You could be starring in one of his great photos.
Lake Sonoma Steelhead Festival

Save the Date!
Saturday, Feb. 11, 2017
The Lake Sonoma Steelhead Festival will be held:
Saturday, Feb. 11, 2017
from 10am to 4pm
The fantastic Lake Sonoma Steelhead Festival will be held on the grounds of the Milt Brandt Visitors Center at Lake Sonoma, rain or shine, from 10 am to 4 pm. Food, wine, beer, silent auction, live music, archery, fishing, tours, demonstrations--just about anything you can imagine. A great event for the whole family and it is FREE!
Friends of Lake Sonoma Website
Collecting Rusty Junk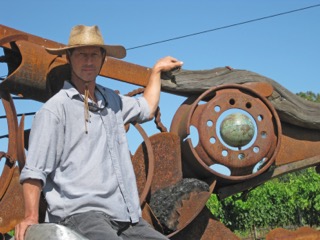 Artist Bryan Tedrick has agreed to work on a sculpture that will STAY in Geyserville. We all loved the Coyote and Sir Snort. There has been much excitement about a sculpture for Geyserville.
To accomplish this goal, he will need approximately 6 tons of rusted metal. He is particularly fond of old farm equipment and tools. If you have agricultural parts and pieces to contribute to this great project, please email a photo of your "junk" to Victoria Heiges at heiges123@yahoo.com. She will forward on to Bryan for approval. Any contributions from the community will reduce the end cost for the community. Thank you in advance!
heiges123@yahoo.com
Biscuits & Gravy Fundraiser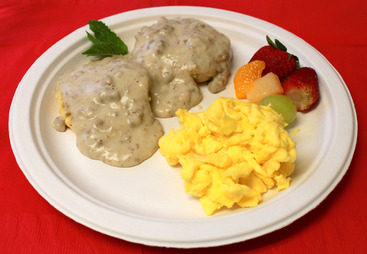 It is almost time for the Oriental Hall Biscuits & Gravy Breakfast! Please save the date:
Sunday April 2nd
8 am to 11 am
$10 Adults ~ $5 Kids
Save $1 on each
ticket purchased early
Contact the group at orientalcommunityhall@gmail.com for info on advance tickets.
Adult beverages also available for an additional charge.
2 WAYS TO BUY YOUR DINNER TICKETS
Mail your check to:
Geyserville Chamber of Commerce
Attn: Dinner Reservations
P O Box 276
Geyserville, CA 95441
OR
Buy online at:
www.geyservillecc.com

Healdsburg Museum Curator & Executive Director
HOLLY HOODS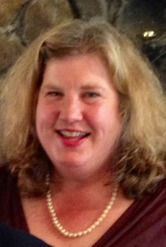 Holly Hoods, is the Executive Director & Curator for the Healdsburg Museum & Historical Society. Her topic for the evening will be: Preserving our rich local history: The story of notable Geyserville native son, Sheriff James Petray.
This Month's Featured Wines are from PEDRONCELLI WINERY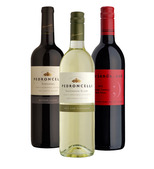 For this month's dinner our wine steward, Erik Overholt, has arranged to feature red and white wines from Pedroncelli Winery. Please enjoy responsibly.
Bookmobile in Geyserville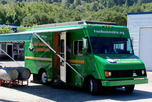 We have three dates for the upcoming Bookmobile!
2/5 at the Kiwanis Pancake Breakfast, Geyserville Ed Park from 8am to 11am
2/11 at the Steelhead Festival 10am to 3pm
2/28 in Downtown Geyserville across from the Park and Ride lot, 5pm to 6:30pm
SAVE THE DATE!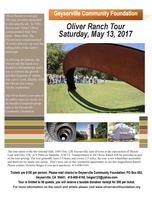 Saturday, May 13, 2017 is the date for the upcoming Oliver Ranch Tour! Watch for more details in our upcoming newsletter and online.
Upcoming Events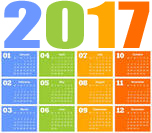 February 5th
--
Kiwanis Pancake Breakfast
, Geyserville New Tech Academy from 8 to 11am
February 5th
--
Bookmobile at Kiwanis Pancake Breakfast
, Geyserville New Tech Academy from 8 to 11am
February 11th
--
Lake Sonoma Steelhead Festival
, Saturday 10am to 4pm
February 14th
--
Geyserville Chamber of Commerce Members Dinner
, 6:15pm
April 2nd--Oriental Hall Biscuits & Gravy Breakfast, 8am-11am
THANK YOU TO OUR CORPORATE GCC SPONSORS:
A Plus Locksmith
Big John's Market
Calpine Corporation
Four Seasons
Vineyard
Management
Francis Ford
Coppola Winery
Garzini Welding
Gehrett & Zunino
Builders
Geyserville Inn &
Geyserville Grille
Golden Key Wealth
Management
North County
Properties
River Rock Casino
Silver Oak Cellars
Syar Industries, Inc.
The Ranch Sonoma
W.C. Sanderson
Ford