Events, News, & Announcements

April Chamber Dinner is Tuesday!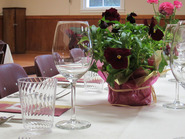 There are still reservations open for Tuesday's Geyserville Chamber Member's dinner, April 12th, presented by the Geyserville Elementary Parents Club and DELAC. They will serve Pork Chile Verde, a local favorite, and our table wines will be from Amphora. The speakers will be Regina Novello and Mark Blankenship of Healdsburg District Hospital. Don't miss out!

Celebrate the Installation of Our New Postmaster on April 8th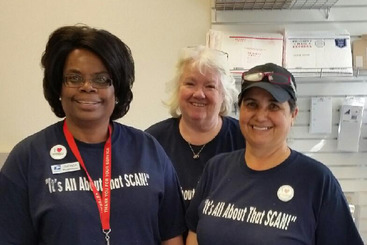 You are invited to celebrate at the installation ceremony for our new Geyserville Postmaster, Rhonda Ahanotu.
Friday, April 8th
12:30pm
Geyserville Post Office
116 School House Lane
707-857-3445
Join the whole town and the rest of the post office staff in welcoming her to Geyserville!
Biscuits & Gravy Breakfast!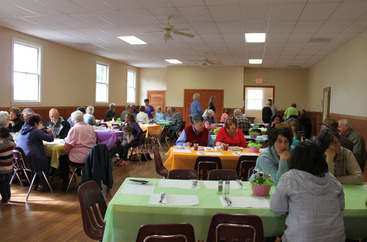 Join your neighbors and friends at Oriental Hall's annual Biscuits and Gravy Breakfast. Only $10 for Adults and $5 for kids (12 and under). This year they will be raising funds for their Geyserville Scholarship, as well as ongoing building maintenance. You can help by attending this delicious breakfast and checking out the silent auction items.
Sunday, April 10th
8am to 11am
Biscuits & Gravy, Scrambled Eggs,
and Fruit Salad
Coffee, Tea, Orange Juice, and Milk
included
Gin Fizzes, Mimosas and Bloody Mary's
for adults for an slight additional charge
Link to OCH website
Oliver Ranch Sculpture Tour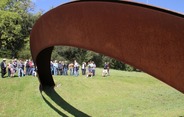 There are ONLY 6 spots remaining for the Oliver Tour on Sunday, April 10th. If you are interested in joining the tour contact
Bridget or Karen at ncproperties@comcast.net or by calling 707-857-1728.
Sunday, April 10th
Meet at Oriental Hall Parking Lot
9:30 am to noon
$100 per person in advance
Since this is the same date as the OCH Biscuits & Gravy breakfast (8am to 11am), we suggest you arrive early (before the 9:30 meetup time) to allow plenty of time to find parking,
and perhaps enjoy breakfast before the tour.
Pine Flat History Walk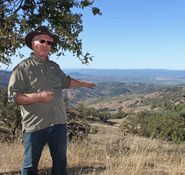 Joe's walk with the folks from Audubon Canyon/Modini Mayacamas Preserve is FULL! However, if you are still interested in joining the hike, please use the link below to add your name to the waiting list.
Sunday, April 10th
Meet at the Junction of
Red Winery Road and Pine Flat Road
9am to Noon
Registration with the meetup website is required to add your name to the waiting list. Here is the link:
Trione Winemaker Fridays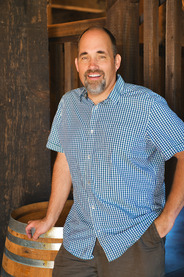 Join Trione winemaker, Scot Covington, for this unique wine country experience. Once a month, ?starting in April, Scot will make himself available to chat wine education, wine and wine making, food, life or most anything else you'd like to chat about. He will go all out with some barrel tasting, cellar tours, and even a few rounds of bocce in the vineyard. Choose your date, and contact our Tasting Room to let them know when you're coming for Winemaker Fridays! You can phone them at 707-814-8100 or email info@trionewinery.com. Choose from these dates:
Friday, April 15th
Friday, May 13th
Friday, June 10th
Friday, July 8th
Trione Vineyards & Winery Tasting Room is open Thursday through Monday at:
19550 Geyserville Avenue
Geyserville, CA 95441
Year of the Entrepeneur (YOTE)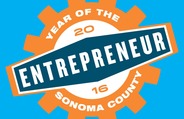 The office of our 4th District Supervisor, James Gore, sent this invitation to share with our Geyserville Chamber Business Members of all levels.
The free YOTE information session will be held:
Wednesday, April 13th
4:00 pm to 6:00pm
Register at yote.eventbrite.com
at American Ag Credit
400 Aviation Blvd.
Santa Rosa
Sonoma County's Economic Development Board wants to help you market and promote your business efforts. This year long campaign will help raise the visibility of all local efforts to support entrepreneurs and small businesses.
Light Snacks and wine will be served
For more information or to RSVP contact:
Ethan Brown
707-565-7589 or
ethan.brown@sonoma-county.org
Tour the Geysers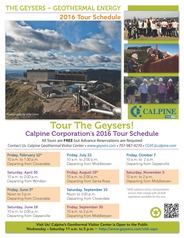 Calpine has released their schedule of Geysers tours for 2016! There are several dates leaving from Geyserville, as well as some leaving from Cloverdale, Windsor, and Middletown. Check out the link below for details, dates, and locations.
Chamber Calendar of Events
Tomatomania!!!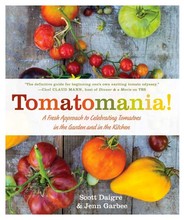 Start planning now for the best and juiciest tomatoes! From 9 am to 5 pm on April 30th, stop by Trione Winery and visit with the Tomatomania folks, and buy some interesting and unique tomato starts.
Plants, stakes, pots, and fertilizer will all be for sale on the lawn, and there is no charge to check it out.
The winery will also be releasing their 2015 Rose of Pinot Noir on this date, from 1 pm to 4 pm. Peloton Catering will serve "brunch-like bites" to go with samples of Rose, Pinot Noir, and Sauvignon Blanc. There is a $15 charge for the public, and there will be a 10% discount on your wine purchases.
Tomatomania at Trione
May Day is Coming!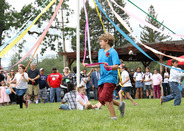 Mark your calendars now for May Day 2016!
Sunday, May 1st
Hoffman Grove
Picnic Grounds
12 noon to 4pm
May Day is plenty of fun for the whole family. Don't miss the Kiwanis Rib Cook Off--sample and vote for your favorites. For the kids, there is a bouncy house and rock climbing wall, plus an arts and crafts area.
For kids of all ages, there will be an old-fashioned egg toss. And, of course the presentation of the May Pole Dance by Geyserville Elementary students and dances performed by Ballet Folklorico. Soft drinks and wine, and food offerings benefit local schools and non-profit groups. Don't miss this family friendly event that began in 1925!
Enter the Geyserville Kiwanis Rib Cookoff. Entry forms now available! More info here and at upper right.
With No Place to Call Home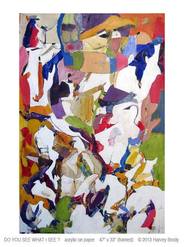 You are invited to attend the "No Place to Call Home" exhibit featuring art work, photography, and video productions by students from local schools and community members.
Saturday, May 14th
4:00 pm to 7:00 pm
Paul Mahder Gallery
Healdsburg
This exhibit, organized by North Sonoma County Services, with the support of many community volunteers, will remain on display at the gallery through May 26th. The exhibit is in memory of Patricia Gilson, a homeless woman, who died alone in a Healdsburg public restroom.
NSCS is looking for concerned community champions who will help cover the costs of this community awareness event. Please consider being a sponsor for this event by buying a listing in the event program:
1/4 Page Partner for Change Up to $150
1/2 Page Advocate for Change $150 - $240
Full Page Champion for Change $250 and up
Mail or deliver your check/donation to:
NSCS
209 Matheson Street
Healdsburg
or contact Colleen Householder, 707-433-6161
Kiwanis May Day Rib Cook-Off!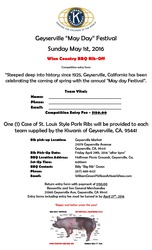 Geyserville Kiwanis wants YOU to enter their Wine Country BBQ Rib-Off at Geyserville's May Day Festival. One case of St. Louis Style Pork Ribs will be supplied by Kiwanis to each team and may be picked up after 5pm on April 29th at Geyserville Market. Entry Form and $150 entry fee required--ENTRY DEADLINE is April 27th. See links below for more details.
Calendar of Upcoming Events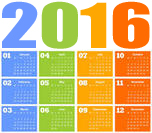 April 8
--
Geyserville Postmaster Installation
, at the post office, 12:30pm
April 10
--
Biscuits and Gravy Breakfast
, at Oriental Hall, 8am to 11am
April 10
--
Oliver Ranch Tour
, 9:30 to Noon, meet at Oriental Hall parking lot. (Come early to enjoy the breakfast).
April 10--Joe Pelanconi Pine Flat History Walk, 9am to Noon -- Waiting List for reservations
April 13
--
Year of the
Entrepreneur
Info Session
, at American Ag Credit, from 4pm to 6pm, FREE event, but RSVP is required
April 15
--
Blood Centers of the Pacific Bloodmobile
, at the Geyserville Fire parking lot, from 2pm to 6pm
April 15, May 13, June 10 & July 8
--
Trione Winemaker Fridays
, 3pm to 5pm, RSVP to Trione Tasting Room
April 15, 16 & 17
--
Next Level Music Conference and Showcase
, more info at NextLevel.com
April 26
--
FREE Bookmobile
, 5:00 pm to 6:30 pm on Geyserville Avenue across from the Park & Ride lot
April 29
--Pick up your Ribs for the Kiwanis Rib Cook Off
, at Geyserville Market after 5pm--$150 entry fee and form required by April 27th
April 30
--Tomatomania and Rose of Pinot Release
, at Trione Winery
May 1
--Geyserville May Day Celebration
, Noon to 4pm, Hoffman Grove Picnic Grounds
May 14
--With No Place to Call Home Exhibit
, Paul Mahder Gallery in Healdsburg, 4pm to 7pm--exhibit ongoing through May 26th
June 18
--Calpine Tour of the Geysers
, meet at Oriental Hall at 10am. More info at geysers.com
Bookmobile in Geyserville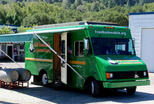 The free Bookmobile of Sonoma County will again be in Geyserville.
Tuesday, April 26
Across from the Visitors Plaza/Park & Ride Lot
on Geyserville Avenue
5:00 to 6:30 pm
Come check out their wonderful selection of books and take home some new reading material for free!
More dates and locations available on the:
Friends of Lake Sonoma Chooses New Chairwoman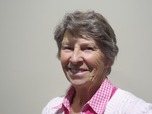 Linda Clapp, a retired park ranger with the Army Corps of Engineers, and a Cloverdale resident, is the newly elected chairwoman of the Friends of Lake Sonoma.
Linda succeeds Rich Thomas of Healdsburg, but Rich will stay on the board as vice president, while Tony Pettis of Windsor will continue to serve as treasurer, and Mark Thayer of Cloverdale will serve as board secretary.
Dora Azevedo, Harry Bosworth, Joe Brandt, and 9 others will also serve on the board.
The Friends of Lake Sonoma is a group of volunteers that supports the educational and interpretive programs of the U.S. Army Corps of Engineers at Lake Sonoma. They are the sponsoring organization of the annual Lake Sonoma Steelhead Festival--6,000 people attended this year.
Blood Bank Bloodmobile at Firehouse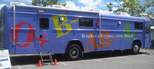 The Blood Centers of the Pacific has arranged to have their bloodmobile at the Geyserville Fire station in town.
Friday, April 15th
2 pm to 6 pm
For further information, contact Kim Walsh at 707-280-2563 or go to bloodcenters.org.
Next Level Sonoma County Music Conference & Showcase

Creative Sonoma and The North Bay Hootenanny are teaming up to bring you the Next Level Music Showcase and Conference, Friday through Sunday, April 15-17.
Next Level is designed to celebrate the musical talent and exploration occurring across Sonoma County and to provide advice and expertise to local musicians to help them move their careers forward.
The Showcase is Friday and Saturday, April 15 and 16, and will feature three-stages to showcase exceptional local and regional musical talent at Events at The Arlene Francis Center in Santa Rosa's Historic Railroad Square.
The Conference will be on Sunday, April 17, all day-long, at Chop's Teen Center. Attendees can learn directly from regional and national music industry professionals.
Full Showcase and Conference schedule and list of performers is available on the Next Level website (see links below).
THANKS TO OUR CORPORATE GCC SPONSORS:
A Plus Locksmith
Big John's Market
Calpine Corporation
Four Seasons Vineyard
Management
Francis Ford
Coppola Winery
Garzini Welding
Gehrett & Zunino
Builders
Geyserville Inn &
Geyserville Grille
North County
Properties
River Rock Casino
Silver Oak Cellars
Syar Industries, Inc.
Taylor Electric
Trione Vineyards
and Winery
W.C. Sanderson Ford