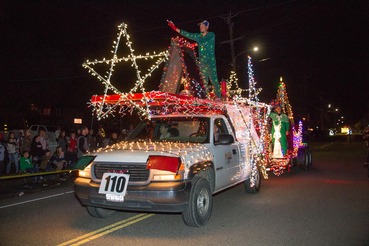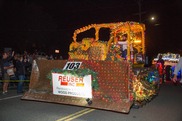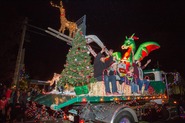 Photos courtesy of Rick Tang
Best of Show and WOW Factor Winner:
Halvorsen Solar Service #110
Other Winners were:
Best Large Tractor/Truck: #103 Reuser, Inc.
Best Small Tractor/Truck: #122 All Phase Excavating
The winners will each receive a Gift Basket provided by town folks donating special items and merchants with wine and gift certificates. If you have something to add to the baskets please contact Kim Petersen--707-484-8343--she is collecting items now.
Awards will be presented at the Geyserville Chamber Dinner on Tuesday, December 12th. All parade participants are welcome to attend. Advance reservations are required (see above) or go
online
to the chamber website for details.
We would like to say a special "Thank You" to the following. Without you this event would not be possible.
Karen Waelde, Event Coordinator
Emcees: Senator Mike McGuire, Supervisor James Gore, Brian, Joe, Corin, Tracey--thank you for your wonderful spirit of enthusiasm in emceeing the Tractor Parade. Well done!
California Highway Patrol: Thank you for your great work in helping with the approximately 5,000 people who come to our little town.
Secret Judges: Thank you for your partcipation in judging this year's 2017 Geyserville Tractor Parade--you had a very difficult job.
Committee & Workers Elves: Thank you TEAM GEYSERVILLE. You know who you are! Thank you for making this year's event run so smoothly.
We look forward to seeing everyone at the next Geyserville Tree Lighting & Tractor Parade!
Congratulations to all our winners and thank you to all who participated in or attended.
Geyserville thanks you all for your support!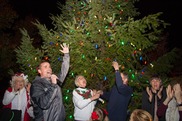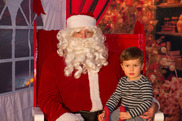 (Left) Senator Mike McGuire & Mrs. Clause help the Pedroncelli's celebrate the lighting of the tree that was donated by the Wilson Family again this year. (Right) Santa visits with a small admirer.
Photos courtesy of Rick Tang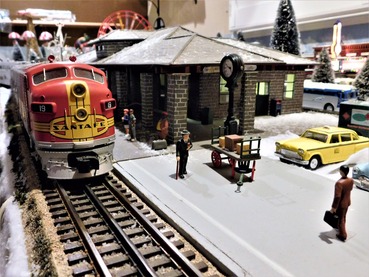 This year's annual holiday exhibition arrives November 24, 2017 and runs, Wednesdays through Sundays 11:00am – 4:00pm, until January 7, 2018.
The exhibit includes spectacular Lionel scale-model trains in small-town winter settings from the mid 1940s to the 1960s, famous passenger trains - Santa Fe El Capitan and New York Central's 20th Century Limited, Southern Pacific and Northwest Pacific freight trains,tank and box cars carrying wines from Healdsburg's Roma and Foppiano wineries, and Asti's Italian Swiss Colony winery. Plus replicas of the Healdsburg Train Depot and the Roma winery building (now Hudson Street Wineries), town street, park and carnival animations celebrating the holidays, a hand-forged and painted, scale replica of an 1860s steam powered train sitting on a scale replica of the Healdsburg Railroad Bridge, with other trains and toys to complete the exhibit.
The Lionel trains and accompanying scenes are from the collection of Wayne Padd. The hand-forged train from 1860 was created by Healdsburger Shirley Truitt. Museum craftsman Jon Lacaillade made the railroad bridge model.
For more information contact the museum at: info@healdsburgmuseum.org or (707) 431-3325
www.healdsburgmuseum.org