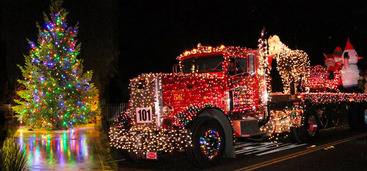 $26.00 per Person
Tickets go on sale the 25th of each month and usually sell out quickly, so please reserve your spot soon*.
In the spirit of the holidays, we encourage you to invite potential members to this month's dinner.
Social Hour: 6:30 to 7:00 pm
Dinner 7:10 pm
Members are welcome to join us just for the Social gathering before dinner without staying to dine
Cooking This Month's Dinner:
Northern Sonoma County Locals Unlimited
(the Tractor Parade Guys)
MENU
Mixed Green Salad
Glazed Baked Ham
Roasted Garlic Mashed Potatoes
Vegetable Medley
Pumpkin Custard Soft-serve Ice Cream
and Cookies
Featuring Wines from
Munselle Vineyards at dinner
We encourage you to bring your own wine glass, or you can purchase Gyeserville Chamber logo glasses for $5 each.
This Month's Entertainment
Pastor Hilary Marckx
from Geyserville Christian Church
As is our custom, we will be collecting unwrapped toys, canned foods, and checks for the Geyserville Christian Church Pastoral Fund. These funds go directly to folks in need in our community during the holidays and beyond.
Thank you in advance for your generosity.
*No reservations will be held without payment. All refundable cancellations must be made 72 hours in advance. Those on the waiting list get preference for next month's dinner meeting.