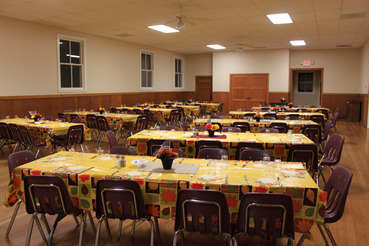 Tickets are still available for the Geyserville Chamber dinner next Tuesday. The OCH group will have a special presentation of information and memorabilia from the time Oriental Community Hall served as a staging area for the Pocket Fire.
Tuesday, November 14th
Social Hour:
6:15 to 7:00 pm
Dinner: 7:10 pm
Cooking This Month's Dinner:
Oriental Community Hall Association
and Geyserville Grange
MENU
Mixed Green Salad
Herb Roasted Pork Loin with Pan Gravy

Dressing with Italian Sausage and Apples
Baked Butternut Squash with Brown Sugar Butter
Pumpkin Pie Cake
Featuring Wines from
Toad Hollow Winery
at dinner
We encourage you to bring your own wine glass.
This Month's Speaker is
Sonoma County District Attorney,
Jill Ravitch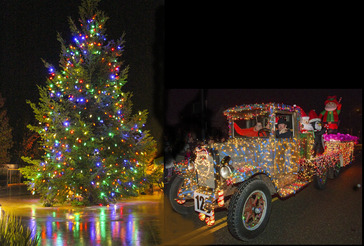 COMPLETE ROAD CLOSURE for this year's Tree Lighting and Tractor Parade event. We want all Geyserville residents, businesses, and visitors to be aware of this well in advance.
Geyserville Tree Lighting & Tractor Parade
Saturday, November 25th
5 to 9pm
This event is presented by the
Geyserville Chamber of Commerce
and sponsored by the County of Sonoma Board of Supervisors, State Senator Mike McGuire, and
American Ag Credit
Emcee for the Event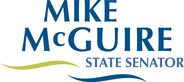 Click the images above for a printable pdf of the flyer and/or entry form.
This is a great afternoon/evening for shopping with the unique stores and tasting rooms in Geyserville and a fun family event benefiting various civic groups as they sell their food and drinks to raise money--chili at the firehouse, hot dogs and sausages at Odd Fellows with the bar open upstairs, and various snacks. Don't forget our popular restaurants are open as well, so make your reservations early.
Visit with Santa and Mrs. Claus in their special workshop in the Park & Ride Lot. Join carolers as we prepare to light this year's fresh Christmas tree for the season, and line up to watch the fantastic creative work of all the parade entries as their various vehicles bring the holiday spirit to LIGHT!
Tree Lighting & Tractor Parade Event