July/Aug Events, News & Announcements

National Night Out Geyserville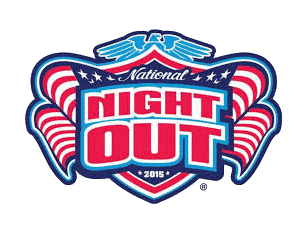 This is the 35th Anniversary of the National Night Out celebrations. National Night Out is an annual community-building campaign that promotes public safety-community partnerships and neighborhood camaraderie to make our neighborhoods safer, more caring places to live.
Come celebrate the community of Geyserville on Tuesday, August 7th, from 6:00 to 8:00 pm at the Geyserville Fire Station. RSVP on their facebook page by clicking "Interested"at the link below, under Events. And share on your own page and we'll show 'em what we got in Geyserville!
Geyserville Fire Protection District facebook page
Chamber June BBQ Photos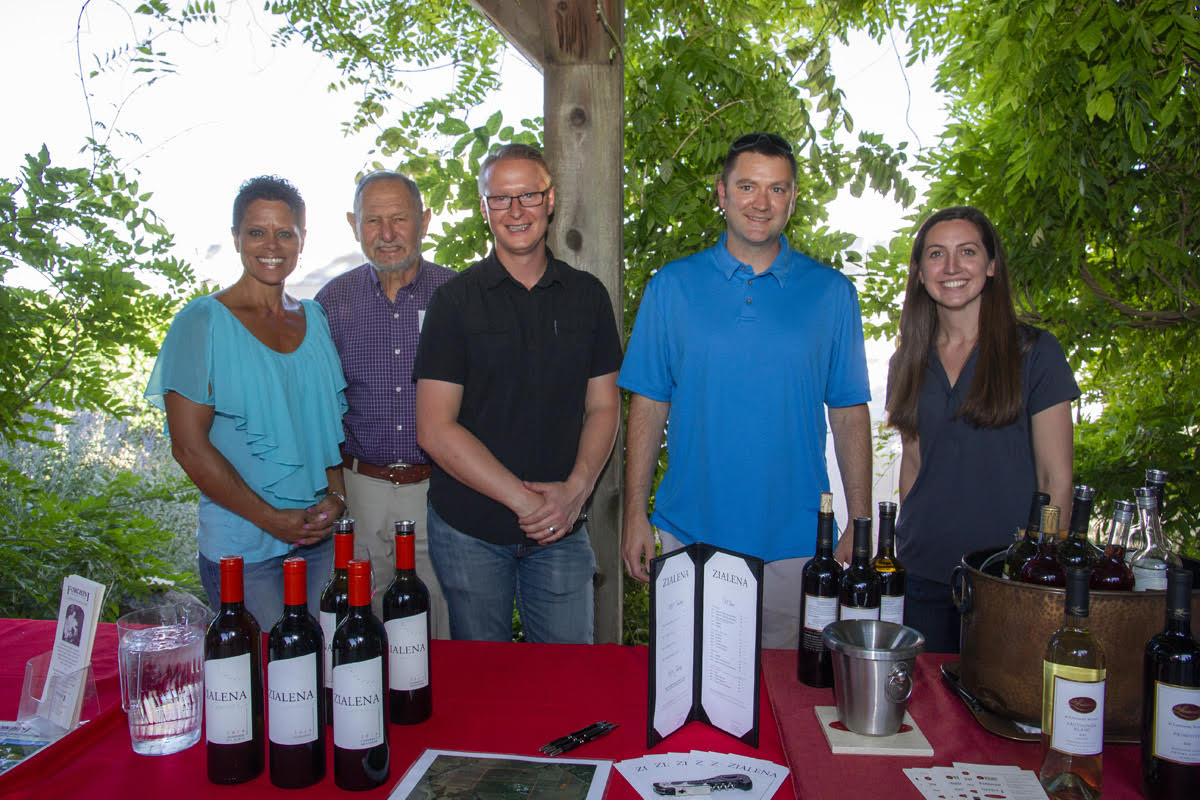 Over a dozen wineries poured at this year's event including host winery de Lorimier, pedroncelli, Forchini and Zialena.
As promised, you can view and purchase photos from all chamber events on Rick Tang's website under
Chamber Events
. These and other photos of the BBQ (and past events) are available NOW!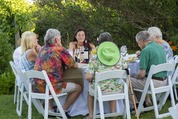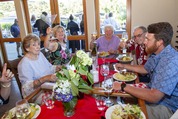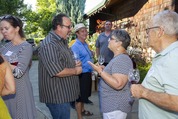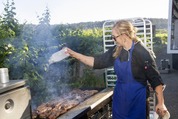 Above left to right: A group of Geyserville Chamber members, including the Pedroncelli's and several Geyserville Chamber Board members enjoy their dinner; Madden Family Vineyards chose indoor VIP seating; Kathy and Joel Zunino chat with Ken Rochioli; and a member of Ken's KR Catering team works over a hot grill. More online!

Exhibit at Dallas S. Saunders Gallery
Summer Events at Coppola
Geyserville Oddfellows #176 Summer Hoedown
Alexander Valley Film Society Presents: Drive-In Series Movies
Geyserville Planning Committee
Summer Music at de Lorimier
SAVE THE DATE! FOR THE FALL COLORS FESTIVAL AND VINTAGE CAR SHOW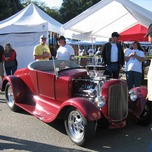 If you are a CRAFT VENDOR or vintage CAR OWNER, please save
SUNDAY,
OCTOBER 28, 2018
for the Geyserville Fall Colors Festival and Vintage Car Show.

Applications for vendors and car owners should be available approximately one month prior to the festival. If you have participated in the past, you should be contacted by the coordinating group. You can also check our website for updated information,as it becomes available.
Bookmobile in Geyserville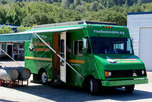 The Bookmobile will be in Geyserville this month. Look for it across from the Park & Ride Plaza.
Tuesday, July 31st
& August 28th
5:00 pm to 6:30 pm Geyserville Avenue across from the Park & Ride Lot
More info on the FREE bookmobile is available on their website.
Summer Wine Event at J. Rickards Winery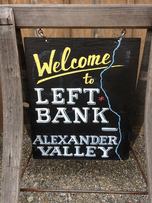 Left Bank Alexander Valley Tasting 2018
Saturday, August 25th
11:00 am to 4:00 pm
This event features wineries of Northern Alexander Valley. Sample wines from this historic region along with tasty bites, and take home a logo wineglass. Ticket Price of $45 includes $20 towards wine purchases. plus coupons!
Happy Hour Thursdays at Trentadue Winery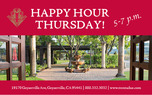 If you have not yet checked out the summer concerts at Trentadue, there's still time. Trentadue Winery will be hosting their Happy Hour Thursday each week of summer for family friendly fun, music, food and wine. Each week will
feature a different live band, plus a food truck and exclusive wine specials. These events are open to the public and FREE to attend. Upcoming events:

July 26th-
Music-Soulshine Blues Band (Blues)
Food Trucks-Diaz Catering & Which Cheese
August 2nd-
Music-The Third Rail (Rockin' Country)
Food Truck-Croques & Toques
August 9th-
SPECIAL LOCATION-THE RANCH AT LAKE SONOMA!
Music-Jinx Jones (Country Twang)
Food Trucks-Yay! Paella & Nellies Oysters
This is a benefit for Rebuild North Bay fire relief
August 16th-
Music-Court 'N' Disaster (Rock & Country)
Food Truck-Pilon Kitchen
August 23rd-
Music-The Hots (Old School Rock with new wheels)
Food Truck-A Guy and His Grill
August 30th-
Music-The Poyntlyss Sisstars Rockin' Show Band (Dance Hits)
Food Truck-Got Balls Meatball Factory & Yay! Paella
Upcoming Events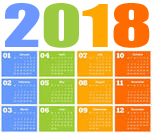 Now through August 5th
--
Contemporary Tapestries by Major American Artists, at Dallas A. Saunders Artisan Textiles, Fri, Sat, & Sun 11:00 am to 6:00 pm
July 26th, August 2nd, 9th, 16th, 23rd & 30th
--
Happy Hour Thursday concerts,
at Trentadue Winery, 5:30 to 10:00 pm
July 27th, August 24th & September 7th
--
Summer Friday Night Concerts,
from Wilson Artisan Wines, at de Lorimier Winery, 5:00 pm to 7:00 pm
July 31st & August 28th
---
Free Bookmobile
in Geyserville, across from Park & Ride lot, 5:00 pm to 6:30 pm
August 7th
--
Geyserville National Night Out, Geyserville Fire Station, 6:00 to 8:00 pm
August 11th
--
Geyserville Oddfellows Summer Hoedown, Geyserville Oddfellows Lodge #176, doors open 5:30 pm
August 18th
--
Alexander Film Society Summer Series Drive-In Movies, Cloverdale Citrus Fairgrounds, opens at 6:30 pm, movies start at dusk
August 20th & 27th
--Geyserville Planning Committee,
meetings at the Fire Station, check website for times
October 28th
--
SAVE THE DATE
for the FALL COLORS FESTIVAL & VINTAGE CAR SHOW!
THANK YOU TO OUR CORPORATE GCC SPONSORS:
A Plus Locksmith
Atlas Vineyard
Management
Big John's Market
California American
Water
Calpine Corporation
Cats 4U
Four Seasons
Vineyard
Management
Francis Coppola Winery
Garzini Welding
Geyserville Inn &
Geyserville Grille
Golden Key Wealth
Management
North County
Properties
River Rock Casino
Syar Industries, Inc.
The Ranch Sonoma
Trentadue Winery
W.C. Sanderson
Ford