April Monthly Member Dinner
Geyserville Oriental Community Hall ~ 1000 Hwy 128
Tuesday, April 12, 2016

April Monthly Members Dinner

$26.00 per Person
Tickets go on sale the 25th of each month and usually sell out quickly, so please reserve your spot soon*.
Social Hour: 6:15 to 7:00 pm
Dinner: 7:10 pm
Members are welcome to join us just for the Social Gathering before dinner without staying to dine
Cooking This Month's Dinner:
Geyserville Elementary Parents Club
and DELAC
MENU
Southwestern Salad
Pork Chile Verde with Tortillas
Rice & Beans
Mexican Chocolate Cake
Featuring Wines from
Amphora Winery
We encourage you to bring your own wine glasses. We are currently
out of stock on the Geyserville Chamber's tote bags and logo glasses.
This Month's Speakers are
Regina Novello and Mark Blankenship
of Healdsburg District Hospital
*No reservations will be held without payment. All refundable cancellations must be made 72 hours in advance. Those on the waiting list get preference for
next month's dinner meeting.

More Geyserville Community News & Announcements
Oriental Hall Annual Biscuits & Gravy Breakfast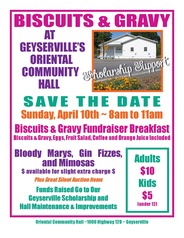 You're invited! Adults and kids are welcome. Come mix and mingle with all your friends and perhaps enjoy an adult beverage with this once-a-year breakfast--there will be orange juice and milk for the kids!
MENU
Biscuits & Sausage Gravy
Scrambled Eggs
Fruit Salad
Coffee, Tea, Orange Juice or Milk
Adult Beverages are available
for an extra charge
This year the Oriental Hall folks are hoping to raise funds to help support a scholarship for a graduating Geyserville Senior. Check out the selection of Silent Auction items--there's bound to be something you can't resist.
More Info
Pine Flat History Walk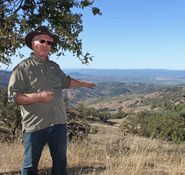 On Sunday, April 10th, local historian Joe Pelanconi, will be leading another History Walk on the Modini Preserve to talk about the wonderful characters and history of the now deserted town of Pine Flat. The last hike filled up fast, so watch their online calendar for the listing, and sign up quickly.
Sunday, April 10th
Meet at the Junction of
Red Winery Road and Pine Flat Road
9am to Noon
Reservations must be made in advance through the Audubon Canyon calendar links below.
For further information on this
or other outings you can contact ACR Resource Ecologist,
David Self, at 707-431-8184.
May Day is Almost Here!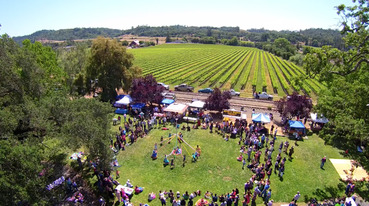 May Day is one of Geyserville's favorite events and it's plenty of fun for the whole family. Don't miss the Kiwanis Rib Cook Off--sample and vote for your favorites. For the kids there is a bouncy house and rock climbing wall, plus an arts and crafts area. For kids of all ages, there will be an old-fashioned egg toss.
And, of course there will be the presentation of the May Pole Dance by Geyserville Elementary students and dances performed by Ballet Folklorico.
Soft drinks and wine and food offerings benefit local schools and non-profit groups. More info on the rib contest and booths for Geyserville non-profits will be provided as it becomes available.

Chamber Calendar of Events
2 WAYS TO BUY YOUR DINNER TICKETS
Mail your check to:
Geyserville Chamber of Commerce
Attn: Dinner Reservations
P O Box 276
Geyserville, CA 95441
OR
Buy online at:
www.geyservillecc.com

This Month's Speakers are Regina Novello &
Mark Blankenship of Healdsburg District Hospital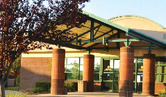 Regina Novello is the Chief Operating Officer for Business Development and Physician Recruitment at Healdsburg District Hospital. Mark Blankenship is Director of Perioperative Services and Interim Director of Emergency services for HDH. Both have done their time in the trenches and are working towards the continued success of our local hospital.
This Month's Featured Wines on the Dinner Table are from AMPHORA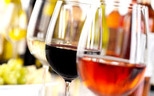 For this month's dinner our wine steward, Erik Overholt, has arranged to feature wines from Amphora on the dinner table. Please enjoy responsibly.
Visitor Center Volunteers Wanted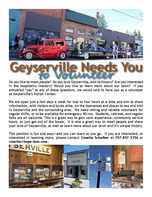 The Geyserville Visitor Center needs a few more volunteers for short shifts at our Visitor Center next to Bosworth's store. There is a small museum with interesting Geyserville artifacts, plus information on local businesses. Volunteers help direct tourists to local points of interest and answer simple questions about Geyserville and the surrounding area. Won't you consider volunteering for a few hours?
More Info

Print Flyer
Limited Number of Spots Remain for the Oliver Ranch Tour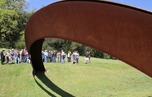 Once a year Steve Oliver opens his ranch to us for a tour of the amazing sculpture installations on his ranch. If you do not yet have a spot for this tour, reserve now!
Sunday, April 10th
Meet at Oriental Hall
at 9am
(arrive early to participate or to find parking, as the OCH Biscuits & Gravy event is also scheduled for this morning)
Tour is from
9:30 to Noon
Email Bridgett or Karen at ncproperties@comcast.net or call 707-857-1728.
THANK YOU TO OUR CORPORATE GCC SPONSORS:
A Plus Locksmith
Big John's Market
Calpine Corporation
Four Seasons
Vineyard
Management
Francis Ford
Coppola Winery
Garzini Welding
Gehrett & Zunino
Builders
Geyserville Inn &
Geyserville Grille
North County
Properties
River Rock Casino
Silver Oak Cellars
Syar Industries, Inc.
Trione Vineyards
and Winery
W.C. Sanderson
Ford