December Monthly Member Dinner
Geyserville Oriental Community Hall ~ 1000 Hwy 128
Tuesday, December 12, 2017

December Members' Dinner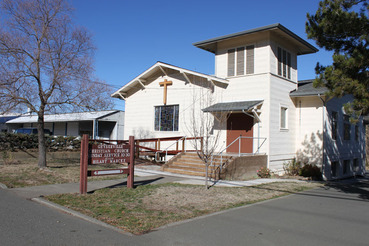 $26.00 per Person
Tickets
usually
go on sale the 25th of each month. We are giving you EARLY NOTICE because of the Thanksgiving holiday, and reservations for our members are available TODAY! Please reserve your spot soon*. Reservations will be open to everyone on Monday, November 27th.In the spirit of the holidays, please invite family, friends, and potential members to this month's dinner.
Social Hour: 6:15 to 7:00 pm
Dinner 7:10 pm
Members are welcome to join us just for the Social gathering before dinner without staying to dine
Cooking This Month's Dinner:
Geyserville Christian Church
MENU
Ceasar Salad
Roast Beef and Gravy
Creamy Mashed Potatoes
Green Beans Almondine
Holiday Cream Puffs
Featuring Wines from
Mixed Wines from Santa's Bag
We encourage you to bring your own wine glass.
This Month's Entertainment
Pastor Hilary Marckx
from Geyserville Christian Church
As is our custom, we will be collecting unwrapped toys, canned foods, and checks for the Geyserville Christian Church Pastoral Fund. These funds go directly to folks in need in our community during the holidays and beyond.
Thank you in advance for your generosity.
*No reservations will be held without payment. All refundable cancellations must be made 72 hours in advance. Those on the waiting list get preference for next month's dinner meeting.

More Geyserville Community News & Announcements
LAST CHANCE to Enter this year's Tractor Parade!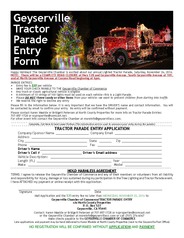 If you still haven't submitted your Parade Entry, there's still time. But, you need to hand deliver it to the North County Properties office (next to the Post Office in Geyserville) by Friday, November 24th! So don't waste another minute. Click the image to the right or the link below to print your application NOW!
Spirit of Sonoma Luncheon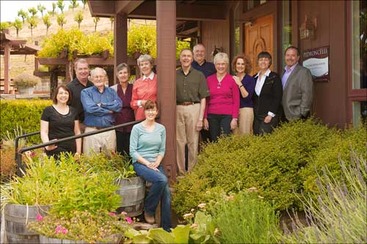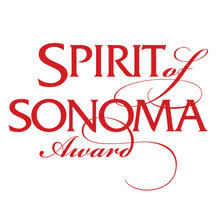 Don't forget to reserve your spot for the Spirit of Sonoma awards luncheon on Friday, December 8th at the Double Tree Hotel in Rohnert Park. The luncheon will be from 11:30 am to 1:30 pm. The Geyserville Chamber will be honoring the Pedroncelli Family for their contributions to our community in Geyserville.
A reserved table of 8 will be $700. You can contact Danielle Alexander to coordinate being part of a Geyserville table at ddibari@aol.com.
Here are a few tips to register. You don't need to know all your guests to reserve your table, just put your company name or last name. You will receive an email confirmation--save this email as it has your confirmation number on it, which will allow you to easily update guest list and meal choices. Please update any Unknown dinner choices by Friday, December 1st. (See below.)
Meal choices are: Roasted Mary's Chicken with Herbed Citrus Butter or Butternut Squash Ravioli with Browned Sage Butter.
Click
register
button at bottom of page to reserve your spot.
For further questions, contact Debbie Fox at County of Sonoma:
707-565--7298 or debbie.fox@sonoma-county.org
Alexander Valley Ladies Aid Christmas Bazaar is Dec. 2nd!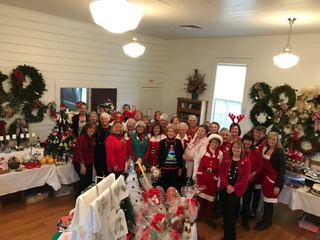 Alexander Valley Ladies Aid
Christmas Bazaar
Alexander Valley Community Church
Saturday, December 2nd, 2017
10 am to 2 pm
Come join the Alexander Valley Ladies Aid for our fun community fundraiser: Our popular annual Christmas Bazaar features:
Cookies! Jams! Ornaments! Wreaths! Visit us in the historic Alexander Valley Community Church (6650 Hwy 128 is just a few miles from Healdsburg!) and find a variety of delicious home-made goodies, live and dried wreaths, ornaments, fleece blankets, painted gourds, kitchen towels, aprons, hand-painted goods, local lavender, and much, much more! You are sure to find many great gifts at this annual event!
Buy your raffle tickets from a member or at the door for a chance at a themed gift basket! Past baskets have included the following: Jim Town Store Goodies, Alexander Valley basket, Pamper Me basket, Harvest Basket, Kitchen Goodies basket, Critter Comfort basket, and a Kid's Special basket!
Children are welcome, and there is a special children's table featuring items just for them! Looking for something unique? Check out our White Elephant gift table. We have something for everyone.
Proceeds of this sale are used to fund scholarships for local graduating high school seniors, the Alexander Valley School Library, community charities, and to aid in the maintenance of the church.
2 WAYS TO BUY YOUR DINNER TICKETS
Mail your check to:
Geyserville Chamber of Commerce
Attn: Dinner Reservations
P O Box 276
Geyserville, CA 95441
OR
Buy online at:
www.geyservillecc.com

Hilary Marckx
and Company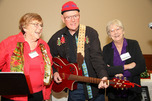 Hilary will provide an update on how the donations from last year helped at the holidays and beyond. Hilary and friends will provide raucous and traditional holiday songs to sing-a-long or dance to, so don't miss out!
Geyserville Christian Church website
More info on how to Donate to the Pastoral Fund
This Month's Featured Wines are MIXED WINES FROM SANTA'S BAG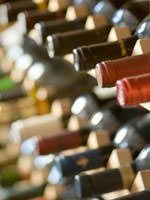 For this month's dinner our wine steward, Erik Overholt, has arranged to feature red and white wines from many of our local member wineries on the dinner table. Please enjoy responsibly.
This Saturday is Small Business Saturday!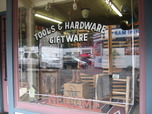 Shop small. Shop local. Shops and wineries in Geyserville will be open all day on Saturday, November 25th, even during the Tree Lighting and Tractor Parade. Most will have something special for shoppers. Support your local Geyserville and Sonoma County merchants and do some shopping!
November Date for Bookmobile in Geyserville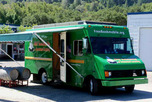 The bookmobile will be in Geyserville for one date in November. Look for them across from the Park & Ride Plaza.
Tuesday, November 29th
5:00 to 6:30 pm
Geyserville Avenue
Upcoming Events
November 25th--Geyserville Tree Lighting & Tractor Parade, 5 pm to 8 pm
November 29th--Free Bookmobile will be in Geyserville, 5:00 to 6:30 pm across from the Park & Ride lot
December 2nd--Alexander Valley Ladies Aid Christmas Bazaar, 10 am-2 pm
December 12th
--
Geyserville Chamber Monthly Members Dinner
, 6:15 to 9:00 pm
THANK YOU TO OUR CORPORATE GCC SPONSORS:
A Plus Locksmith
Big John's Market
California American
Water
Four Seasons
Vineyard
Management
Francis Ford
Coppola Winery
Garzini Welding
Gehrett & Zunino
Builders
Geyserville Inn &
Geyserville Grille
Golden Key Wealth
Management
M. M. Miller
Construction
North County
Properties
River Rock Casino
Silver Oak Cellars
Syar Industries, Inc.
The Ranch Sonoma
W.C. Sanderson
Ford