May Monthly Member Dinner
Geyserville Oriental Community Hall ~ 1000 Hwy 128
Tuesday, May 10, 2016

May Monthly Members Dinner

$26.00 per Person
Tickets go on sale the 25th of each month and usually sell out quickly, so please reserve your spot soon*.
Social Hour: 6:15 to 7:00 pm
Dinner: 7:10 pm
Members are welcome to join us for just the Social Gathering before dinner without staying to dine
Cooking This Month's Dinner:
Geyserville Technology Committee
MENU
Salad with Mandarin Oranges
BBQ Chicken
Pesto Pasta
Seasoned Carrots
Chocolate Lace Cookies & Ice Cream
Featuring Wines from
Trentadue Winery
We encourage you to bring your own wine glasses. We are currently
out of stock on the Geyserville Chamber's tote bags and logo glasses.
This Month's Speaker is
Sarah Shaw,
Sandisa Sanctuary
*No reservations will be held without payment. All refundable cancellations must be made 72 hours in advance. Those on the waiting list get preference for
next month's dinner meeting.

More Geyserville Community News & Announcements
May Day is This Sunday!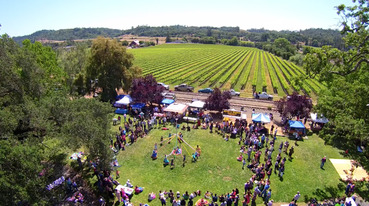 May Day is one of Geyserville's favorite events and it's plenty of fun for the whole family. Don't miss the Kiwanis Rib Cook Off--sample and vote for your favorites. For the kids there is a bouncy house and rock climbing wall, plus an arts and crafts area. For kids of all ages, there will be an old-fashioned egg toss, and there's more...
Of course there will be the presentation of the May Pole Dance by Geyserville Elementary students and dances performed by Ballet Folklorico.
Soft drinks, wine, and food offerings benefit local schools and non-profit groups. More info on the rib contest is below--ENTRY DEADLINE IS WEDNESDAY.

Chamber Calendar of Events
Rib Cook-Off Entry Deadline is Wednesday, April 27th!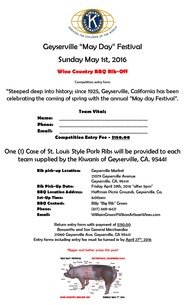 Geyserville Kiwanis wants YOU to enter their Wine Country BBQ Rib-Off at Geyserville's May Day Festival.
Entry Form and $150 entry fee required--ENTRY DEADLINE is April 27th--enter at Bosworth's. Forms can be downloaded on the Chamber website.
One case of St. Louis Style Pork Ribs will be supplied by Kiwanis to each team, and may be picked up after 5pm on April 29th at Geyserville Market.
See links below for more details.
Represent Geyserville in Healdsburg's Twilight Parade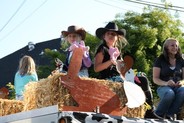 The Healdsburg Future Farmers Country Fair will be Memorial Day weekend (May 26-28) and the Twilight Parade is Thursday, May 26th. This year's theme is "Barnyard Beach Party", so get your summer groove on and be apart of the fun! Entry forms are now available, and the entry deadline for the parade is Monday, May 2nd. Entry forms and more information on the fair and parade are available at the links below.
Healdsburg Future Farmers Country Fair website
Chamber June BBQ & Wine Tasting is Coming Soon!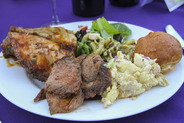 This year's Geyserville Chamber June BBQ & Wine Tasting dinner will be held at Geyserville Inn on Tuesday, June 14th, so mark it on your calendar. This is a beautiful spot to enjoy a summer evening and sample wines from our member wineries, and then enjoy a wonderful catered dinner. Stay tuned for more information and when reservations will be available.
2 WAYS TO BUY YOUR DINNER TICKETS
Mail your check to:
Geyserville Chamber of Commerce
Attn: Dinner Reservations
P O Box 276
Geyserville, CA 95441
OR
Buy online at:
www.geyservillecc.com

This Month's Speaker is SARAH SHAW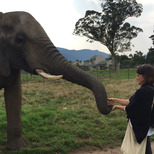 Sandisa Sanctuary's founder, Sarah Shaw, will address the chamber with information on the upcoming elephant sanctuary in Alexander Valley. The mission of the sanctuary will be to provide a place for elephants to comfortably retire from zoos and circuses.
Sandisa Sanctury website
This Month's Featured Wines on the Dinner Table are from TRENTADUE WINERY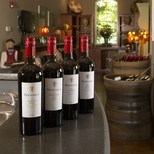 For this month's dinner our wine steward, Erik Overholt, has arranged to feature wines from Trentadue on the dinner table. Please enjoy responsibly.
Visitor Center Volunteers Wanted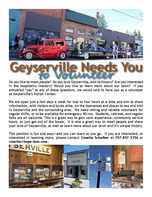 The Geyserville Visitor Center can always use a few more volunteers for short shifts at our Visitor Center next to Bosworth's store. There is a small museum with interesting Geyserville artifacts, plus information on local businesses. Volunteers help direct tourists to local points of interest and answer simple questions about Geyserville and the surrounding area. Won't you consider volunteering for a few hours?
More Info

Print Flyer
THANK YOU TO OUR CORPORATE GCC SPONSORS:
A Plus Locksmith
Big John's Market
Calpine Corporation
Four Seasons
Vineyard
Management
Francis Ford
Coppola Winery
Garzini Welding
Gehrett & Zunino
Builders
Geyserville Inn &
Geyserville Grille
North County
Properties
River Rock Casino
Silver Oak Cellars
Syar Industries, Inc.
Trione Vineyards
and Winery
W.C. Sanderson
Ford