October Monthly Member Dinner
Geyserville Oriental Community Hall ~ 1000 Hwy 128
Tuesday, October 11, 2016

October Monthly Members Dinner

$26.00 per Person
Tickets go on sale the 25th of each month and usually sell out quickly, so please reserve your spot soon*.
Social Hour: 6:15 to 7:00 pm
Dinner: 7:10 pm
Members are welcome to join us just for the Social Gathering before dinner without staying to dine
Cooking This Month's Dinner:
Geyserville Kiwanis Club
MENU
Mixed Green Salad
BBQ Tri-Tip
Herb Roasted Red Potatoes
Baby Carrots with Taragon Butter
Chocolate Cake
Featuring Wines from
Toad Hollow at dinner

We encourage you to bring your own wine glass.
This Month's Speaker is
California State Senator
Mike McGuire
*No reservations will be held without payment. All refundable cancellations must be made 72 hours in advance. Those on the waiting list get preference for
next month's dinner meeting.

More Geyserville Community News & Announcements
Chamber Harvest Dinner at Silver Oak Winery is October 24th--Get Your Reservations Now!
Alexander Valley Film Festival
Fall Colors--Sunday October 30th
Geyserville Tree Lighting & Lighted Tractor Parade
2 WAYS TO BUY YOUR DINNER TICKETS
Mail your check to:
Geyserville Chamber of Commerce
Attn: Dinner Reservations
P O Box 276
Geyserville, CA 95441
OR
Buy online at:
www.geyservillecc.com

MIKE MCGUIRE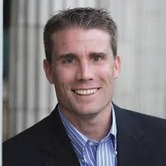 Our California State Senator, Mike McGuire, will be the guest speaker for our October dinner. Mike is always a popular speaker in Geyserville so make your reservations early!
This Month's Featured Wines on the Dinner Table are from TOAD HOLLOW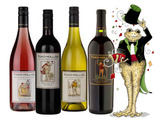 For this month's dinner our wine steward, Erik Overholt, has arranged to feature Toad Hollow wines on the dinner table. Please enjoy responsibly.
Geyserville Beer + Wine + Spirits Festival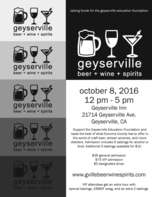 This brand new festival will be held on
Saturday,
October 8th
Noon to 5:00pm
at the
Geyserville Inn
Tickets and more details are now available at
EventBrite
.
Admission includes 5 tastings for alcohol and food with an additional 5 tastings available for purchase for only $10. VIP attendees get an extra hour with special tastings, GBWSF swag, entry to an amazing raffle, plus an extra 2 tastings. Limited to 500 people maximum, this is a chance to get to know the brewers, wineries, and distillers here in Sonoma County.
Participating wineries, breweries, and distillers include:
- Jepson Brandy
- Sonoma County Distilling Co.
- Sonoma Cider
- Bear Republic
- Barrel Brothers
- Alley 6 Craft Distillery
- Old Redwood Brewery
- J. Rickards Winery
- Peche Merle Winery
- deLorimier Winery
- Young & Yonder Spirits
- and more!
For more info, or to participate, please contact Danielle at ddibari@aol.com. This event is organized by the Geyserville Lodging Association and a portion of ticket sales
will be donated to the Geyserville Education Foundation.
Bookmobile in Geyserville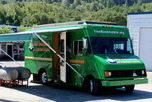 The bookmobile will once again be in Geyserville. Look for it across from the Park & Ride Plaza.
Tuesday,
September 27th
5 - 6:30 pm
THANK YOU TO OUR CORPORATE GCC SPONSORS:
A Plus Locksmith
Big John's Market
Calpine Corporation
Four Seasons
Vineyard
Management
Francis Ford
Coppola Winery
Garzini Welding
Gehrett & Zunino
Builders
Geyserville Inn &
Geyserville
Grille
Golden Key
Wealth
Management
North County
Properties
River Rock Casino
Silver Oak Cellars
Syar Industries, Inc.
W.C. Sanderson
Ford