February Events, News & Announcements

Reservations Still Available for
February 13th

Member Dinner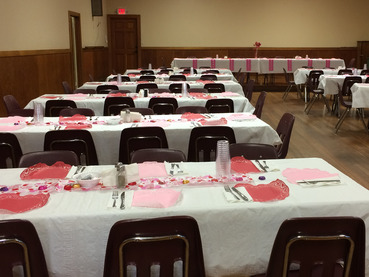 Tickets are still available for the
Geyserville
Chamber dinner next Tuesday.
Social Hour: 6:15 to 7:00 pm
Dinner: 7:15 pm
Cooking This Month's Dinner:
Geyserville

Education Foundation
MENU
Spinach & Romaine Salad
Chicken & Sausage Cacciatore
on Creamy Polenta
Valentine Dessert
Featuring Wines from
at dinner
We encourage you to bring your own wine glass.
This Month's Speaker is
We have also recently launched a new website at geyservillechamber.com. Though it looks a little different, payments for dues and dinner reservations can still be made on the site. Dinner reservations now appear under Events, then Member Dinners. Look for the current month and year. Other dinners are listed for information only.
New Chamber Website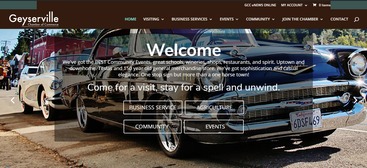 The Chamber has a new website. In addition to the new look, we will also have a new address. You can find us now at www.geyservillechamber.com.
Member Dinners can now be found and paid for under the "Events" header. You can join the chamber and/or pay your dues under "Join the Chamber" by using one of the blue links. You can also find an online membership application under this link. We will no longer be using PayPal as our payment interface.
Take a few moments to look around the new site. Let us know what you think by sending an email to our new email address:
geyservillechamberofcommerce
@gmail.com. We appreciate your input and your involvement.

Red Carpet Evening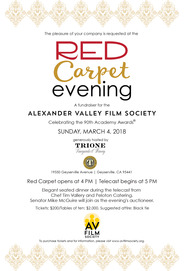 Celebrate Oscars Night with fellow supporters of the Alexander Film Society. Wear your formal black tie best and enjoy a gourmet dinner served by
Peloton
Catering. This event is:
Sunday, March 4th
$200 per person
Healdsburg

Museum Presents She Persisted Exhibit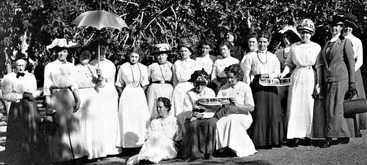 Don't miss this new exhibit beginning January
25th
and continuing through April
15th
. It will feature notable women in our local history, their colorful lives, and significant achievements in the
19th
and early
20th
centuries that helped shaped the character of our community. Opening reception is 5:30 pm, Wednesday, January
24th
. Contact the museum for more information: info@healdsburgmuseum.org
Oliver Ranch Tour 2018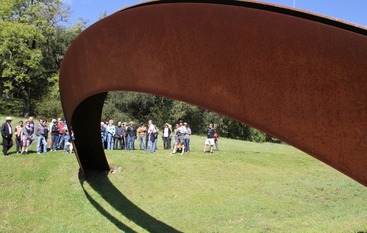 Oliver Ranch is a unique 100-acre preserve dedicated to site-specific art. The ranch is not usually open to the public, but Steven and Nancy Oliver use this unique property as a model of philanthropy by benefitting nonprofit groups, and to nurture artists. This year's tour benefits the
Geyserville
Chamber of Commerce.
Tours are $100 and reserved on a first come basis. The tour generally lasts 2-3 hours, involves walking 2.5 miles--it is not wheelchair accessible and there are no restrooms.
Contact Karen
Waelde
at 707-857-1728 for questions or more information.
2nd Newsletter Reminder

The newsletter went out a few days early, this past Saturday in order to announce last Sunday's Kiwanis Pancake Breakfast. Unfortunately, the dinner still showed the January 9th date. So in case you missed it, or were confused here is an updated copy.
Steelhead Festival Saturday February
10th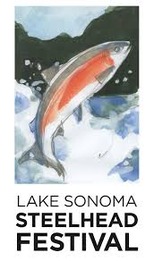 It's a perfect 10. The
10th
Annual Lake Sonoma Steelhead Festival will be held Saturday, February
10th
, from 10 am to 4 pm. The festival takes place on the grounds of the Milt Brandt Visitors Center at Lake Sonoma and it's FREE!
Food, beer, wine, silent auction, live music, archery, fishing, tours, demonstrations and more. Fun for everyone!
For a brief video about this great event go to
YouTube
.
Bookmobile in
Geyserville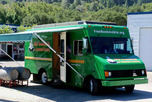 The Bookmobile will be in
Geyserville
for three dates this month. Look for them across from the Park & Ride Plaza.
5:00 pm to 6:

30pm

Geyserville

Avenue Across from the Park & Ride lot
They will also be at the Lake Sonoma Steelhead Festival on Saturday, February 10th from 11 am to 4 pm.
Upcoming Events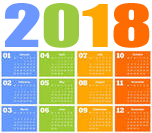 February

10th

& 27

th

--

Free Bookmobile has three

Geyserville

dates in February
2/10 at the Steelhead Festival at Lake Sonoma 11:00 am to 4:00 pm
and
2/27 in

Geyserville

across from the Park & Ride, 5:00 to 6:00 pm
Geyserville

Chamber of Commerce Board Meeting, at the Fire Station 5:30 to 7:00 pm
Geyserville

Chamber of Commerce Members' Dinner, at Oriental Community Hall, 6:15 to 9:00 pm
January

24th

to April

15th

--

Healdsburg

Museum She Persisted Exhibit at the Museum, Wednesday through Sunday, 11:00 am to 4:00 pm
February

27th

--

Geyserville

Planning Committee at the

Geyserville

Fire Station, 7:00 pm to 9:00 pm
Tour, meets at 9:30 am at Oriental Community Hall
THANKS TO OUR CORPORATE GCC SPONSORS:
Atlas Vineyard
Management
Big John's Market
California American
Water
Four Seasons
Vineyard
Management
Francis Coppola
Winery
Garzini Welding
Geyserville Inn &
Geyserville Grille
Golden Key Wealth
Management
North County
Properties
River Rock Casino
Syar Industries, Inc.
The Ranch Sonoma
W.C. Sanderson
Ford