Events, News, & Announcements

Reservations Still Available for May Members' Dinner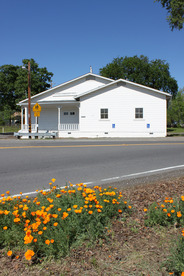 There are still reservations open for next Tuesday's Geyserville Chamber Member's dinner, May 9th, presented by the Geyserville High School Tech Committee. They will serve a BBQ chicken dinner and delicious side dishes, and our table wines will be from Trentadue Winery.
Our speaker this month will be Sarah Shaw of Sindisa Sanctuary, and she will share about the upcoming elephant sanctuary in Alexander Valley to give retired zoo and circus elephants a comfortable place to live out their lives.
May Day Was a Huge Success!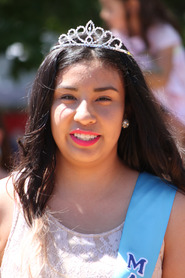 We hope you enjoyed May Day! There was a great turnout and great weather for this 40th Anniversary of the revived May Day celebration (restarted in 1976). Eva Hernandez, the senior class representative, was crowned as this year's May Day Queen, and was joined by princesses Belen Gudino, Junior Class Rep; Jackie Sandoval, Sophmore Class Rep; and Ellene Vasquez (absent), Freshman Class Rep.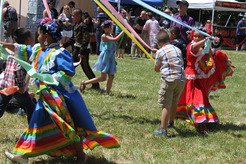 The third graders from Geyserville Elementary again gave a stellar May Pole Dance performance, and the Ballet Folklorico group dazzled the crowd with several numbers with their colorful costumes and toe-tapping music. Roy Ritchie and Brian Crebs once again won the egg toss--did anyone check that egg?!
The Kiwanis Rib-Off gathered a dozen participants and there were three different judging categories. The winners of the Blind Tasting, with three independent, anonymous judges who tasted all twelve participant's ribs were: 1st Place-Sonoma County BBQ, 2nd Place-Mercury Wine, and 3rd Place-Pech Merle Winery--The Rib Cage. The winners of the Big Rib Ballot Voting (voters who



tasted all twelve ribs) were: 1st Place-Mercury Wine, 2nd Place-Jack & Ben's, and 3rd Place-Nor-Cal BBQ. The winners of the popular vote (red ticket voters) were: 1st Place-Geyserville Odd Fellows, 2nd Place-Dragon Slayer Ribs, and 3rd Place-Geyserville Kiwanis. Congrats to all our winners!

The Geyserville Historical Society presented several special displays including the newly polished historical copper crown made for one of our earlier May Day Queens, and plenty of wonderful historical Geyserville photos. The bounce house and rock climbing wall stayed busy all day, as did the booths selling food for the hungry festival-goers.



Thanks to Danielle Alexander, who was the Chamber's lead for coordinating this event, as well as to all the volunteers and workers from Geyserville schools, Kiwanis, the Geyserville Historical Society, and local non-profits. A special thank you to Clos du Bois/Constellation Brands for the use of the Hoffman Grove Picnic Grounds. We appreciate you all!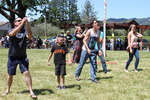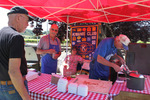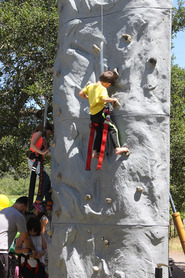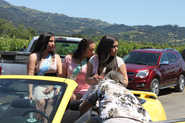 40th Anniversary of May Day Revival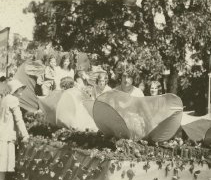 Condensed from an article by Ann Howard
The first May Day picnic was held in 1921 in the Bosworth/Hoffman Grove off Canyon Road and was intended for the grammar school children in the area and their families. The event drew several thousand people. In 1925, the event also began to raise money to build the first fire truck in Geyserville. A chassis was purchased by 1931 and built at Augustus Lampson & Sons Garage by a team of local volunteers. In 1930, fourteen-year-old Jospehine Brignole was crowned May Day Queen. There was even a parade in Geyserville, and of course the wrapping of the May Pole with colorful ribbons. This was the final celebration for many years because of the depression and World War II, but the community revived the event in 1976, and that year the May Queen was another fourteen-year-old, Lee Hepper, who was crowned with copper crown hand-made by Joe Janusenski. The crowning honors were done by Obed Bosworth, 81, who had attended the first May Day picnics in the 1920s.
Over the years the small community event has had grape box derbys, fire-fighter water fights, fund-raising, cake walks, quilt raffles, and pony rides. Today the celebration includes a climbing wall and bounce house, egg toss, rib cook-off, dance performances, and historical displays. The original May Pole from the 1920s was located in 2002. It was refurbished and has been at the center of the festivities, and the May Pole Dance, at the new Hoffman Grove Picnic Grounds ever since.
June BBQ & Wine Tasting Coming Soon--June 14th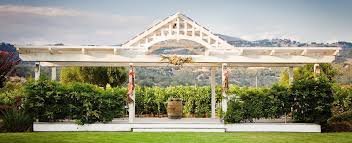 The Geyserville Chamber June BBQ & Wine Tasting dinner is coming up on Tuesday, June 14th. This is our last dinner before the summer break, so get your reservations early, so you don't miss out! This is a great event with up to 15 member wineries pouring their wines exclusively for our members and their guests.
This year's venue will be Geyserville Inn, one of our corporate sponsor members. The wine tasting will be in the hospitality room and dinner will be in the lush outdoor lawn area just outside. The food promises to be equally special with BBQ tri-tip, chicken and ribs, along with beans, coleslaw, green salad, and mashed potatoes. Make your reservations now and invite your friends for this lovely evening in Geyserville.
Price per person $45
Tuesday, June 14th
Wine Tasting at 6pm
Dinner at 7pm

Good Turnout to Swear-In New Postmaster Rhonda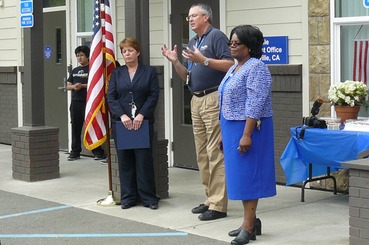 Family, neighbors, and Geyserville Chamber members all showed up to honor and celebrate Geyserville's new postmaster, Rhonda Ahanotu. The ceremony was held in front of the post office on Friday, April 8th, during the hour when the post office is closed for lunch.
Thank you to all who came to join in the festivities. All reports say it was one of the nicest such ceremonies in memory. If you missed it, or if you haven't yet had the pleasure of meeting Rhonda, stop by the post office and say "hi" or greet her at an upcoming chamber dinner. Congratulations, Rhonda. We are so happy to have you on board!
Kiwanis Rib Feed/Dessert Auction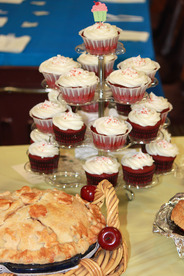 This is one of the Geyserville Kiwanis Club's biggest fundraisers of the year, and funds are used to provide Dictionaries to every Geyserville 3rd Grader each year. There will be a donation bar and tickets are limited to first 130--
available at the door only!
Come enjoy a great BBQ dinner of Ribs & Chicken with green salad, beans and rolls, plus a chance to bid on some gorgeous and scrumptious desserts prepared and donated by renowned local bakers--friends and neighbors, and relatives of our local Kiwanis members!
Friday, May 13th
$25 per person
Dinner followed by Dessert Auction
Donation Bar
Opens 6pm
Events at Dallas A. Saunders Studio

One of Geyserville Chamber's newest business members will be holding several events this month. The studio specializes in original design decorative pillows and throws, custom tailored bed covers and window treatments, Belgian linen, Irish linen, Donegal tweed, Harris tweed, limited edition cashmere and wool, and French faux furs. The studio is at 275 Highway 128 in Geyserville (near the railroad tracks). The studio is open Friday, Saturday & Sunday from 11am to 6pm or by appointment on weekdays.

Magnolia Editions Contemporary Tapestries
May 21-July 5
Opening Reception, May 21st, 2 to 5pm
Jacquard Tapestries by Contemporary Artists: Squeak Carnwath, Chuck Close, Guy Diehl, Don & Era Farnsworth, Rupert Garcia, Robert Kushner, and Kiki Smith

Guy Diehl Tapestries
An exhibition of four one-of-a-kind tapestries by Bay Area artist Guy Diehl
Meet the Artist Reception (during the Healdsburg Jazz Festival) June 11th, 2 to 5pm
Just for Geyserville Chamber Members & Friends
Moving In Sale!
Exclusive to Geyserville Chamber members and friends. They will be unpacking their entire showroom from High Point, North Carolina. Come buy and pick up some beautiful samples at wholesale prices and get a preview of what they produce and sell.
Special Meeting with James Gore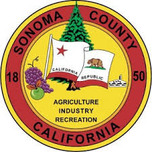 There will be a community meeting with James Gore on Tuesday, May 17th at 6pm at Oriental Community Hall. Issues facing Geyserville will be addressed. All community members are invited.
Submit Your Events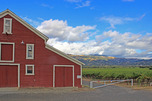 If you are a local non-profit or a Geyserville Chamber Business member, please let us know about your upcoming events and promotions. Our Newsletter deadline is the 1st of the month (all year), and our monthly Dinner Announcement deadline is the 20th of the month (September through May). Send your info and photos to moreinfo@geyservillecc.com or use the sidebar on our calendar of events at
www.geyservillecc.com
Bookmobile in Geyserville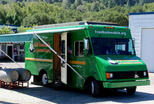 The free Bookmobile of Sonoma County will again be in Geyserville.
Tuesday, May 24
Across from the Visitors Plaza/Park & Ride Lot
on Geyserville Avenue
5:00 to 6:30 pm
Come check out their wonderful selection of books and take home some new reading material for free!
They offer their apologies for the emergency cancellation in April.
More dates and locations available on the:
Musician Grants Available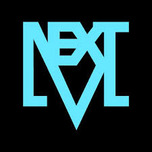 Creative Sonoma is pleased to announce the availability of five $2,500 grants for Sonoma County musicians. These grants are available to help local musicians move their careers to the Next Level. Grant recipients will also received ten hours of one-on-one consulting with music industry experts to help them make the most of their grant funds.
The deadline for grant applications is June 6, 2016, and there will be an applicant Q&A session on Tuesday, May 17, at 1:00 pm at the Creative Sonoma offices, 141 Stony Circle, Suite 100, Santa Rosa. Contact Kristen at kristen.madsen@sonoma-county.org or call 707-565-6120 for more info.
With No Place to Call Home Exhibit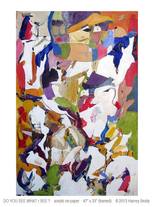 You are invited to attend the "No Place to Call Home" exhibit featuring art work, photography, and video productions by students from local schools and community members.
Exhibit Opening
Saturday, May 14th
4:00 to 7:00 pm
Paul Mahder Gallery

Healdsburg
Organized by North Sonoma County Services. This exhibit will remain on display at the gallery through May 26th. For more info contact Colleen Householder at 707-433-6161.
Tour the Geysers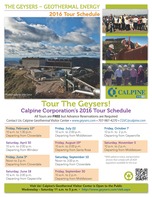 Calpine has released their schedule of Geysers tours for 2016! There are several dates leaving from Geyserville, as well as some leaving from Cloverdale, Windsor, and Middletown. Check out the link below for details, dates, and locations.
Healdsburg Fair Honors FFA & 4H Youth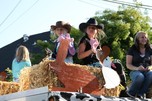 The Healdsburg Future Farmers Country Fair will be Memorial Day weekend (May 26-28) and the Twilight Parade is Thursday, May 26th. This year's parade theme is "Barnyard Beach Party", so grab your flip-flops and get yourself down to Giorgi/Rec Park to support our local Geyserville 4-H and Future Farmers, and the local non-profits who support our kids.
Calendar of Upcoming Events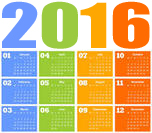 May 8
--
Mother's Day
, Don't forget to thank and honor your mom!
May 13--Geyserville Kiwanis Rib Feed & Dessert Auction, 7pm at Oriental Community Hall
May 14
--With No Place to Call Home Exhibit
, Paul Mahder Gallery in Healdsburg, 4pm to 7pm--exhibit ongoing through May 26th
May 17--Community Meeting with James Gore, Oriental Community Hall, 6pm
May 17--Creative Sonoma Musician Grants Q&A session, 1pm
May 24
--
FREE Bookmobile
, 5:00 pm to 6:30 pm on Geyserville Avenue across from the Park & Ride lot
May 26-28
--Healdsburg Future Farmers Country Fair,
Giorgi/Recreation Park, Piper & University, Healdsburg
June 6
--Next Level
Musician Grants deadline
June 14--Geyserville Chamber June BBQ & Wine Tasting, 6pm
June 18
--Calpine Tour of the Geysers.
More info at geysers.com
THANKS TO OUR CORPORATE GCC SPONSORS:
Big John's Market
Four Seasons Vineyard
Management
Francis Ford
Coppola Winery
Garzini Welding
Gehrett & Zunino
Builders
Geyserville Inn &
Geyserville Grille
North County
Properties
River Rock Casino
Silver Oak Cellars
Syar Industries, Inc.
W.C. Sanderson
Ford