Events, News, & Announcements

Do You Have Your May 12th Dinner Reservations? Get them NOW!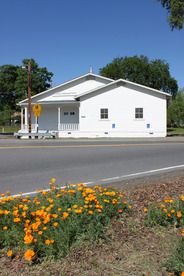 The May dinner will benefit the Geyserville Tech Committee and our speaker will be Supervisor, James Gore. More details available
online
.
MENU
Mixed Green Salad with Mandarin Oranges
BBQ Chicken with
Pesto Pasta
Seasoned Carrots
Plus
Chocolate Lace Cookies
& Ice Cream
Get Your June BBQ & Wine Tasting Tickets TODAY!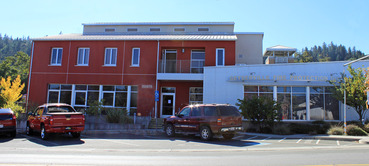 Please Join Us!
Support Geyserville Chamber and
the Geyserville Fire Protection District for the
June BBQ & Wine Tasting
Tuesday, June 9th
at the Geyserville Fire Station
Wine Tasting & GEF Table Auction
5:30 pm
Dinner ~ 7:00 pm
Enjoy wines from over a dozen local wineries while shopping the beautiful GEF artisan tables*. This year we will have beer for sipping, as well. Our BBQ dinner will be served by the Geyserville Fire Protection District, in celebration of their 100th year, and will include:


MENU
Bourbon/Red Wine BBQ Tri-Tip
White Wine & Tequila Marinated Chicken
Firehouse Baked Beans
Mixed Green Salad
Southwest Corn Salad
and Chocolate Cake
RESERVATIONS DEADLINE IS MONDAY JUNE 1ST!
*These tables were produced especially for the Geyserville Educational Foundation auction. Bid on your favorites. Winners will have them delivered to their doorstep by the volunteers at the Ed Foundation.

Geyserville Amateur Winemakers Winners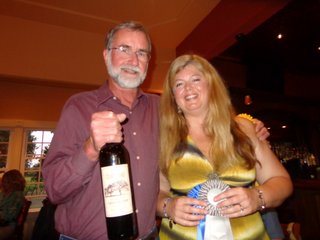 The winners of the 2015 Geyserville Amateur Winemakers Competition were announced at the Awards Dinner on Tuesday, April 28th.
Big winners were Joseph Hansen, Dichotomy, with 7 awards; Joseph Vaughan and Virgil Beasley, Loyal Order of the Grape Knife, with 5 awards; and Timothy Gordon, HICG Wines, with 4 awards.
Chamber members Edson Howard (pictured above with Danielle Alexander), Bob Bennett, Ron & Cosette Scheiber, Randy Luginbill, and Scott Alexander also took home awards. Congratulations to all our competitors. The Chamber would also like to thank event coordinator, and chamber member, Cindy Finch for all her hard work in organising the competition and awards dinner.
Remembering...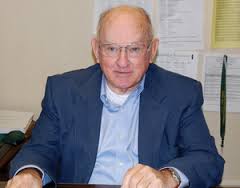 Joe Carnation passed away peacefully on April 3, 2015. Joe had served as the superintendent of Geyserville Unified School District since stepping in "temporarily" in 1980, but he had been a dedicated educator for most of his life. Joe had seven children, 23 grandchildren, and 19 great-grandchildren of his own, but thousands were his kids in the schools he served in his 57 year career as an educator and school administrator. He was the recipient of the Sonoma County Schoolmaster of the Year award in 1989, and the
Spirit of Sonoma award in 2013.
Joe was also a Geyserville Chamber member, through the school district, for more than a decade and was a regular fixture and occasional speaker for the chamber's monthly dinner gatherings. Joe's quiet and calming demeanor will be missed by all who knew him.
He left some big shoes to fill and had taken steps, before his passing, to assist in the hiring of a new superintendent to step in after his planned retirement in June. All of Geyserville wishes you peace Joe.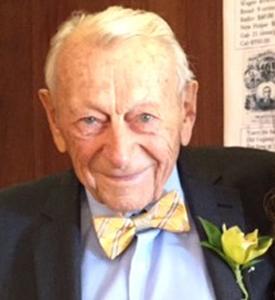 Lou Colombano
passed away peacefully on Tuesday, April 14, 2015, at home at the age of 100. Lou was born in San Francisco, but moved to Geyserville when he was only four. He grew up on the family ranch and was a regular visitor at Bosworth & Son general store, claiming an education at the
University of Geyserville
. He was also a regular participant in the the Healdsburg Future Farmers Country Fair in his beloved 1930 Model A Ford or his 1915 Model T, and he fond of telling folks it was a year older than he was. Lou lived an interesting life and always had a story to share about his adventures. He was a bartender at the original Catelli's and was proud of keeping the peace, only having to call the sheriff once. He later owned and operated a bar and restaurant with his wife, Lee, in San Francisco for 32 years.
Lou and Lee were married for over 64 years and he shared many of his adventures with her.
Together they hosted regular "Mortadella Club" dinners and shared the bounty of his hobbies. Lou was an avid gardener, hunter, fisherman, farmer, and vintner. He was also a chamber member for years and often attended the dinners with his friends Ed and Donna Seghesio. Many Geyserville residents and chamber members will remember his kind and gentle spirit and his mischevious sense of humor.
He recently celebrated his 100th birthday with friends and family at the Villa Chanticleer and made it clear he wanted this to be the celebration of his life. Many who attended reported it was a wonderful celebration of a wonderful man.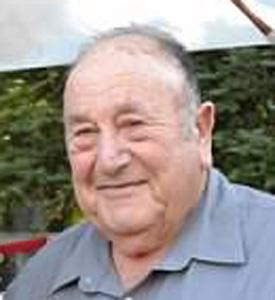 Ray Pigoni passed away on Thursday, April 16, 2015, at his home in Geyserville. He was 83. Ray was born and raised on the family ranch in Geyserville. He was a military police officer in the army serving at the Presidio in San Francisco until his release in 1958. He served Geyserville as a volunteer firefighter for over 30 years, serving his last 14 years as Fire Chief. He also drove a bus for Geyserville schools for over 30 years, and was the 3rd baseman of the Geyserville Merchants fast-pitch softball team. Ray also found time to hunt, garden, forage for mushrooms, coach little league, and cook and barbecue for his family. Town will not be the same wihtout him. Our thoughts and good wishes go out to his wife Betty and sons, Paul and Mike and the rest of the family.
The Geyserville community will miss all of these great men. Read more online at the www.pressdemocrat.com
Oyster Hour at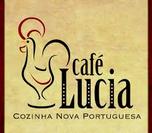 Daily from 5 to 6 pm
Enjoy fresh oysters: raw, with meyer lemon-fennel mignionette; baked with chourico butter; or Rockafeller-Portugues style ($2 each). Accompany your oysters with sparkling wine or vino verde.
Our full menu, including tasca tasting plates, is available. Join us today!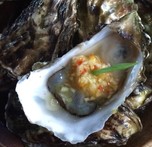 Cafe Lucia is open daily for lunch and dinner at 235 Healdsburg Avenue, Suite 105 ~ 707-431-1113
Healdsburg Museum to Digitize the Geyserville Press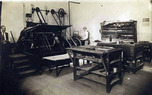 The Healdsburg Museum is in the process of digitizing local newspapers to produce a searchable archive. In addition to the several Healdsburg papers, they would like to add the Geyserville Press (1940-1960) to the archive. If you would like to make a donation towards their $2,000 goal for the Geyserville portion of this project, please contact the museum at 707-473-4471.
If you are interested in Geyserville history or the Geyserville Historical Committee, talk to Harry Bosworth or Ann Howard.
Bookmobile in Geyserville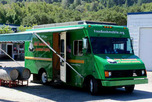 The Free Bookmobile of Sonoma County will once again be in Geyservillle on Tuesday, May 19th, from 5:00 to 6:30 pm across from the Park & Ride Visitor Plaza on Geyserville Avenue. Stop by and browse their wonderful book selections.
Free Bookmobile website
Upcoming Local Events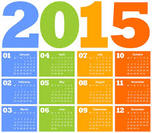 May 8th--Kiwanis Rib Feed & Dessert Auction
May 10th
--
MOTHER'S DAY
May 12th
--
Geyserville Chamber Monthly Members Dinner
May 19th--Bookmobile in Geyserville
June 9th--Chamber BBQ & Wine Tasting with Geyserville Fire and GEF Artisan Table Auction
Submit Your Events & Announcements
Send us the event name, date, time, cost and contact information!
Go online to our
Events Calendar
and use the "Post Your Event" area at the right or send us an email with all the required information to moreinfo@geyservillecc.com.
SUBMISSION DEADLINES
1st of the Month for inclusion in our 800+ subscriber Newsletter
published on or near the 5th of the month.
20th of the Month for inclusion in our Member Dinner Announcement sent on the 25th of the month.
THANKS TO OUR CORPORATE GCC SPONSORS:
A Plus Locksmith
Big John's Market
Calpine Corporation
Francis Coppola Winery
Garzini Welding
Gehrett & Zunino
Builders
Geyserville Inn
& Hoffman
House Cafe
North County
Properties
River Rock Casino
Silver Oak Cellars
Syar Industries, Inc.
Taylor Electric
Trione Vineyards
and Winery
W.C. Sanderson
Ford