April Monthly Member Dinner
Geyserville Oriental Community Hall ~ 1000 Hwy 128
Tuesday, April 10, 2018

April Chamber Members Dinner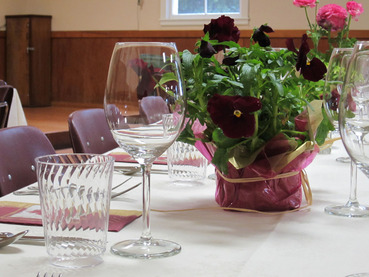 $26.00 per Person
Tickets go on sale the

25th

of each month.
Please reserve your spot soon*.
Social Hour: 6:15 to 7:00 pm
Dinner 7:15 pm
at Oriental Community Hall
Members are welcome to join us just for the Social gathering before dinner without staying to dine
Cooking This Month's Dinner:
Geyserville Elementary Parents Club
& DELAC


MENU
Southwestern Salad
Pork Chile Verde with Tortillas
Rice & Beans
Mexican Chocolate Cake
Featuring Wines from
Francis Ford Coppola Winery

We encourage you to bring your own wine glass.
This Month's Speaker
Dick Bugarske,
President of Healdsburg Prune Packers
*No reservations will be held without payment. All refundable cancellations must be made 48 hours in advance. Those on the waiting list get preference for next month's dinner meeting.
New Geyserville

Chamber Website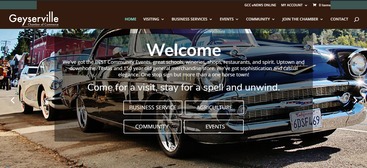 The Chamber 's new web address is: www.geyservillechamber.com.
To activate your account on the new website: Sign in using your last name (in all lower case). You will need to request to change your password. Once you have requested the password, sign in using your user name and this new password. It will be helpful to have your browser remember this password for you.

More

Geyserville

Community News & Announcements
Boys & Girls Club Sock Drive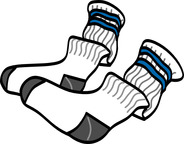 The Geyserville Boys & Girls Club, that meets at the Elementary School, is running a sock drive for the homeless. They are collecting warm men's socks and are partnering with Plowshares Homeless Services in Ukiah to distribute within our community. Please bring NEW packaged socks to the office at Geyserville Elementary Office or the Boys & Girls Club Building on campus by Tuesday, March 27th to help the kids with this project.
You can also contact Boys & Girls Club coordinator Shannon Marckx at shannonmarckx@gmail.com for more info.
Print Flyer
Biscuits & Gravy Breakfast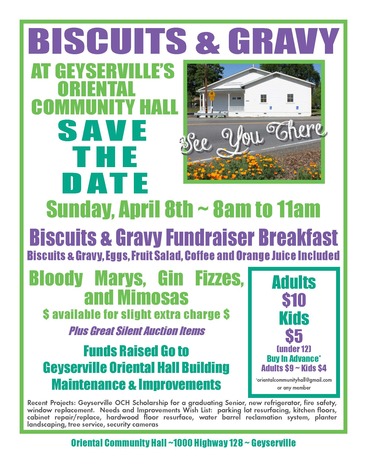 It's time for the annual Biscuits & Gravy Breakfast!
Sunday, April 8th
8:00 am to 11:00 am
Oriental Community Hall
$10 Adults
$5 Kids (12 & Under)
Breakfast includes biscuits with sausage gravy, scrambled eggs, fruit; and coffee, orange juice, or milk. Adult beverages will be available for an additional charge. Bid on Silent Auction items and visit with friends. Funds raised go towards building maintenance and improvements. This is Geyserville's Community Hall!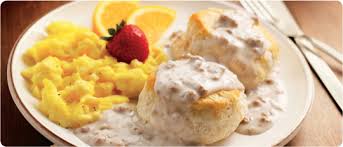 Tickets can be purchased from OCH or Grange members, at Geyserville Coffee Company, or at the door.
Pine Flat History Walk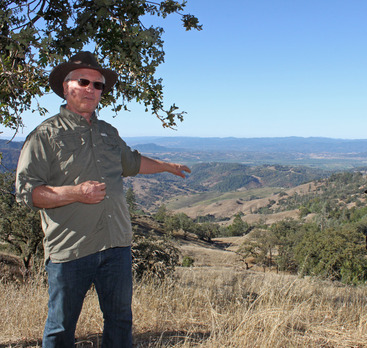 Come and enjoy this casual walk through Pine Flat with Joe Pelanconi, Geyserville resident and author of Quicksilver Mining in Sonoma County: Pine Flat Prospect Fever. Learn about the Pink Flat boom town of the mid 1870s and some of the personalities involved in its history. Joe will have copies of his book available if you would like to purchase one. It is a wonderful and humorous look at local history and a great read!
Pine Flat Quicksilver History Walk
Saturday, April 21st
9:00 am Meetup
at Red Winery and Pine Flat Roads
Bring water, and your phone or camera. Wear comfortable walking shoes.
Contact Audubon Canyon Ranch Education Specialist David Self at 707-431-8184 for more info.
Geyserville

Planning Committee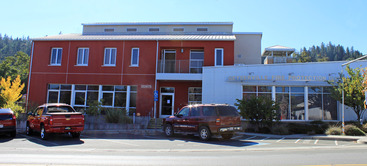 The Geyserville Planning Committee meets this Tuesday. They meet the
4th
Tuesday of every month except December. Their next
m
eeting
, March
27th
, will be at the Geyserville Fire Station. The April meeting will be
April 24th
in the same location. Meetings are 7:00 to 9:00 pm--the public discussion is held the first hour and committee business the second hour.
Minutes and Agendas are posted on their website. The public is welcomed and encouraged to attend these meetings.

Equal Pay Cookie Day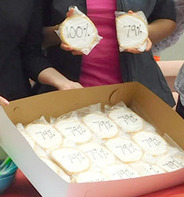 The Healdsburg AAUW is holding a cookie sale in honor of Equal Pay Day!
Tuesday, April 10th
11:00 am to 1:00 pm
Big John's Market, Healdsburg
Plank Coffee, Cloverdale
Oliver's Market, Windsor
These cookies drive home the message of unequal pay in a humorous and delicious way. For a dollar, all women buyers will receive 100% of a Cousteaux Bakery cookie, while all men will receive only 80% of the same cookie. Support equal pay for all women and stop by and enjoy a cookie at one of the above locations.


Last In Francis Ford Coppola Winery Series of Hiring Fairs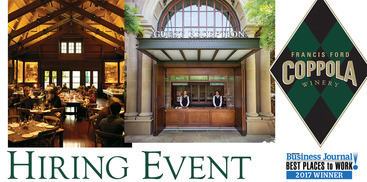 If you, or someone you know is looking for a fun and fulfilling job, Coppola will be hosting a final hiring event at their Francis Ford Coppola Winery to gear up for the hospitality season on one more date:
Wednesday, April 18, 2018
1pm – 4pm
Tavoularis Office Building at the Winery
They will be hiring for the following positions: Lifeguards, Tasting Room Associates, Tasting Room Runners, Guest Services, Housekeeping, On-Call Events Staff, Cooks, Dishwashers, Expos, Hosts, Servers, and Server Assistants.
Please bring multiple copies of your resume and be prepared to wait to be interviewed that day. If you can't make it to this event, visit the careers section of their website online for more information and to apply for any open positions.
Francis Ford Coppola Careers
May Day is Coming!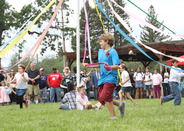 Geyserville will hold its annual May Day festivities on:
Sunday May 6th
Noon to 4:00 pm
SAVE THE DATE!

2 WAYS TO BUY YOUR DINNER TICKETS
Mail your check to:
Geyserville Chamber of Commerce
Attn: Dinner Reservations
P O Box 276
Geyserville, CA 95441
OR
Buy online at:
www.geyservillecc.com

THIS MONTH'S SPEAKER WILL BE Dick Bugarske of the Healdsburg Prune Packers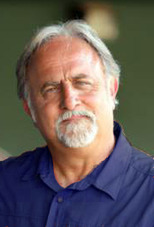 Dick Bugarske is a very involved community member. He is a Healdsburg Kiwanis member, has served as a Healdsburg Parks &
Recreation Commissioner and is a retired teacher and school principal.
He is also a recipient of the Marie Sparks Volunteer of the Year Award, and is in the Healdsburg Athletic Hall of Fame, and is the current Board President of the Healdsburg Prune Packers baseball team.
However, he is probably best known for his voice. As "the Voice of the Greyhounds", he has announced more than 100 Greyhounds games over many years, and also announces for the Prune Packers games. Come hear all about the team and some great stories from Dick.
This Month's Featured Wines are from FRANCIS FORD COPPOLA WINERY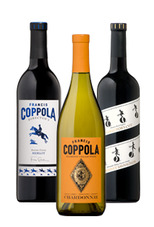 For this month's dinner, our wine steward, Erik Overholt, has arranged to feature red and white wines from Francis Ford Coppola Winery on the dinner table. Please enjoy responsibly.
2018 Oliver Ranch Tour to Benefit Geyserville Chamber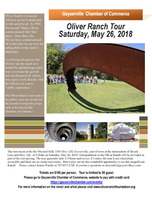 The Oliver Ranch Tour is coming. This year's tour will benefit the Geyserville Chamber, so we would love your support. The date for the Oliver Ranch Tour will be:
Saturday, May 26th
$100 per person
Departs 9:30 am
from Oriental
Community Hall
For more information, contact Karen Waelde at 857-1728 or find the flyer and info under
Events
on our website.
Free Bookmobile in Geyserville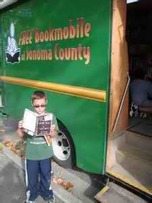 The bookmobile will be in Geyserville next Tuesday and on April 28th.
Tuesday March 27th and April 28th
5:00 to 6:30 pm
Geyserville Avenue across from the Park & Ride Lot
Geyserville Historical Society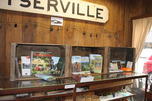 The Geyserville Historical Society will hold a quarterly meeting on Friday, April 20th at 7:00 pm. If you would like to join them, contact Harry Bosworth at harry@bosworthandson.com or Bev Pillsbury at bpillsbury@onemain.com to RSVP and get directions.
Upcoming Events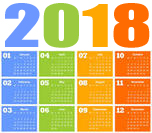 March 27th & April 28th--Free Bookmobile
will be in Geyserville 5:00 pm to 6:30 pm, across from the Park & Ride Lot
March 27th--
Geyserville Planning Committee Meeting
, at the Geyserville Fire Station, 7:00 to 9:00 pm
April 8th--Oriental Hall Biscuits and Gravy Breakfast
, at Oriental Community Hall 8:00 am to 11:00 am
April 10th--Geyserville Chamber Member Dinner
, at Oriental Community Hall. Social Hour begins at 6:15, and Dinner at 7:15 pm
April 18th--Hiring Fair at Francis Ford Coppola Winery, 1:00 pm to 4:00 pm each day
April 20th--Geyserville Historical Society, 7:00 pm, contact Harry Bosworth or Bev Pillsbury for more info
April 21st--Pine Flat Quicksilver History Walk,
9:00 am meetup, led by Joe Pelanconi
April 24th--
Geyserville Planning Committee Meeting
, at the Geyserville Fire Station, 7:00 to 9:00 pm
May 26th--
Geyserville Chamber Oliver Ranch Tour,
departs from Oriental Community Hall at 9:30 am
THANK YOU TO OUR CORPORATE GCC SPONSORS:
Atlas Vineyard
Management
Big John's Market
California American
Water
Cats 4U
Four Seasons
Vineyard
Management
Francis Ford
Coppola Winery
Golden Key Wealth
Management
North County
Properties
River Rock Casino
The Ranch Sonoma
W.C. Sanderson
Ford