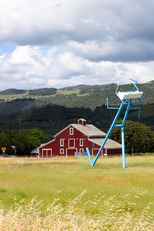 The annual rotation of sculptures has begun along the Sculpture Trail in Geyserville and Cloverdale--some will stay others will go. You may have noticed the new one by Max Heiges at the north end of town at Canyon Road and Geyserville Avenue or several new ones near the Geyserville Avenue exit northbound from 101. Keep an eye out for more to come.
A reception for our sculpture trail artists will be held Saturday, May 17 from 5-5pm at the Cloverdale Performing Arts Center--everyone is welcome.
New sculptures in Geyserville are under the direction of Victoria Heiges, who is also the current president of the Geyserville Community Foundation. If you would like to support the Sculpture Trail there are currently two ways you can do that:
1) Sponsor a sculpture--contact Victoria at heiges123@yahoo.com for more info
2) Wine/Port Raffle--purchase your raffle tickets at Bosworth & Son, Locals Tasting Room and Geyserville Mud. The drawing for this case of dessert wines and fine Port will be held at the reception on May 17th. You do not need to be present to win.
THANKS TO OUR CORPORATE GCC SPONSORS:
Big John's Market
Calpine Corporation
Francis Coppola Winery
Garzini Welding
Geyserville Inn &
Hoffman House Cafe
North County Properties
River Rock Casino
Silver Oak Cellars
Syar Industries, Inc.
Taylor Electric
Trione Vineyards
and Winery
W.C. Sanderson Ford