January Monthly Member Dinner
Geyserville Oriental Community Hall ~ 1000 Hwy 128
Tuesday, January 10, 2017

January Members' Dinner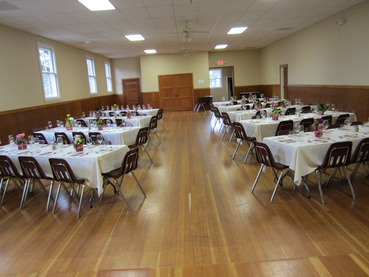 $26.00 per Person
Tickets usually go on sale the 25th of each month and sell out quickly. We are giving you EARLY NOTICE because of the Christmas and New Year's holidays, and reservations for our members are available TODAY!
Please reserve your spot soon*.
In the spirit of the holidays, we encourage you to invite family, friends, and potential members to this month's dinner.
Social Hour: 6:15 to 7:00 pm
Dinner 7:10 pm
Members are welcome to join us just for the Social gathering before dinner without staying to dine
Cooking This Month's Dinner:
Geyserville Boosters
MENU
Mixed Green Salad with Vinaigrette
Roasted Herb Encrusted Loin of Pork
Sauteed Winter Greens
Creamy Mashed Potatoes
Chocolate Mousse Cake
Featuring Wines from
Preston Winery
at dinner
We encourage you to bring your own wine glass. We hope to have new Geyserville Chamber logo glasses for purchase in-stock again soon.
This Month
4th District Supervisor James Gore
will install our Geyserville Chamber of Commerce 2017 Board & Officers
*No reservations will be held without payment. All refundable cancellations must be made 72 hours in advance. Those on the waiting list get preference for next month's dinner meeting.

More Geyserville Community News & Announcements
Tree Lighting & Tractor Parade Thank You's!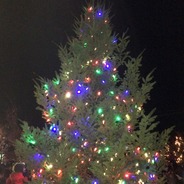 There were so many folks who helped to make this event such a great success this year. Here are the names in no particular order. If you would like to see a more detailed list, please use the link below to find the complete and detailed list on our website. If you would like to help out in anyway for next year's parade, please contact Bridgett or Karen at North County Properties: 857-1728.
American Ag Credit, County of Sonoma, Senator Mike McGuire, North County Properties, Geyserville Chamber of Commerce, Karen Waelde Bridgett Petersen, Kathy Zunino, Leila McPhee, Kim Petersen, Joe Stewart, Ted Elliott, Sandy Elliott, Joe Pelanconi, Supervisor James Gore, Brian Crebs, Corin Burns, Tracy Petersen Garces, our Secret Parade Judges, Ken, Diane, and Sydney Wilson, Bill Green, James Tovani, Jenna Torres, Joel Zunino, Sue Pelanconi, Kathryn Hecht, Jason Lish, Bev Pillsbury, Jeannie Iverson, Nick Catelli, Adam Bullock, Jeanne and husband (street monitors), Alex from School House Condos, James and Theresa, Barbara Wiseman, Sally Weber, Lynn Holty, Bootee Nienaber, Shaun McCaffery, Healdsburg Rotary, Cole Petersen, Todd Petersen, Virginia Dare Winery, Growers Supply, Petersen Construction, Ratto Corporation, Harry Bosworth, Geyserville Girls on the Run, CalTrans, California Highway Patrol, Rick Tang, the members of NSCLU: Casey Dilworth, Tom Rued, Blake Mauritson, Matt Weise, Brian Nelson, Jose Carrillo, Mark Puentes, Lelo Martinez, Jake Delisle, Dave Murray and Jason Mallory; Trattore Winery, Mercury Winery, Ramazzotti Winery, Pedroncelli Winery, Geyserville Mud, Bear Republic Brewing, Diavola Pizzeria & Salumeria, Catelli's, Route 128 Winery, Gin'gilli's Vintage Home, Bosworth Hardware, Piece Sewing Studio by Sarah Petersen, River Rock Casino, Alexander Valley Lodge, Hope Merrill Bed & Breakfast, Geyserville Chamber of Commerce, Geyserville Grille, Clover Theater, Northern Carpet Care, and Round Table Pizza/Judy Knaute, Trentadue Winery, and Trione Winery.
Thank you all! See you next year.
Spirit of Sonoma Awarded to Joe Pelanconi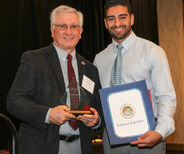 The Annual Spirit of Sonoma County Award luncheon was held December 9th at the DoubleTree hotel in Rohnert Park. Joe Pelanconi was this year's winner from Geyserville.
This luncheon honors those who contribute to the economic development and enhancement of the communities in which they live, work and conduct business. They are nominated by the various Sonoma County Chambers of Commerce and non-profit groups.
In Joe's own words, he is one of the "Little-Shots", not a one of the "Big Shots", that do a little bit behind the scenes. We think he underestimates himself. But he is right that there are a lot of "Little-Shots" in our community that make things happen in many ways. We are proud that Joe Pelanconi is our winner of the Spirit of Sonoma Award for 2016.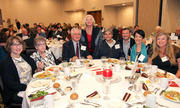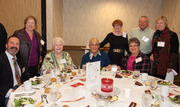 The luncheon was attended by Joe and Sue Pelanconi, our Chamber President, Danielle Alexander and her husband, Scott, as well as past Spirit of Sonoma winners Joel and Kathy Zunino, Ron and Cosette Scheiber, and a group of other freinds, family and supporters. Congratulations Joe!
Collecting Rusty Junk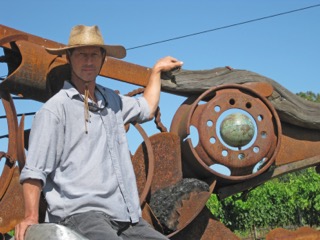 If you were at the Chamber Dinner in December, you heard that artist Bryan Tedrick has agreed to work on a sculpture that will STAY in the sculpture garden area south of Geyserville. We all loved the coyote and Sir Snort, so there has been much excitement about a new sculpture just for Geyserville.
To accomplish this goal, he will need approximately 6 tons of rusted metal. He is particularly fond of old farm equipment and tools. If you would like to contribute to this great project, please email a photo of your "junk" to Victoria Heiges at heiges123@yahoo.com. She will forward on to Bryan for approval. Any contributions from the community will reduce the end cost for the community. Thank you in advance!
heiges123@yahoo.com
2 WAYS TO BUY YOUR DINNER TICKETS
Mail your check to:
Geyserville Chamber of Commerce
Attn: Dinner Reservations
P O Box 276
Geyserville, CA 95441
OR
Buy online at:
www.geyservillecc.com

Sonoma County 4th District Supervisor James Gore

James will be with us again in January to install the new Geyserville Chamber Board of officers and directors for 2017. Don't miss it!
This Month's Featured Wines are from PRESTON WINERY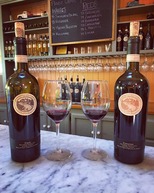 For this month's dinner our wine steward, Erik Overholt, has arranged to feature red and white wines from Preston Winery and Farm on the dinner table. Please enjoy responsibly.
Preston Winery and Farm website
Geyserville Fire Toy Drive on Now!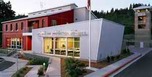 The Geyserville Fire Protection District is currently collecting toys for this holiday season. Together with the Geyserville Christian Church, they make sure that every child in need in Geyserville receives a gift for Christmas. Please bring by your new toys and gifts to Station 1 on Geyserville Avenue by Friday, December 23rd. All donations stay local. The Christmas Baskets are distributed on Christmas Eve, so time is running out!
Fire Department Bucket Brigade
On Friday, January 13th, our local Geyserville Firefighters will participate in the county-wide Bucket Brigade Blood Drive. Our local Geyserville firefighters have won this competition between county firefighters numerous times and would love to maintain their title, so please mark this date on your calendar and take time to donate blood!
Bucket Brigade Blood Drive~Geyserville
Friday, January 13
2:00 pm to 7:00 pm
Station 1
Geyserville Avenue
Rest In Peace Betty Miller
Our condolences to Kip Miller on the loss of his dear wife Betty in early December. Both Kip and Betty were regular attendees at our monthly Chamber dinners, and she will be missed. Watch the local newspapers for additional information from the family.
Upcoming Events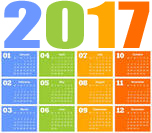 December 23rd--Geyserville Fire Toy Drive, donation deadline
December 24th--Help out at Geyserville Christian Church by wrapping gifts and making up food baskets for those in need in our community, 9am to noon
January 10th
--
Geyserville Chamber of Commerce Members Dinner
, 6:15pm
January 13th
--
Geyserville Fire Bucket Brigade Blood Drive
, 2pm to 7pm
THANK YOU TO OUR CORPORATE GCC SPONSORS:
A Plus Locksmith
Big John's Market
Calpine Corporation
Four Seasons
Vineyard
Management
Francis Ford
Coppola Winery
Garzini Welding
Gehrett & Zunino
Builders
Geyserville Inn &
Geyserville Grille
Golden Key Wealth
Management
North County
Properties
River Rock Casino
Silver Oak Cellars
Syar Industries, Inc.
The Ranch Sonoma
W.C. Sanderson
Ford