Events, News, & Announcements

Last Chance for Reservations! April Members Dinner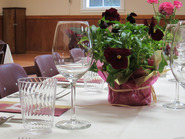 Support the Geyserville Elementary Parents and DELAC and enjoy a delicious dinner!
Southwestern Salad
Pork Chile Verde
Fresh Tortillas
Rice & Beans
Mexican Chocolate Cake
and
Trentadue Wines at dinner
Our speakers Victoria Heiges and Joyce Mann will fill us in on the latest with the Sculpture Trail and the Geyserville Community Foundation.
Reserve Now

Geyserville Town Meeting This Tuesday, April 7th!

at Geyserville New Tech Academy
(the high school) Registration: 6:45 pm
Meeting: 7:00 pm
Speakers
Marshal Turbeville,


Geyserville Fire Chief

Sonoma County Sheriff Dept. Representative

Geyserville Unified Schools Representative

Harry Bosworth,


Geyserville Water Works

James Gore,


4th District Supervisor
Geyserville Calendar of Events
Farmyard Feed 4th Anniversary Family Fun Day April 11th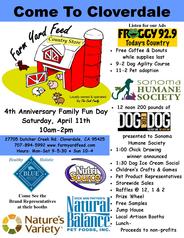 Saturday, April 11th
10am to 2pm
Bring your kids, bring your pets!
Free Coffee & Donuts
(while supplies last)
9:00am to 2:00pm
Dog Agility Course
11:00am to 2:00pm
Pet Adoption
in conjunction with Sonoma Humane Society
1:00pm
Winner of the Chick Drawing Announced
1:30pm
Dog Ice Cream Social
Much More!
Farm Yard Feed website
Winemaker's Competition Awards Dinner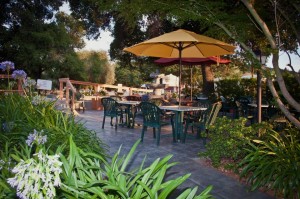 Participants should purchase reservations NOW!
There will be limited seating, so we want to be sure that our Wine Competition entrants and award winners can reserve first!
Open to competition
PARTICIPANTS ONLY
through April 20th. Your spot is not guaranteed without your paid reservation.
2015 AMATEUR WINEMAKERS AWARDS DINNER
Tuesday April 28th ~ 6pm to 10pm
at Geyserville Grille ~ 21712 Geyserville Avenue
Menu details online
Reservations will open up to Geyserville Chamber members and the general public on April 21st
.
Contact Cindy Finch, Wine Competition Chairperson, for more information at CindyJoFinch@gmail.com or call her at 707-696-9922 or go to the chamber website.
Bring Art to the Table Luncheon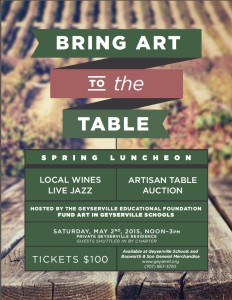 Bring Art to the Table Spring Luncheon and Artisan Table Auction
to benefit art in Geyserville schools
Please Join Us
for live jazz, local wines, formal lunch, and silent auction of beautiful one-of-a-kind tables created by local artisans and students (see more samples on our facebook page–link below).
Bring Art to the Table
Saturday, May 2nd ~ Noon to 3pm
$100 per person
This event will take place in the beautiful gardens of landscape architect JAC Designs' home in Geyserville. All guests will be shuttled to the event from Geyserville New Tech Academy 1300 Moody Lane, Geyserville. Tickets ($100) are available at Bosworth & Son General Store, Geyserville school offices, and on the Ed Foundation website:
Hosted by Geyserville Educational Foundation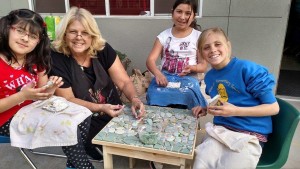 Print our flyer, below, and visit our Facebook page for more information and additional photos of some of the tables that will be available during the auction.
Geyserville May Day Celebration Sunday, May 3rd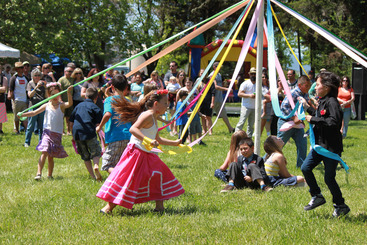 Join us for the Annual
Geyserville May Day Celebration
Sunday, April 3rd
Noon to 4pm
at Hoffman Grove Picnic Grounds
This perfect small town, family-friendly, community event benefits local schools and features: Kiwanis Rib Cook-off, Geyserville Elementary Third Grade May Pole Dance, Ballet Folklorico dance performance, plus history displays, craft area for kids, jump house and rock-climbing wall, and wine and food offerings, plus live music, egg toss, and tons of fun!
Kiwanis Rib Feed/Dessert Auction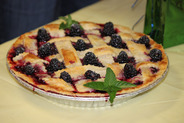 The Rib Feed is of course the greatest thing that happens in G'ville and not to be missed!
Friday May 8th
World's Greatest Dessert Auction following dinner. Track down your favorite Kiwanis member for tickets. This event sells out, so don't delay!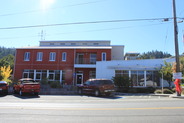 Geyserville Chamber June BBQ & Wine Tasting
Tuesday, June 9th
at the Geyserville Fire House
We will be helping the Geyserville Fire Protection District Celebrate their 100th Anniversary at our June BBQ & Wine Tasting Tuesday, June 9th More Information to Come!
If your winery is a Geyserville Chamber member and would like to participate in this event, please contact Erik Overholt, our wine steward, at erikoverholt@msn.com for details.
More Info
Support Your Local Post Office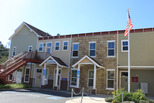 Did you know Geyserville Post Office has post office boxes available, and they are less expensive than both Cloverdale and Healdsburg?! You can also conveniently drop off your mail and purchase postage without waiting in long lines.
By patronizing our local post office, you can directly effect statistics that will keep our post office open here in Geyserville!
Small Post Office Box
3x5.5"
$28 for 6 months
$56 for 1 year
Medium Post Office Box
5x5.5"
$37 for 6 months
$74 for 1 year
Large Post Office Box
11x5.5"
$66 for 6 months
$132 for 1 year
Stop in and ask Laura and Kiana for details.
Rest in Peace


It is with regret that we say good-bye and rest in peace to two more long-time chamber members.
Walt Dieden was a past president of the Geyserville chamber and an avid Cal fan. He passed away peacefully at his Dry Creek ranch on February 28th. He was 86.
Evelyn Consani Trentadue is the mother of current board member Victor Trentadue. Evenlyn passed away on Saturday, March 21st. She was 84. The family and winery were long-time members and supporters of our community and the Geyserville chamber.
Our thoughts and prayers are with these families, and other chamber members who have recently lost a loved one.


Upcoming Local Events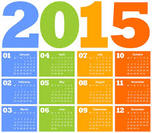 Apr 7
--
Geyserville Town Meeting, 6:45pm
Apr 11
--
Farm Yard Feed Family Fun Day
Apr 18--Modini Center Grand Opening 10-4 226A Center St. Healdsburg
Apr 6--Deadline for participants to purchase Winemakers' Awards Dinner Reservations
Apr 8--Chocolate & Cinema fundraiser for Sonoma County Libraries
Apr 21--Free Bookmobile of Sonoma County will be in Geyserville across from the Park & Ride lot from 5 to 6:30 pm
May 2--Bring Art to the Table fundraiser for the Geyserville Education Foundation Noon to 3
May 2--Friends of Alexander Valley Hall Lobster Feed 5:30
May 3
--
Geyserville May Day Celebration
Noon to 4 at Hoffman Grove Picnic Grounds
May 8--Kiwanis Rib Feed & Dessert Auction
Visitor Center Seeks Volunteers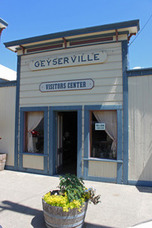 We are still seeking volunteers to allow us to keep our Visitor Center open more regularly. If you would love to share your love of Geyserville with visitors, please contact Cosette at cosette@hope-inns.com or the chamber at moreinfo@geyservillecc.com.
Submit Your Events & Announcements
Send us the event name, date, time, cost and contact information!
Go online to our
Events Calendar
and use the "Post Your Event" area at the right or send us an email with all the required information to moreinfo@geyservillecc.com.
SUBMISSION DEADLINES
1st of the Month for inclusion in our 800+ subscriber Newsletter
published on or near the 5th of the month
20th of the Month for inclusion in our Member Dinner Announcement sent on the 25th of the month
THANKS TO OUR CORPORATE GCC SPONSORS:
A Plus Locksmith
Big John's Market
Calpine Corporation
Francis Coppola Winery
Garzini Welding
Gehrett & Zunino
Builders
Geyserville Inn
& Hoffman
House Cafe
North County
Properties
River Rock Casino
Silver Oak Cellars
Syar Industries, Inc.
Taylor Electric
Trione Vineyards
and Winery
W.C. Sanderson
Ford