October Events, News & Announcements

COUNTDOWN TO... Geyserville Beer + Wine + Spirits Festival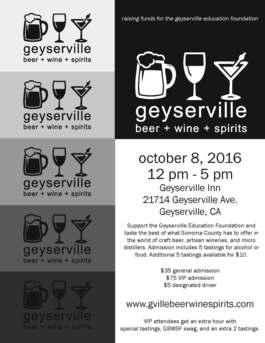 This brand new festival will be held on
Saturday, October 8th
from Noon to 5:00pm
at the Geyserville Inn


Limited number of tickets available! Tickets and more details are now available at
EventBr
ite
.
Admission includes 5 tastings for alcohol and food with an additional 5 tastings available for purchase for only $10. VIP attendees get an extra hour with special tastings, GBWSF swag, entry to an amazing raffle, plus an extra 2 tastings. Attendance limited to 500 people maximum. This is a chance to get to know the brewers, wineries, and distillers here in Sonoma County.
Participating wineries, breweries, and distillers include:
- Jepson Brandy
- Sonoma County Distilling Co.
- Sonoma Cider
- Bear Republic
- Barrel Brothers
- Alley 6 Craft Distillery
- Old Redwood Brewery
- J. Rickards Winery
- Peche Merle Winery
- deLorimier Winery
- Young & Yonder Spirits
- and more!
For more info, or to participate, please contact Danielle at ddibari@aol.com. This event is organized by the Geyserville Lodging Association and a portion of ticket sales
will be donated to the Geyserville Education Foundation.
Chamber Harvest Dinner at Silver Oak is October 24th--Get Your Reservations Now!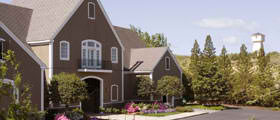 The Geyserville Chamber will again host their wonderful Harvest Dinner at Silver Oak Winery.
Harvest Dinner at Silver Oak
Monday, October 24th
6pm to 9 pm
$55 per person
$400 for a Table of 8
This special event will feature wines by the glass and appetizers to sip and munch, from 6 to 7pm, while browsing a special display of art from local Geyserville artist, Linda Schroeter.
Dinner will be served from 7 to 9 with wine pairings from Silver Oak and Twomey wineries. Purchase a table reservation and receive a discount for each reservation, plus an extra bottle of wine.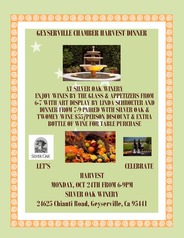 October Chamber Members Dinner is October 11th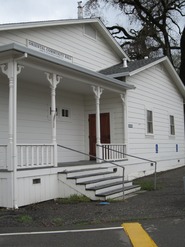 LIMITED NUMBER OF RESERVATIONS REMAIN.
Tuesday,
October 11th
$26.00 per Person
Social Hour:
6:15 - 7:00 pm
Dinner:
7:15 pm
Cooking This Month's Dinner:
Geyserville Kiwanis Club
MENU
Mixed Green Salad
BBQ Tri-Tip
Herb Roasted Red Potatoes
Baby Carrots with Taragon Butter
Chocolate Cake
Featuring Wines from
Toad Hollow at dinner
We encourage you to bring your own wine glass.
This Month's Speaker is
California State Senator
Mike McGuire
Fall Colors is October 30th!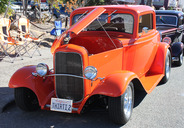 Don't miss one of Geyserville's favorite events: Fall Colors!
Sunday, October 30th
10am to 3pm
Downtown Geyserville
The event features the Geyserville Fire Department Pancake Breakfast from 8 to 11. Fall Colors kicks off at 10am and features craft vendors, pumpkin and scarecrow contests, and more, plus the Kiwanis Car Show, fundraising food booths for Geyserville Schools and the Chamber of Commerce, and a great historical display and fun activities for everyone in the family.
We are still seeking local craft vendors and car show applicants. Get all the info on our website calendar.
Geyserville Tree Lighting & Lighted Tractor Parade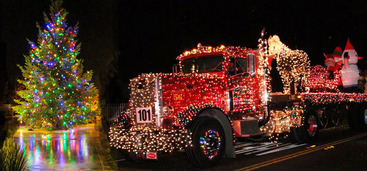 There will be a COMPLETE ROAD CLOSURE for this year's Tree Lighting and Tractor Parade event. We want all Geyserville residents, businesses, and visitors to be aware of this well in advance.
Geyserville Tree Lighting & Tractor Parade
Saturday, November 26th
5 to 9pm
Click the images above for a printable pdf of the flyers and entry form.
Please mark this event on your calendar or in your phone. You won't want to miss it. More details will be available on the Chamber website calendar of events
HERE
or click the photos above to print the flyers.
For more information on Parade Entries, please contact Bridgett at
ncp.bridgett@gmail.com
Calendar of Events

Alexander Valley Film Festival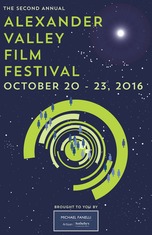 The Alexander Valley Film Festival takes place from September 29th through October 23rd. They would love chamber members to volunteer.
There are a wide range of spots open in Healdsburg and Cloverdale and all volunteers get a t-shirt and a pass to a monthly screening. Here is the link to sign up for volunteering with the Festival: http://signup.com/go/p8GAK6 or contact leslie@avfilmsociety.org.
SPECIAL NOTE: Shoot Blue Productions shot and produced a film 100% in Geyserville that will screen as part of the festival on Saturday, October 22nd at the Raven Theater!! Don't miss it!
Tickets and information are now available. Go to the AVFS website for additional information.
Congrats to Earle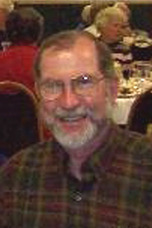 Many of you have met Earle and Susie Cummings who are regulars at our monthly dinners. What you may not know about Earle is that he has served on the board in various capacities with the Sonoma Resource Conservations District for 15 years. They featured a nice article about him in their September newsletter. (Thanks to Vickie Norris for sharing).
Earle worked with the Department of Fish and Game and the State Water Resources Control Board. He has experience in conservation, water rights, flood control management, and wildlife biology. Now there should be a conversation starter there somewhere!
Congratulations Earle! We are lucky to have you as a Geyserville Chamber member. For more info check out the links below.
Geyserville Historial Society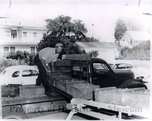 Quarterly meeting will be Friday, October 21st. For more info contact Bev at 433-6019.
Bookmobile in Geyserville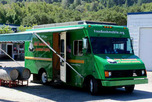 The bookmobile will again be in Geyserville on:
Tuesday, October 25th
5:00 to 6:30pm
Geyserville Avenue
across from the Park & Ride Visitors Lot. Check out their great selection of free books each month.
Your Info Here?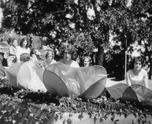 If you are a member or local non-profit, we need info on your upcoming events for our newsletter. All business members are allowed a number of free insertions.
For consideration, please send your info (Event name, date and time, cost, and contact information, along with a promotional photo or flyer as artwork). Submission for the newsletter must reach us by the 1st of the month prior to the date of your event for inclusion on the newsletter on the 5th. Deadline for inclusion in our Dinner Announcement on the 25th must be received by the 20th of the month prior to your event.
Send to:
moreinfo@geyservillecc.com
You may also use this email to contact us for more information.
Upcoming Events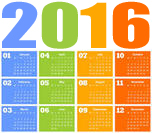 October --School Days Now and Then at the Healdsburg Museum through November 13th
October 8th--Geyserville Beer, Wine & Spirits Festival, Noon to 5pm
October 11th
--
Geyserville Chamber Monthly Members Dinner, 6:15 to 9:00pm
October 21st
--
Geyserville Historical Society meeting
October 24th-
-
Geyserville Chamber Harvest Dinner at Silver Oak,
6pm to 9pm
October 25th-
-
Free Bookmobile
will be in Geyserville, 5:00 to 6:30pm across from the Park & Ride lot
October 30th--Fall Colors Festival & Vintage Car Show, 10am to 3pm
November 26th
--
Geyserville Tree Lighting & Tractor Parade,
5pm
THANKS TO OUR CORPORATE GCC SPONSORS:
A Plus Locksmith
Big John's Market
Calpine Corporation
Four Seasons
Vineyard
Management
Francis Coppola
Winery
Garzini Welding
Gehrett & Zunino
Builders
Geyserville Inn &
Geyserville Grille
Golden Key Wealth
Management
North County
Properties
River Rock Casino
Silver Oak Cellars
Syar Industries, Inc.
The Ranch - Sonoma
W.C. Sanderson
Ford