Events, News, & Announcements

Last Week for Reservations to the June BBQ & Wine Tasting Event at Geyserville Inn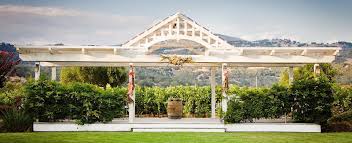 There are still reservations open for next Tuesday's Geyserville Chamber June BBQ & Wine Tasting, on the 14th. But there is not much time left... DEADLINE FOR RESERVATIONS IS FRIDAY, JUNE 10th!
There will be a large group of member wineries pouring for this event including: Alexander Valley Vineyards, Amphora Winery, Bertapelle Cellars, Francis Ford Coppola Winery, Forchini Winery & Vineyards, Kelley & Young Wines, Locals Tasting Room, J. Pedroncelli Winery, Preston Vineyards, Ramazzotti Winery, J. Rickards Winery, Toad Hollow, Trione Winery, and Zialena Winery.
Wine Tasting 6:00pm
Dinner 7:00pm
MENU
BBQ Tri-Tip and Chicken, plus Ribs
with Baked Beans, Corn & Cole Slaw
Mixed Green Salad
and Mashed Potatoes
Assorted Cookies & Brownies for Dessert
PLEASE RESERVE BY FRIDAY, JUNE 10TH
All reservations must be paid in advance
$45 per person or
a Table for 10 for $400 ($40 per person)
Invite your friends. Invite your neighbors. This is a great way to kick off summer. Don't forget the additional entertainment from Elvis!

Sculpture Trail 2016 Opening Reception--You are Invited!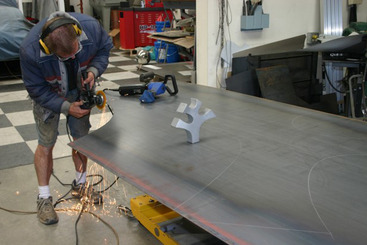 Saturday, June 4th
5:00 pm to 7:30 pm
Cloverdale Performing Arts Center
209 North Cloverdale Blvd., Cloverdale
Meet the Artists! Enjoy Refreshments and music, and hear about the winners of Best of Show, Honorable Mention, and the People's Choice Award from among this year's sculpture entrants. This is a free event thanks to the producers of the Sculpture Trail, the Cloverdale Arts Alliance, and the Geyserville Community Foundation. The picture above shows artist Richard Starks beginning "CT-58".
This year's Sculpture Trail Exhibit will be on display from May 7, 2016, to May 4, 2017 in both downtown Cloverdale and Geyserville.
Pine Flat History Hike Sunday!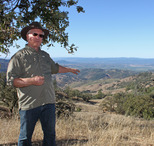 Joe Pelanconi will once again lead a history walk at Pine Flat. If you are not yet signed up, please contact organizer David Self at david.self@egret.org or call 707-431-8184 to see if there is room, or another scheduled hike. The group will meet at Pine Flat Road and Red Winery Road at 9am.
Nominate Geyserville Business for Press Democrat "Best of Sonoma County" Contest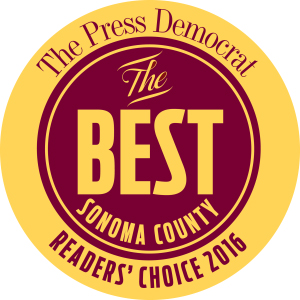 It's time again for the Best of Sonoma County Reader's Choice Awards for 2016. They are accepting nominations through the
JUNE 10TH DEADLINE.
So please nominate your favorite Geyserville businesses and represent Geyserville.
Maybe Bosworth's General Store is the best "Place to Find the Perfect Gift", and Diavola is the best "Pizza" in the Eating and Drinking Category. Do you have a favorite local "Italian Restaurant" or "Red" or "White" wine? Maybe your favorite downtown tasting room is Route 128. Whatever your preferences, take a few minutes to nominate your local favorites and
NOMINATE GEYSERVILLE!
Press Democrat "Best of" Nominations

Big John's Grand Opening on Thursday, June 23rd!

The Grand Opening of the newly remodeled Big John's Market will be held on Thursday, June 23rd. The store has been open for several weeks with it's much expanded grocery, produce, bakery, deli, meat, wine and cheese departments with polished concrete floors and wider aisles. John & Kim Lloyd are great supporters of our community and should have plenty in store for this fun day. Watch the local papers for more details on this event.
Friends of Alexander Valley Hall Lobster Feed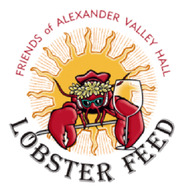 The Friends of Alexander Valley Hall are holding their 4th Annual Lobster Feed!
Saturday, June 11th
5:30pm
$80 per person
Alexander Valley Hall
5512 Hwy 128
Meal includes a full Maine Lobster, prawns, artichokes, potatoes, sausage, corn and much more. Cooked clambake style and served down the middle of your table. For more info call 707-529-3655 or email info@alexandervalleyhall.com. Tickets available at Brown Paper Tickets link below.
What to Do This Summer?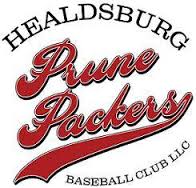 There never seems to be a shortage of things to do in our area beginning in May and continuing through to the end of summer. But, if you need a few suggestions, how about these:
Healdsburg Prune Packers Baseball
This collegiate league baseball team plays at Rec Park in Healdsburg when they have home games, and it's only $5 to see the game. They will play the Auburn Wildcats at 10am on Sunday, June 5th. Their next homestand begins June 11th. They are also currently looking for volunteers, interns and host households for the summer, and they will run a clinic for Little Leaguers and a Players Skills Clinic. Contact Gerry at 473-9409 or Amy at 327-6669, or check out their website
www.prunepackers.org
Alexander Valley Film Society Documentary Film Making Workshop
This workshop is just for high school students. It is FREE, but students must pre-register by
June 10th
. Watch their website for other events this summer.
www.avfilmsociety.org
Summer Concert Series
Both Healdsburg's
Tuesday Nights at the Plaza
and Cloverdale's
Friday Night Live
have begun. Healdsburg's Concerts are from 6 to 8pm in the Plaza. Cloverdale's event kicks off with the Farmer's Market at 6pm with music beginning at 7pm right on North Cloverdale Blvd.
Geyserville Chamber Newsletter
If you or your group have a summer event that you would like us to consider for inclusion in our newsletter, please send the pertinent info to moreinfo@geyservillecc.com
Special Meeting with James Gore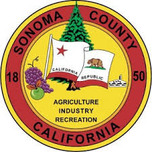 Geyserville residents had their community meeting with James Gore on Tuesday, May 17th at 6pm at Oriental Community Hall.
If you missed this meeting or have more to share, there will be another community forum with James on June 6 at 5:30pm at the Lake Sonoma Visitor Center. This meeting will focus on concerns of Dry Creek Valley residents.
Healdsburg residents will also have a chance to meet with James on June 8th at 5:30pm at the Healdsburg Community Center.
James will also address the meeting of Dry Creek's planning entity, the Dry Creek Valley Citizens Advisory Council at their regular meeting on June 16th at 6:00pm at the City Council Chambers at City Hall in Healdsburg.



Submit Your Events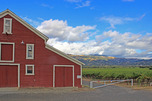 If you are a local non-profit or a Geyserville Chamber Business member, please let us know about your upcoming events and promotions. Our Newsletter deadline is the 1st of the month (all year), and our monthly Dinner Announcement deadline is the 20th of the month (September through May). Send your info and photos to moreinfo@geyservillecc.com or use the sidebar on our calendar of events at
www.geyservillecc.com
Bookmobile in Geyserville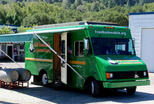 The free Bookmobile of Sonoma County will again be in Geyserville.
Tuesday, June 28
Across from the Visitors Plaza/Park & Ride Lot
on Geyserville Avenue
5:00 to 6:30 pm
Come check out their wonderful selection of books and take home some new reading material for free!
More dates and locations available on the:
Tour the Geysers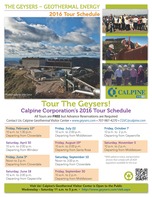 Calpine has released their schedule of Geysers tours for 2016! There are several dates leaving from Geyserville, as well as some leaving from Cloverdale, Windsor, and Middletown. Please note the June 18th tour leaving from Geyserville has been cancelled. Check out the link below for additional details, dates, and locations.
Calendar of Upcoming Events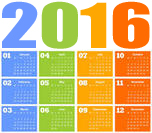 June 4
--
Sculpture Trail Opening Reception
, 5:00 to 7:30pm
June 5
--
Prune Packers vs. Auburn Wildcats
, 10am at Rec Park
June 10--Best of Sonoma Press Democrat nominations deadline
June 10--Alexander Film Society Film Makers Workshops, registration
June 11--Friends of Alexander Valley Hall Lobster Feed, 5:30pm
June 6, 8 & 16--Community Meetings with James Gore, Dry Creek Valley and Healdsburg, and DCVCAC
June 14--Geyserville Chamber June BBQ & Wine Tasting, 6pm
June 28
--
FREE Bookmobile
, 5:00 pm to 6:30 pm on Geyserville Avenue across from the Park & Ride lot
THANKS TO OUR CORPORATE GCC SPONSORS:
A Plus Locksmith
Big John's Market
Four Seasons Vineyard
Management
Francis Ford
Coppola Winery
Garzini Welding
Gehrett & Zunino
Builders
Geyserville Inn &
Geyserville Grille
North County
Properties
River Rock Casino
Silver Oak Cellars
Syar Industries, Inc.
Trione Winery
W.C. Sanderson
Ford