Events, News, & Announcements

Geyserville Community Outdoor Movie Night at the Geyserville Fire Station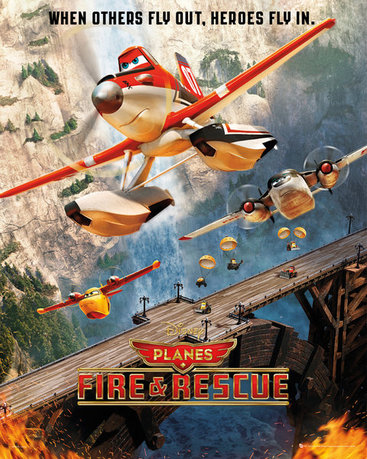 The community is invited to enjoy this free family-friendly event at the Firehouse in Geyserville:
Friday, August 14th
Doors Open 7:00pm
Showtime 8:00pm
This is a FREE event and there will also be free hotdogs and S'mores, so don't miss it! Just bring the family and your own chairs.
Geyserville Fire website
Did You Miss the Business After Hours?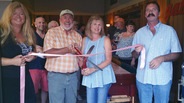 We want to thank all of our Chamber Members who came to the recent ribbon cutting ceremonies and Business After Hours event last Friday at the newly remodeled Route 128 Tasting Room and Stitched Handmade Boutique.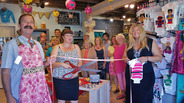 If you missed it, please stop in soon to see Jen's adorable boutique "Stitched" and Pete and Lorna's new tasting room, shuffle board court, and meat counter.
Stay tuned for more info on the next Business After Hours mixer, or check our online calendar.
Chamber Events Calendar

Oliver Ranch Tour in September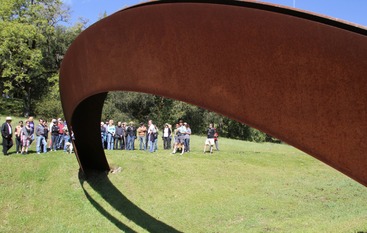 Once again the Oliver Ranch is opening their wonderful 10-acres of site-specific art for a private tour. This tour will benefit the Geyserville Community Foundation.
Saturday, September 26, 2015
Meet at 9:30 at Oriental Community Hall
(the corner of Hwy 128 and Moody Lane)
$100 per person
Transportation to the ranch is provided from the meeting place as part of the tour pricing. The tour lasts 2-3 hours and covers 2.5 miles. The tour is not wheelchair accessible and there are no onsite rest rooms. Tour is limited to the first 50 guests, so don't delay! Prepaid reservations are required.
Please mail your reservations checks to:
Geyserville Community Foundation
P O Box 593
Geyserville CA 95441
Contact Victoria Heiges at 415-608-6160 for questions or additional information, or email her at heiges123@yahoo.com
More information on the ranch and artists is available on the Oliver Ranch website:
Help Control the Deer Population at Lake Sonoma

The Friends of Lake Sonoma announced that deer hunting season opened, for bow hunters, at the mostly wild Lake Sonoma preserve, on July 11, 2015. These hunts help in ongoing efforts to control the park's wildlife populations. Funds raised from the hunts are donated to the Friends of Lake Sonoma, who assist the USACE with tours and educational programs at the lake.
Hunters will have access to special areas of the park that are normally closed to the public. This year the limit will be six bucks, as authorized by the California Departments of Fish and Wildlife. In addition, hunters may take one wild pig.
Reservations must be made with Jayson Collard, a member of the Friends of Lake Sonoma board of directors, who personally guides the hunts.
Cost is $500 for the first day and $175 for each subsequent day (if the hunter did not get a buck on the first try). Hunters must have a photo ID, a California A-zone deer tag, and a pig tag (if also hunting wild pig).
Contact Jayson Collard at 707-293-6410 or inatriangle@yahoo.com for reservations or additional info.
LakeSonoma.org
Man with Three Mules Spotted In Geyserville
Curious sights somehow seem less curious in Geyserville. Maybe we're just a little bit more used to the unusual. Leila McPhee spotted the group by the freeway overpass. Her reaction, was, "That guy is old school!"
Actually John or "Mule" is old school and started by spending his summers in the wild areas of the American West 30 years ago, though only the last 10 with the mules. For the past 12 years he has been living outside year-round, so the mules became a necessity. He didn't used to get much notice--that is until development began to encroach on all the formerly wild land he was used to traversing. It was getting harder and harder for him to find the solitude he was seeking, so he has gone public with his message and is now traversing California. He's also now a bit new school, adding a webpage and a facebook page to his tools in an effort to get his message across.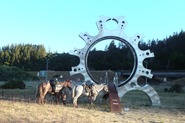 His website shows he was in Hopland on July 26th. This week he spent the night in Geyserville on Tuesday. They also passed through Cloverdale (on the way to Geyserville), Healdsburg and Windsor, and are heading to Santa Rosa. If you would like more info on Mule and his travels, read this article by Mark Lukach:
TheAtlantic-There Is a Man Wandering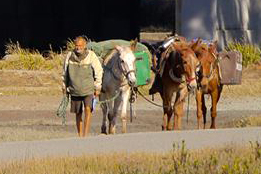 Info on Mule and his mules was found on the following websites. This photo of Mule with his three mules was taken by filmmaker John McDonald.
Sonoma County Tourism Co-op Ad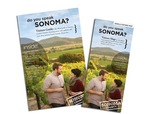 The Geyserville Chamber has another co-op advertising opportunity for our Business, Commercial, and Corporate Members. We will be placing a co-op ad for Geyserville Chamber with Sonoma County Tourism. Price will depend on the number of participants. To reserve your spot or get more info, contact Sandy at 857-2825.
Visitor Center Seeks Volunteers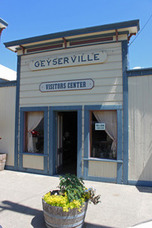 We are still seeking volunteers to allow us to keep our Visitor Center open more regularly. We especially need a few volunteers who can fill in as substitutes for our regulars. If you would love to share your love of Geyserville with visitors, please contact Cosette at cosette@hope-inns.com or the chamber at moreinfo@geyservillecc.com.

Bookmobile in Geyserville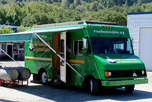 The free Bookmobile will again be in Geyserville on Tuesday, August 25, from 5:00 to 6:30pm, in their usual spot across from the Park & Ride Visitors Plaza. Come check out the great selection of books. Everyone is welcome!
Upcoming Local Events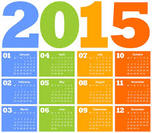 August 14th--Planes Fire & Rescue Family Movie Night at Geyservill Fire Station, 7:00pm
August 5th
--ZAP Simply Summer event at Seghesio Home Ranch
August 25th--Bookmobile in Geyserville, 5-6:30 pm
September 26th--Oliver Ranch Tour to benefit the Geyserville Community Foundation--reservations required
October 13th--Geyserville Chamber Monthly Members Dinners resume--Reservations can be made online September 25th
December 31st
--Save the Date, for the Black and White Ball
Submit Your Events & Announcements
Send us the event name, date, time, cost and contact information!
Go online to our
Events Calendar
and use the "Post Your Event" area at the right or send us an email with all the required information to moreinfo@geyservillecc.com.
SUBMISSION DEADLINES
1st of the Month for inclusion in our 800+ subscriber Newsletter
published on or near the 5th of the month
20th of the Month for inclusion in our Member Dinner Announcement sent on the 25th of the month
THANKS TO OUR CORPORATE GCC SPONSORS:
A Plus Locksmith
Big John's Market
Calpine Corporation
Francis Coppola Winery
Garzini Welding
Gehrett & Zunino
Builders
Geyserville Inn &
Geyserville Grille
North County Properties
River Rock Casino
Silver Oak Cellars
Syar Industries, Inc.
Taylor Electric
Trione Vineyards
and Winery
W.C. Sanderson Ford