March Events, News, & Announcements

CELEBRATE ST. PATRICK'S DAY! Geyserville Chamber Members Dinner is Tuesday, March 14th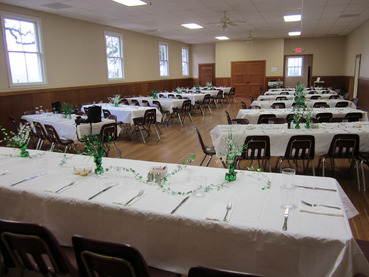 There are still reservations available for Geyserville Chamber's dinner on Tuesday, March 14th. We would love to see you there! As always, we encourage you to invite family, friends, and potential members to this month's dinner.
MENU
Spinach Salad
with Honey Mustard Dressing
Corned Beef & Cabbage
with Carrots and Red Potatoes
Pistachio Cake with Whipped Cream
This month's dinner will be prepared by the Dry Creek Neighbors Club and goes to support their scholarship program for Geyserville and Healdsburg High School seniors, as well as their support of local non-profit groups.
Wines this month will be from Virginia Dare Winery, and our speaker will be Marrianne McBride of the Council on Aging for Sonoma County.

Jiggs and Maggie Dinner at Geyserville Oddfellows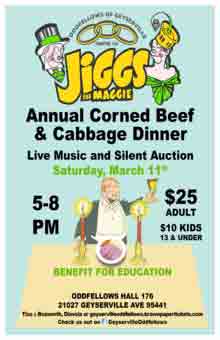 The Oddfellows will hold their annual Jiggs & Maggie dinner on Saturday, March 11th at 5:00pm. The evening will feature live music, dinner, and drinks. Tickets are available at Bosworth & Son's, at Brown Paper Tickets, and at the door on the night of the dinner. $25 per person.
Biscuits & Gravy Breakfast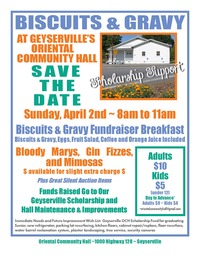 Oriental Community Hall runs and maintains this building for community meetings and events. Each year they hold a fundraiser breakfast to help with their OCH Scholarship and building repairs and maintenance. This year's breakfast will be on:
Sunday, April 2nd
8am to 11am
$10 Adults ~ $5 Kids
(Save $1 on each ticket purchased early)
Bloody Mary's, Gin Fizzes, and Mimosas
available for additional charge
Contact them at orientalcommunityhall@gmail.com for info on advance tickets.
Oliver Ranch Tour May 13th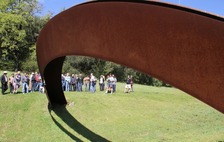 There are still spots available for this year's tour, benefiting the Geyserville Community Foundation. The tour will be on Saturday, May 13th. Cost is $100 per person, and a $95 tax deduction receipt will be given for each ticket. All reservations must be made in advance, and reservations are limited to the first 50 guests. Mail your check to:
Geyserville Community Foundation/
Oliver Ranch Tour
P O Box 593
Geyserville, CA 95441
You can go online for more info and to print the flyer. Contact Victoria Heiges at 415-608-6160 or email her at heiges123@yahoo.com for additional questions or information.
Are You Receiving Your Newletters?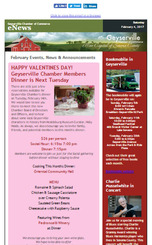 If you or someone you know is not receiving our Chamber eNewsletter or Monthly Dinner Announcements, please contact us.
It may be helpful to add these two email addresses to your contacts to make sure your server will accept these emails:
moreinfo@geyservillecc.com
Geyserville_Chamber_of_Commerce@mail.vresp.com
You can also view past announcements and newsletters on our website:
Sneak Peak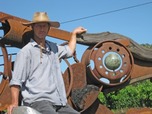 Though Bryan will not be the official speaker in April, he will attend our dinner meeting and it will be a great opportunity for Chamber members to meet him. There is also still a need for metal scrap, especially large sheet type steel; so, if you have something you can donate, please contact Victoria Heiges at heiges123@yahoo.com
Bookmobile in Geyserville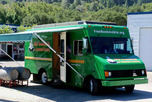 The Bookmobile will again be in downtown Geyserville on March 28th. They will be in their usual spot across from the Park and Ride lot. Check out their great selection of free books each month.
Tuesday, March 28th
5:00 pm to 6:30pm Geyserville Avenue Across from the Park & Ride Lot
Upcoming Events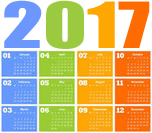 March 3-5th and 10-12th--Russian River Wine Road 40th Anniversary Barrel Tasting Event, 11am to 4pm each day
March 11th--Geyserville Oddfellows Jiggs and Maggie Dinner,5:00pm
March 14th--Geyserville Chamber Members Dinner, 6:15pm-9:00 pm
April 2nd--Biscuits & Gravy Breakfast, 8am to 11am, at Oriental Community Hall
May 13th--Oliver Ranch Tour, 9:30 am to 12:30 pm, reservations must be made in advance
THANKS TO OUR CORPORATE GCC SPONSORS:
A Plus Locksmith
Big John's Market
California American
Water
Calpine Corporation
Four Seasons
Vineyard
Management
Francis Coppola
Winery
Garzini Welding
Gehrett & Zunino
Builders
Geyserville Inn &
Geyserville Grille
Golden Key Wealth
Management
North County
Properties
River Rock Casino
Silver Oak Cellars
Syar Industries, Inc.
The Ranch -
Sonoma
W.C. Sanderson
Ford