Events, News, & Announcements

Summer's Coming...
After our June BBQ & Wine Tasting, the Chamber dinners will go to sleep for the summer and resume in October. However, the chamber board will continue to be hard at work, and we will continue to send out our newsletters with Geyserville news and events. So, if you are a chamber member or have Geyserville related news or events that you would like us to consider for inclusion in our newsletter, please send an email with the pertinent info and any related photos to the Geyserville Chamber at:

GEYSERVILLE GRILL & Geyserville
Chamber of Commerce
Join the Hispanic Chamber of Sonoma County and the Geyserville Chamber of Commerce at this chamber mixer hosted by the new Geyserville Grill at Hoffman House.
Mix and Mingle with
Appetizers & Beverages
Thursday, June 19, 2014
5:30pm - 7:30pm
at Geyserville Grill
21714 Geyserville Avenue
Geyserville, CA 95441
For more information contact Eliot Enriquez at 707-775-1960

Deer Hunting at Lake Sonoma
Begins July 12, 2014
Last year was the first time since the filling of the dam that deer hunting was allowed at Lake Sonoma.
Archery and crossbow hunters will be able to hunt the mostly wild, and usually off-limits areas of the Lake Sonoma Preserve beginning July 12th.
There will be a 6 buck limit--hunters will also be able to take 1 wild pig. (No firearms are allowed at Lake Sonoma).
Cost for the guided hunting is $500 for the first day, and $175 for each subsequent day, if a hunter does not get a buck on the first day. Hunters must have a photo ID, a California A-zone deer tag, and a pig tag (if interested in taking a pig).
You must make your reservations with Jayson Collard, of the Friends of Lake Sonoma Board of Directors, who personally guides the hunts. Contact Jason at inatriangle@yahoo.com or 707-293-6410.
The deer and pig hunts at Lake Sonoma help the U.S. Army Corps of Engineers control and balance the park's wildlife populations. Funds raised from the hunts are donated to the Friends of Lake Sonoma, which assists the USACE with tours and educational programs at the lake.
For more information, visit their website...
HEALDSBURG DISTRICT HOSPITAL DAISY AWARD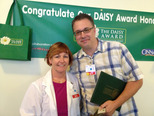 The HDH DAISY award celebrates nurses who demonstrate exceptional clinical skills and outstanding patient care. This year's winner is Anthony Burich.
The award was established in 1999 by the Barnes family, in Glen Ellen, in memory of a loved one who was cared for by many extraordinary nurses when he was ill. Today over 1,700 healthcare facilities in all 50 states, plus 10 foreign countries, participate in this registered nursing award program.
Participation in this award is one way Healdsburg District Hospital draws attention to their exemplary nursing staff and the way they go above and beyond in their care of patients and their families.
Patients and peers nominate nurses for this award, and Anthony was recognized for his positive attitude, willingness to help, and his clinical skills and nursing excellence.
Congratulations to Anthony and these other DAISY AWARD nominees: Twila Hansen, Joan Hilden, Katy Nadeau, Deb Pride-Young, Denise Albright, Greg Simone, Suzanne Lazare-Ellis, Rhonda Smith-Cowen, Mary Doll, Aki Ransome, and Zoe Zuest-Becker.


THANKS TO OUR CORPORATE GCC SPONSORS:
Big John's Market
Calpine Corporation
Francis Coppola Winery
Garzini Welding
Geyserville Inn &
Hoffman House Cafe
North County Properties
River Rock Casino
Silver Oak Cellars
Syar Industries, Inc.
Taylor Electric
Trione Vineyards
and Winery
W.C. Sanderson Ford