August Events, News, & Announcements

Fall Colors Festival Seeks Local Crafters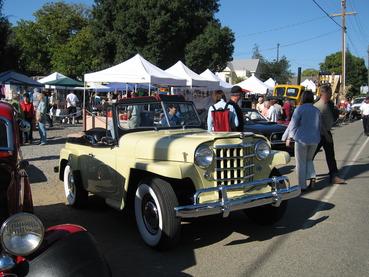 This year's Fall Colors Festival & Vintage Car Show will be on
Sunday, October 30th.
The Geyserville Chamber of Commerce organizes the craft vendor portion of the event and would love to have more local artists and crafters participate in this wonderful hometown event.
If you sew unique clothes and sundries, knit items from locally grown wool, make handmade botanical soaps and personal products, paint or photograph Geyserville and Sonoma County or have rusty, up-cycled metal or wood products, or any other unique creations, WE WANT YOU! (Please handmade or hand-crafted products only.)
Booth spaces are 10 x 10 feet, and vendors provide their own shade structure or tent. Though prices for this year have not been set, spaces are usually just $50. No electricity is available on-site. This is a well-attended family event, so please consider participating.

If you are interested in participating or in more info, please send us your email address or mailing address so we can add you to our craft vendor mailing list. Send info to: moreinfo@geyservillecc.com.
Vendor applications, with more details will be sent approximately 6-8 weeks prior to the event.
Geyserville Chamber of Commerce
707-276-6067
moreinfo@geyservillecc.com
In Memoriam
It is with sadness that we say our final goodbye's to the following members of the Geyserville Chamber family:
Don Covello
Passed away July 28, 2016
Kent Mitchell
August 3, 1944 ~ July 8, 2016
Carol Layton Peeters
Passed away July 20, 2016

Congratulations to Our Local Winners!

First, let us congratulate Diavola for their stellar review by Zagat! Be sure to congratulate them when you stop by the restaurant. Check out the review here.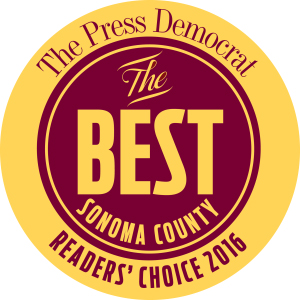 Also, a special thank you to all of you who voted for our local Geyserville favorites in the Press Democrat Best of Sonoma County Reader's Choice awards. Way to go!
Catelli's was the winner in both the Best Local Restaurant and Best Italian Restaurant categories, and Domenica Catelli won an Honorable Mention for Best Local Chef.
Francis Ford Coppola Winery was also a winner in several categories: the Best Place to Play Bocce Ball, Best Winery to Take Visitors to, and an Honorable Mention for Best Restaurant with a View.
Congratulations to Sabine Canto Adams at Geyserville Elementary for her win as Best Sonoma County Teacher.
Other chamber member winners to take home wins were Costeaux Bakery for Best Bakery, Healdsburger an Honorable Mention for Best Burger, Big John's Market for Best Deli, Wilson Family Wines for Best Red Wine and an Honorable Mention for Best Tasting Room, Exchange Bank for Best Bank, Gardenworks in Healdsburg for Best Landscaper, and the American Legion in Healdsburg for Best Fireworks Display (for the 4th of July). Congratulations to all of our local winners.
Scam Alert!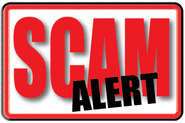 It has come to our attention, that residents in Geyserville have been targeted by phony emails and phone calls claiming a PG&E serviceman is coming to disconnect service.
As with all emails and phone calls from anyone, even a trusted company, it is best to look up the company's customer service number yourself and call them directly. DO NOT respond
over the phone (call them back), and DO NOT respond
to the number in a recorded message, or to an email.
For more information on avoiding scams, identity theft, and other fraud, visit the
aarp website
or seek another trusted source of consumer protection information.
Summer Hoedown Dinner & Dancing~Saturday August 13th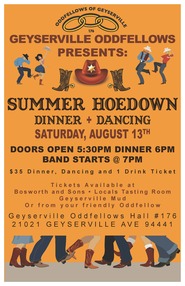 The Geyserville Oddfellows are sponsoring a dinner dance on Saturday, August 13th with a live band and plenty of boot stompin' fun!
The doors will open at 5:30pm, dinner will be served at 6:00pm, and the band will start playing at 7:00pm.
In the meantime, you can enjoy dinner and drinks, visit with friends, and make a few new ones.
Tickets are $35 and include dinner plus one drink, and all the dancing and socializing your feet can handle!
The Geyserville Oddfellows Hall #176 is at 21021 Geyserville Avenue, right above Diavola. Get your tickets at Bosworth & Sons, Locals Tasting Room, Geyserville Mud, or from any Oddfellows member. Don't miss this fun evening on the town.
Healdsburg Memorial Beach Water Carnival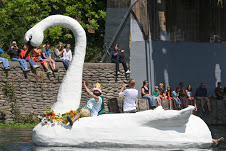 The historic Water Carnival on the Russian River in Healdsburg returns after a two year hiatus. In conjunction with Water Carnival festivities, there will be an antique car parade and a ribbon cutting ceremony to dedicate the newly reopened Healdsburg Avenue Bridge.
The carnival is Saturday, August 13th, from 11am to 5pm. Admission is free, however parking is $7 (free for Regional Parks members with their park pass). Participation in Zoom Flume and Water Park, Sandy the Swan boat rides, face painting, and paddle-board jousting require the purchase of a $10 all day wristband. Children must be 6 years or older to participate.
The Great American Rubber Duck Dash will be held on the Zoom Flume. Participants can sponsor a duck for $3 each or 10 for $20. Prizes will include gift baskets and a shopping spree worth $250 from Shelton's.
In addition to river activities, there will be a variety of vendors and activities on display from the Pacific Air Museum, the Sonoma County Free Bookmobile, the Healdsburg Museum, and Stewards of the Coast Redwoods, among others. There will also be live music, local food trucks, and Lagunitas beer for festival goers. Bring your swimsuit and towel and enjoy a fun day for the whole family at the Veterans Memorial Beach Water Carnival. Proceeds from this event will benefit the Regional Parks Water Safety Patrol.
J. Rickards Winery BAH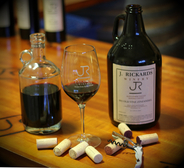 Sorry if you missed the last
Business After Hours
at J. Rickards Winery. It was a great time for those who attended. Jim at the winery would love to meet more chamber members, so stop in to say "hi" and see their new cave. If you mention you are a "Geyserville Chamber Member" you will receive a special treat.
Save These Dates!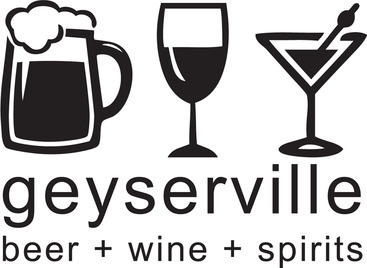 There are several great events coming up in Geyserville.
First is the
Gesyerville Beer, Wine & Spirits Festival
on October 8th at Geyserville Inn. If you are interested in participating in the festival, please contact Danielle at ddibari@aol.com. Tickets are now available at
EventBrite
.
Next, be sure to save Sunday, October 30th, and Saturday, November 26th for two of Geyserville's biggest events, the Fall Colors Festival and Vintage Car Show and our famous Tree Lighting & Tractor Parade. Details on both events will be added as they become available.
Tractor Parade Road Closures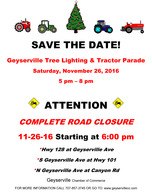 There will be a COMPLETE ROAD CLOSURE for this year's Tree Lighting and Tractor Parade event. We want all Geyserville residents, businesses, and visitors to be aware of this well in advance.
Please mark this event on your calendar or in your phone. You won't want to miss it. For details click the photo above or link below to print the flyer.
Summer & Fall Volunteers Needed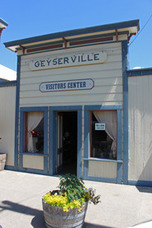 The Geyserville Visitor Center can always use a few more volunteers! Our visitor center offers visitor information and doubles as a small museum with interesting Geyserville artifacts. There is information on
local businesses plus wine tasting maps or county brochures for visitors to browse through and take. Volunteers help direct visitors to local points of interest and answer simple questions about Geyserville and the surrounding area. Locals are always welcome, so stop in any weekend to check it out.
Please consider volunteering for a few hours. Contact Cosette Scheiber, to volunteer or for more information, at 707-857-3356 or email her at cosette@hope-inns.com.
"School Days Then and Now" Exhibit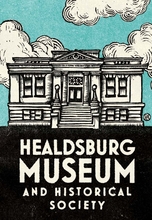 Learn about the history of education in Healdsburg and the surrounding area. Our local one-room schools were built beginning in 1858. This exhibit features architectural models of school buildings and the Healdsburg Plaza, as well as a side-by-side comparison of 1906 and 2016 classrooms. The museum is open Wednesdays through Sundays. This exhibit will remain on display through November 13th. Admission is always FREE! Special tours and viewings for school groups can be arranged by calling 431-3325.
AV Film Society Monthly Screening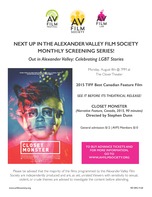 Monday, Aguust 8th
7pm
The Clover Theater
$12/$10 Members
Join the Alexander Film Society as they celebrate "Out in Alexander Valley: Celebrating LGBT Stories" with a showing of Closet Monster, a 2015 TIFF Best Canadian Feature Film winner. See it before its theatrical release.
Lost Pigeon?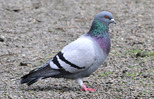 A neighbor near the Grange Hall in Geyserville has a rock pigeon that is very friendly and has a leg band indicating it may belong to someone. This photo is a representation only, not an actual photo of the missing bird. If you are missing a pigeon or know someone who is, please email Leslie at the address below to help this pigeon find its way home.
leslie.vivian@valley.net
Upcoming Events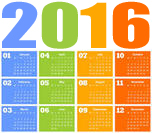 August --School Days Now and Then at the Healdsburg Museum through November 13th
August 8th
--
Closet Monster, at the Clover Theater, 7:00pm
August 13th
--Veterans Memorial Beach Water Carnival,
11:00am to 5:00pm
August 13th--Oddfellows Summer Hoedown, 5:30pm
August 30th--Free Bookmobile will be in Geyserville, 5:00 to 6:30pm across from the Park & Ride lot
October 8th--Save the Date for the Geyserville Beer, Wine & Spirits Fest, Noon to 5pm
October 30th--Fall Colors Festival & Vintage Car Show, 10am to 4pm
November 26th
--
Geyserville Tree Lighting & Tractor Parade,
5pm
THANKS TO OUR CORPORATE GCC SPONSORS:
A Plus Locksmith
Big John's Market
Calpine Corporation
Four Seasons
Vineyard
Management
Francis Coppola
Winery
Garzini Welding
Gehrett & Zunino
Builders
Geyserville Inn &
Geyserville Grille
Golden Key Wealth
Management
North County
Properties
River Rock Casino
Silver Oak Cellars
Syar Industries, Inc.
W.C. Sanderson
Ford