Events, News, & Announcements

February Members Dinner SOLD OUT! Thanks for your support!
New GCC Board Installed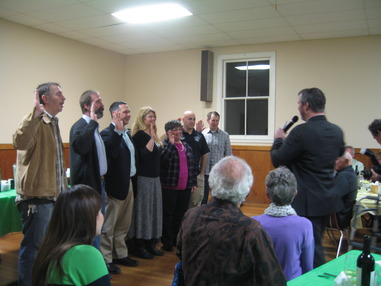 Congratulations to the new members of the Geyserville Chamber of Commerce Board, who were sworn in at our January Members Dinner by 4th District Supervisor, James Gore. Pictured from left to right are Grady Beard, Ted Elliott, President, Gary Sterman, Danielle di Bari Alexander, Vice President, Kathy Zunino, Joe Stewart, and Michael Yosowitz, Treasurer. Not pictured are directors Sandy Elliott and Paul Sullivan. The board is currently seeking a new recording secretary.

Geyserville Fire 100th Anniversary Dinner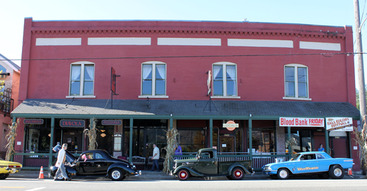 Odd Fellows Hall Earthquake Retrofit Fundraiser
Join us in the remodeled Odd Fellows Hall to celebrate the 100th year of Geyserville Fire. This dinner will be prepared by Dino Bugica of Diavola Pizzeria, with assistance from fellow Odd Fellows members and members of Geyserville Fire Protection District. Proceeds will benefit the Odd Fellows Hall earthquake retrofit.
February 21, 2015
5:30 to 8:30pm
$30 per Person
(includes wine)
Call Harry or Jason at Bosworth's--857-3463--or go online to www.geyservillefire.com for more info. Tickets available at the firehouse.
Maggie & Jiggs
Corned Beef & Cabbage Dinner Coming Soon!
Save the Date
Saturday, March 14th at the Odd Fellows Hall
Details to Come
2015 Amateur Winemakers Competition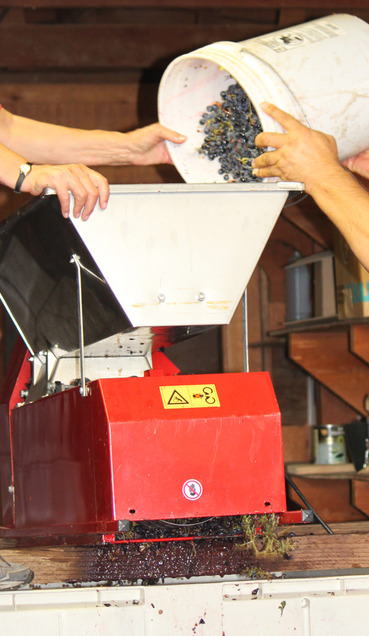 Entry applications and details are now available on the Chamber website.
Deadline
March 10, 2015~5pm
$9 per entry
This year's Awards Dinner will be held at Geyserville Grille. More details to come.
Good Luck!
Coppola Soap Box Speaker Series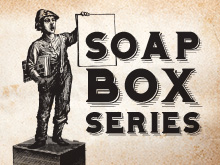 Francis Ford Coppola Winery will be hosting a FREE community speaker series beginning this Friday, February 6th!
Start your weekend with a little wine, a little talk and a little inspiration!
Each week, a guest speaker from our local community will "Get on their Soapbox" to discuss a different topic highlighting the wonderful diversity of interests found here in Sonoma County.
Feb 6--Ghost Stories and Other Local Intrigue
Susan Bennett, Cloverdale History Center
Feb 13--Hop Selection--An Inside Look
Richard Norgrove, Brewmaster at Bear Republic Brewing
Feb 20--Boont--Harpins from the Beeson Tree
Wes Smoot and Rod DeWitt, Boontling-The Secret Language of Boonville
More to Come!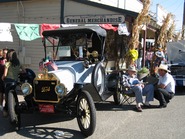 Longtime Geyserville Chamber member Lou Colombano and his model T are still going strong. He will be celebrating his 100th birthday on Feburary 17th!

Lou has been a regular Member Dinner attendee, a frequent Fall Colors entrant, and a sometimes fixture in Harry's store for longer than many of us have been alive. He is a local treasure. So if you run into Lou, be sure to wish him a Happy Birthday, with many more to come!


Visitor Center Volunteers Needed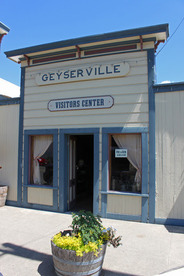 You may have noticed our Visitor Center next to Bosworth's General Store in downtown Geyserville. The chamber kept the center staffed on weekends during the summer but has been closed for most of the winter. There are plans to be open on special winery event weekends, and again during the warmer months. But, WE NEED YOU!
The chamber would like to keep the doors open more often, and they are seeking volunteers.
If you LOVE Geyserville, are familiar with or interested in learning and sharing information about Geyserville--local history, businesses, sights, attractions, wineries, lodging, etc., we would love to have you as a volunteer in the Visitor Center.
Please email Cosette Scheiber at cosette@hope-inns.com or the chamber at moreinfo@geyservillecc.com for more information.


BISCUITS & GRAVY BREAKFAST Sunday, March 22nd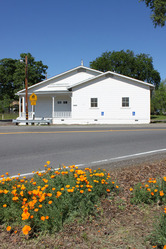 It's time once again for the annual Geyserville Oriental Community Hall Biscuits & Gravy Breakfast.
Don't miss out!
Oriental Hall and Geyserville Grange members will provide a great Sunday morning breakfast that includes warm biscuits with sausage gravy, fluffy scrambled eggs, fruit salad, coffee, and orange juice.
Biscuits & Gravy Breakfast
Oriental Hall
8am to 11am
Sunday, March 22nd
$10 Adults and
$5 Kids (12 & Under)
Treat yourself to an Adult Beverage: Mimosas, Gin Fizzes, and Bloody Mary's will be available for a slight additional charge.
There will also be some great silent auction items. Possible items may include local merchant gift certificates, jewelry, artwork, kitchen ware, outdoor goodies, gardening supplies, and event tickets!
All funds raised go to the upkeep of the hall--Geyserville's Community Hall.
If you would like to donate an auction item or need more information on this event, please send an email to orientalcommunityhall@gmail.com
Sculpture Trail Call for Entries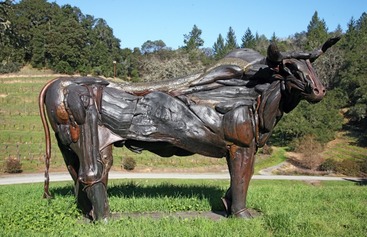 The Cloverdale/Geyserville Sculpture Trail folks from Cloverdale Arts Alliance and the Geyserville Community Foundation are once again seeking Artists to enter their sculptures for display along the Highway 101 corridor in Geyserville and Cloverdale. Current sculptures will be on display until May 7th.
Entries and guidelines are available on the sculpture trail website at
www.101sculpturetrail.com
or by calling the Cloverdale Arts Alliance at 707-894-4410. Selections for both communities will be displayed from May 2015 through May 2016.
Installation Sponsors/Donations Also Needed
Your tax deductible donations of any amount are welcomed to cover the general expenses of preparing this exhibit each year and the installation of these works of art. If you are interested please send an email:
Geyserville--heiges123@yahoo.com OR
Cloverdale--jmanfor@gmail.com
Geyserville Loses a Favorite Son John Pedroncelli 1925-2015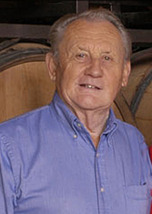 The winemaking industry, the communities of Dry Creek Valley. Geyserville and Healdsburg, and the Pedroncelli family suffered a great loss when John Pedroncelli passed away on January 4th. He was just short of his 90th birthday.
John moved to Sonoma County when he was just 2 years old and grew up learning about the vineyards on their Canyon Road property and about the wine that was made from them. He took over winemaking duties from his father Giovanni in 1948 and John and brother Jim purchased the winery from their father in 1963.
He was generous with his knowledge and his assistance, always willing to share with other winemakers and growers. The Pillsbury family sold their grapes to Pedroncelli for over 35 years. They never had a contract, but John's handshake was his bond among all the grape growers.
He also helped neighboring Raymond Burr Vineyards when they were just beginning in the early 80s. Pedroncelli crushed and bottled Raymond Burr wines and John acted as winemaker for their early vintages, an act very typical of John and the entire Pedroncelli clan.
John was a long time member of the Geyserville Chamber of Commerce and Pedroncelli Winery is one of the oldest bonded wineries in the area--#113. Their support of the chamber and local community was like the man, quiet and constant.
But John was appreicated far beyond the confines of our local area, as can be seen in articles that marked his passing in the
Press Democrat
,
Wine Spectator
,
WineBusiness.com
,
the Agricultural Marketing Resource Center
and more. Much has been written about the "firsts" that were chalked up under John's reign as the head man and winemaker for Pedroncelli, but suffice it to say that he was a great vintner and friend to many and he will be sorely missed.
North Sonoma County Healthcare District Board Opening

The North Sonoma County Healthcare District Board is seeking a new board member. To be considered for this position, you must be a voter living within the district.
Please send Letters of Intent and Resume to
Healdsburg District Hospital
1375 University Avenue
Healdsburg, CA 95448
Submissions must be delivered by
February 9, 2015 at 5pm
InterviewS will begin February 11th, with selection to be announced at the regular board meeting on February 25, 2015.


Upcoming Local Events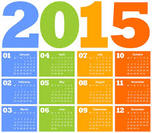 Feb 6
--Coppola Soap Box Friday Night Speaker Series begins
Feb 7--Steelhead Festival 10-4 at Lake Sonoma
Feb 9--NSCHD Board Letters of Intent and Resumes due by 5pm
Feb 17--Lou turns 100!
Feb 17--FREE Bookmobile in Geyserville
Feb 21--Geyserville Fire 100th Anniversary Dinner
Mar 10--Amateur Winemakers Competition Entry Deadline
Mar 22--Biscuits & Gravy Breakfast
Submit Your Events & AnnouncEments
Send us the event name, date, time, cost and contact information!
Go online to our
Events Calendar
and use the "Post Your Event" area at the right or send us an email with all the required information to moreinfo@geyservillecc.com.
SUBMISSION DEADLINES
1st of the Month for inclusion in our 800+ subscriber Newsletter
published on or around the 5th of the month
20th of the Month for inclusion in our Member Dinner Announcement sent on or about the 25th of the month
THANKS TO OUR CORPORATE GCC SPONSORS:
A Plus Locksmith
Big John's Market
Calpine Corporation
Francis Coppola Winery
Garzini Welding
Gehrett & Zunino
Builders
Geyserville Inn
& Hoffman
House Cafe
North County
Properties
River Rock Casino
Silver Oak Cellars
Syar Industries, Inc.
Taylor Electric
Trione Vineyards
and Winery
W.C. Sanderson
Ford