May Events, News, & Announcements

May Day is This Sunday!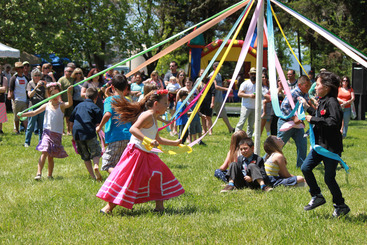 May Day is almost here! This is a favorite local event that benefits Geyserville Schools and local non-profits. Don't miss the May Pole Dance, Kiwanis Rib-Cook Off, bouncy house, rock climbing wall, historical displays, egg toss, Ballet Folklorico performances, live music and all the great family-friendly activities on this fun-filled Sunday afternoon event.
Sunday, May 7th
Hoffman Grove Picnic Grounds
Noon to 4pm
More details are available on our website. Thank you to all the teams that entered this year's Kiwanis Wine Country Rib-Off. Make sure to sample and vote for your favorites.
Geyserville Chamber Members Dinner is Tuesday, May 9th

There are still reservations available for Geyserville Chamber's dinner on Tuesday, May 9th. The Chamber counts on your attendance to help support our groups and our Geyserville events. We encourage you to invite family, friends, and potential members to this month's dinner.
MENU
Mixed Green Salad with Mandarin Oranges
BBQ Chicken
with Pesto Pasta
Seasoned Carrots
Chocolate Dipped Lace Cookies and Ice Cream
This month's dinner will be prepared by the
Geyserville New Tech Academy Technology Committee
Wines this month will be from Zialena Winery, and our speaker will be Karissa Kruse President of the Sonoma County Winegrape Commission

Alexander Valley Healthcare CalFresh Awareness & Food Drive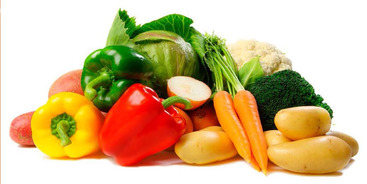 Food Drive Donations accepted at the AVH booth at May Day!
Join Alexander Valley Healthcare for their FREE information week, and check out their booth at May Day! In English and en Español!
WHO? Everyone is welcome,
please join them
WHAT? Cal Fresh Information,
materials, free incentives and prizes
WHEN? Sunday, May 7th at May Day &
May 15th - May 19th
from 8 am to 5 pm
WHERE? Alexander Valley Healthcare
6 Tarman Drive in Cloverdale
WHY? Better food for better living.
Save your money for other expenses.
CalFresh benefits are issued on
an Electronic Benefit
More information and flyers to print on the chamber website.
Sculpture In Progress Sneak Peek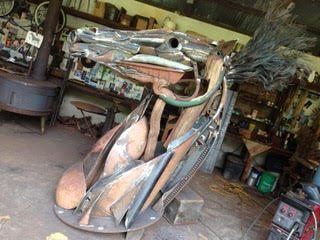 Bryan Tedrick is working hard on the Horse sculpture for Geyserville. This is the latest photo of his work in progress. If you would like to make a donation or have scrap metal you can donate, please contact Victoria Heiges at heiges123@yahoo.com
Geyserville Chamber June BBQ & Wine Tasting is Coming!

The June BBQ & Wine Tasting is almost here. This year our event will be catered by KR Catering and held at Trentadue Winery--both supportive chamber members.
Menu
Chili Bar
Ken's Award Winning Chili with all the fixin's!
Dinner BBQ Buffet
KR's Famous BBQ Tri-Tip,
Pulled Pork, and Chicken
Corn on the Cob
Garlicky Crisp Caesar Salad
Cole Slaw with California
Golden Raisins and Apple
Mini Cornbread Muffins with Cheddar Cheese
and Roasted Poblano Peppers
Dessert
Cookies and Brownies
Here's the scoop...
Tuesday, June 13th
Trentadue Winery
19170 Geyserville Avenue
Wine Tasting & Chili Bar at 6:00 pm
Dinner at 7:00 pm
$50 per Person
$450 for a Table of Ten
Preston Farm & Winery Community Farm Dinner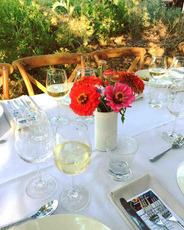 Preston Farm & Winery will host a Community Farm dinner featuring gourmet fare prepared by local Chef Brandon Guenther with Preston produce, pasture lamb, bread, and olive oil.
Each course in this family style meal will be made from Preston-farmed ingredients and paired with their estate-grown, organic and bio-dynamically farmed wines.
Ticket prices are $125 per person, with a discount for Preston Wine Club Members.
Wine Club Members should contact Ken@PrestonVineyards.com for a special discount code before purchasing tickets
Grim Sweepers Olive Hill Cemetery Clean Up Day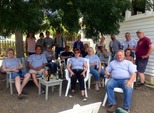 Join the Grim Sweepers for their annual clean up of Geyserville's Olive Hill Cemetery in preparation for Memorial Day commemorations. The photo above is of past helpers.


Sunday, May 28th
9:30 am Meetup
Olive Hill Cemetery
Bring gloves, rakes, brooms, shovels, and be prepared
to work!
Lunch and beverages provided.
Contact Harry Bosworth (harry@bosworthandson.com) or Gretchen Crebs (gretchen@bosworthandson.com) for more info
Audubon Canyon Ranch Modini Wildflower Tour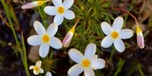 Join this excursion to see wildflowers of the Modini Mayacamas Preserves, one of the wildflower hotspots of Sonoma County. Includes a 3-mile loop hike. Led by ACR ecologist David Self.
Tickets: $20 non-member / $15 member or student / FREE for children under age 18. Fees support the preservation, education and conservation science programs of Audubon Canyon Ranch.
Bookmobile in Geyserville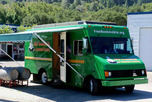 The Bookmobile will again be in downtown Geyserville. They will be in their usual spot across from the Park & Ride lot.
Tuesday, May 30th
5:00 pm to 6:30pm Geyserville Avenue Across from the Park & Ride Lot
CALPINE Geysers Tour Schedule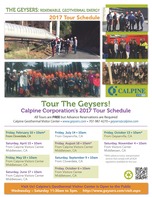 The Geysers tour schedule for 2017 is now available. The next local departure tour will be on Friday, July 14 from Geyserville. Go to our website for more information and to print the complete tour schedule for 2017.
Link to my website
Tour Luther Burbank's Experimental Farm in Sebastopol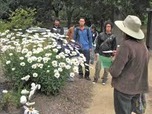 If your group is interested in touring the historic Luther Burbank Gold Ridge Expermint Farm in Sebastapol, the Western Sonoma County Historical Society offers docent led tours by appointment for just $5 per person. Donations help with farm upkeep and maintaining this historical Sonoma County treasure.
For more information call 707-829-6711 or contact Ann Schroder at schroder.a@gmail.com. You can also learn more at their website.
Upcoming Events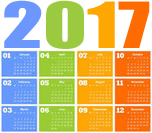 May 7th--Geyserville May Day Celebration, Hoffman Grove Picnic
May 9th--Geyserville Chamber Members Dinner, 6:15 to 9:00 pm
May 13th--Oliver Ranch Tour, SOLD OUT
May 15th to May 19th--Alexander Valley Healthcare, CalFresh Awareness Info workshops
May 28th--Grim Sweepers Cemetery Clean-up, 9:30am
May 30th--Free Bookmobile in Geyserville, 5:00 to 6:30 pm
June 13th--Geyserville Chamber June BBQ & Wine Tasting, 6:00 to 9:00 pm
June 24th--Preston Farm & Winery Community Dinner, 5:00 pm to 8:00pm
THANKS TO OUR CORPORATE GCC SPONSORS:
A Plus Locksmith
Big John's Market
California American
Water
Calpine Corporation
Four Seasons
Vineyard
Management
Francis Coppola
Winery
Garzini Welding
Gehrett & Zunino
Builders
Geyserville Inn &
Geyserville Grille
Golden Key Wealth
Management
North County
Properties
River Rock Casino
Silver Oak Cellars
Syar Industries, Inc.
The Ranch -
Sonoma
W.C. Sanderson
Ford