May Monthly Member Dinner
Geyserville Oriental Community Hall ~ 1000 Hwy 128
Tuesday, May 8, 2018

May Chamber Members Dinner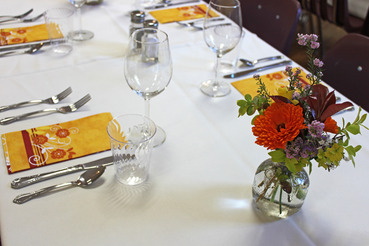 $26.00 per Person
Tickets go on sale the

25th

of each month.
Please reserve your spot soon*.
Social Hour: 6:15 to 7:00 pm
Dinner 7:15 pm
at Oriental Community Hall
Members are welcome to join us just for the Social gathering
before dinner without staying to dine
Cooking This Month's Dinner:
Geyserville Fire Department


MENU
To Be Announced
(check our website for updated info)
Featuring Wines from
We encourage you to bring your own wine glass.
This Month's Speaker
Marshall Turbeville,
Geyserville Fire Chief
*No reservations will be held without payment. All refundable cancellations must be made 48 hours in advance. Those on the waiting list get preference for next month's dinner meeting.

More

Geyserville

Community News & Announcements
Geyserville Town Meeting & Planning Committee Meeting

Geyserville Town Meeting
TONIGHT!!!
Tuesday, April
24th
at Geyserville New Tech Academy
1320 Moody Lane~Geyserville
Registration 6:45 pm
Meeting 7:00 pm
There will be presentations from the Geyserville Fire Protection District and COPE, the Sonoma County Sheriff, California American Water, Supervisor James Gore, as well as a Geyserville Planning Committee Update.
Part of the meeting will include the election of Planning Committee members, for a 2-year term, to fill four spots. You must be present to vote. Current candidates are: Ryan Petersen, incumbent (Treasurer) and Hal
Hinkle
, incumbent. Additional nominations will be accepted at the meeting.
Everyone is welcome and encouraged to attend this meeting.
Monthly Planning Committee meetings are the
4th
Tuesday of every month, except December. Their next
m
eeting
, May
22nd
, will be at the Geyserville Fire Station. The Town Meeting
Agenda and additional information is available on their website.
Kiwanis May Day Rib Cook-Off Applications Now Available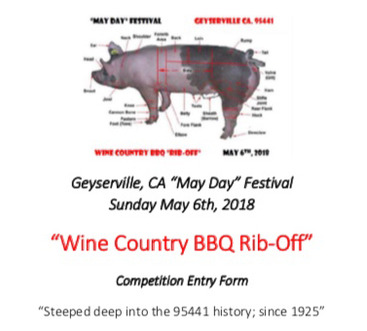 Get your team together and ENTER the Kiwanis Rib Cook-off at the Geyserville May Day Celebration.
Get your application below.
April 30th--TURN IN FEES & APPLICATIONS at Bosworth's
May 4th--PICK UP RIBS at Geyserville Market, AFTER 5:00 pm
May 6th--SET-UP AND COOK-OFF, 6:00 am
Contact Bill Green for more info: 617-669-6421 or williamRgreen@yahoo.com
May Day is Almost Here!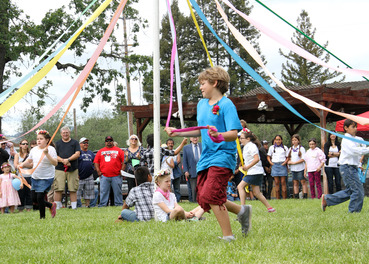 Geyserville's
favorite spring event--the May Day Celebration--will be held on:
Sunday, May

6th


Hoffman Grove Picnic Grounds
Noon to 4:00 pm
This home-town event will have something for everyone! MUSIC, KID'S GAMES, GREAT FOOD, LOCAL WINES & FAMILY FUN
May Day began in 1925, as a day to come together as a community and celebrate the wonders of spring. Teachers and students from all the surrounding schoolhouses were represented. Children would dress up as fairy tale characters and participate in pony rides and cake walks. In the past, the local firefighters would have water fights and raise money for new equipment. Sometimes you would find a Quilt Raffle or Grape Box Derby Cars racing down the hill next to the old Hoffman Grove.
Some t
raditions remain to this day:
that
May Pole Dance
and
the crowning of the May Day Queen are still eagerly anticipated.
This year, the May Day Queen and her court, from the high school, will be at 1:30. The original May Pole from 1925 will be the focal point of the May Pole Dance by
Geyserville
3rd
Grade classes at 2:00. Middle school participants in Ballet
Folklorico
will perform, as well.
Enjoy LIVE music, an inflated Jump House, Rock Climbing wall, and face painting! In addition, there will be
Geyserville
History display boards, and an egg-toss competition. Wine and beer will be available from the
Geyserville
Chamber of Commerce to accompany all the tasty eats and the
Kawanis
rib cook-off and competition.
All precedes benefit community non-profit groups. Don't miss this opportunity to participate in a time-honored small town American Tradition. Come out and meet your neighbors! May
6th
from 12 to 4 pm. ADMISSION IS FREE
Kiwanis Rib & Chicken Feed and Dessert Auction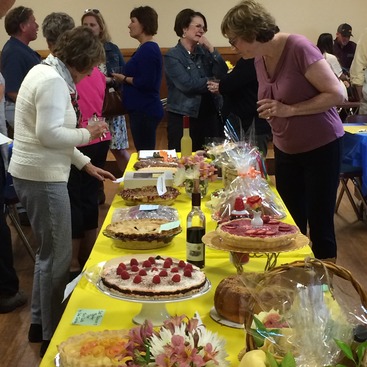 Save the date for this amazing Kiwanis Dinner & Dessert Auction Fundraiser!
Kiwanis Rib & Chicken Feed
and Dessert Auction
Friday, May 11
Oriental Community Hall
6:30 pm
Get tickets from any Kiwanis member--or at the door--if there are any still available. $25 per person.
2 WAYS TO BUY YOUR DINNER TICKETS
Mail your check to:
Geyserville Chamber of Commerce
Attn: Dinner Reservations
P O Box 276
Geyserville, CA 95441
OR
Buy online at:
www.geyservillecc.com

THIS MONTH'S SPEAKER WILL BE FIRE CHIEF MARSHALL
TURBEVILLE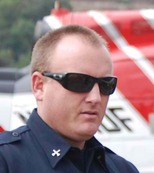 Fire Chief Marshall heads the Geyserville Fire Protection District. He has been with Geyserville since 1995, and follows in his father's footsteps as chief. The
Geyserville
Fire Protection District protects over 200 square miles in Northern Sonoma County, serving Alexander Valley, Chalk Hill, Dry Creek Valley, the Geysers,
Geyserville
, parts of unincorporated
Healdsburg
and Lake Sonoma.
Chief
Turbeville
was instrumental in fighting the Pocket Fire last fall.
Turbeville
, together with Supervisor Gore, produced a series of podcasts that kept the community informed about the fire and progress in the fire fight. He will update us on the latest news from the
Geyserville
Fire Protection District.
This Month's Featured Wines are from
FORCHINI

WINERY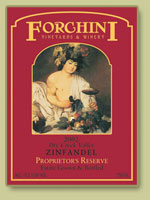 For this month's dinner, our wine steward, Erik
Overholt
, has arranged to feature red and white wines from
Forchini
Winery on the dinner table. Please enjoy responsibly.
FREE Bookmobile in Geyserville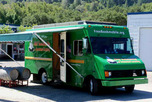 The bookmobile will be in Geyserville again this month, and in May. Check out their great supply of FREE reading material.
Across from the Park & Ride Lot
Tuesdays,
April 24th
and May 22nd
5:00 pm to 6:30 pm
Go to their website for more info.
Only a Few Reservations Remain for the 2018 Oliver Ranch Tour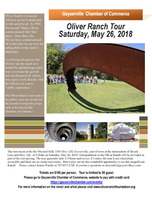 The Oliver Ranch Tour this year will benefit the
Geyserville
Chamber. Act now to guarantee your spot.
Saturday, May

26th


$100 per person
Departs 9:30 am
from Oriental
Community Hall
For more information, contact Karen
Waelde
at 857-1728 or find the flyer and info under
Events
on our website.
Upcoming Events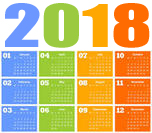 April 24th
--
Geyserville Town Meeting
, at Geyserville Ed Park, 6:45 Registration, 7:00 pm Meeting
April 24th
-
-
FREE Bookmobile
, across from the Park & Ride lot in Geyserville, 5:30 pm to 6:00 pm
May 4th
-
-Rib Cook-off RIB PICK-UP,
at Geyserville Market, AFTER 5:00 pm
May 6th
-
-
Geyserville May Day Celebration
, at Hoffman Grove Picnic Grounds, Noon to 4:00 pm
May 8th
-
-
Geyserville Chamber Member Dinner
, at Oriental Community Hall, Social Hour begins at 6:15, and Dinner at 7:15pm
May 11th
-
-
Geyserville Kiwanis Rib Feed and Dessert Auction
, at Oriental Community Hall, 6:30 pm
May 26th
-
-
Oliver Ranch Tour
, meet at Oriental Community Hall at 9:30 am--MUST RESERVE IN ADVANCE
Link to my website
THANK YOU TO OUR CORPORATE

GCC

SPONSORS:
Atlas Vineyard
Management
Big John's Market
California American
Water
Cats 4U
Four Seasons
Vineyard
Management
Francis Ford
Coppola Winery
Golden Key Wealth
Management
North County
Properties
River Rock Casino
The Ranch Sonoma
W.C. Sanderson
Ford