July Events, News & Announcements

Fire Safety & Fireworks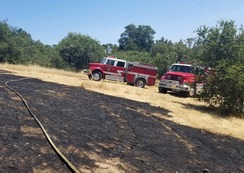 Fire safety and fireworks do not go together, unless you attend one of the professional fireworks events in our area.
We are already familiar with the devastation of fires this year, but, did you know there are steps you can take to keep your home and property safer and more defensible?
Clear at least 100 ft. around your property. Know that if you are surrounded by forrest or brush, you may have to do much more. Let your local fire department know if you have a pond, pool, or water tank that can be used for fighting fires. Water tanks may require a special hook up attachment that you should add to your tanks. Contact your local fire department for a fire safety inspection and ask for additional steps you can take. They may even have help available to local residents and businesses. Have a safe and happy 4th of July.
You can also support our local firefighters by attending Wine Country to the Rescue--see article below.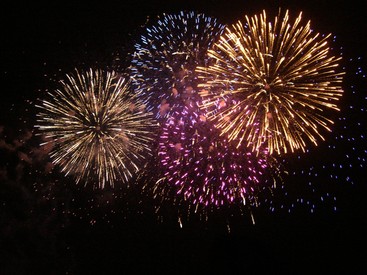 Local Safe
Fireworks Events
CLOVERDALE:
JULY 4: July 4th fireworks at high school--fireworks start after dark (around 9:00 pm).
Fireworks: 7 p.m. - 10 p.m. Cloverdale High School Football Field, 97 School Street, Cloverdale, CA 95425
HEALDSBURG:
JULY 4: July 4th Kids' Parade & Duck Dash & Fireworks. Party in the Plaza; fireworks at high school.
Parade & Duck Dash 10:30 a.m. - 1:30 p.m.: Healdsburg Plaza, Healdsburg Avenue and Matheson Street, Healdsburg, CA 95448
Fireworks: 7 p.m. - 10 p.m. Healdsburg High School, 1024 Prince Ave., Healdsburg, CA 95448
WINDSOR:
JULY 3: Windsor Kaboom! 3rd Of July Fireworks. Fun before the Fourth!
NOTE DATE: July 3.
Keiser Park, 700 Windsor River Road, Windsor, California 95492
For more great local summer events, visit the Sonoma County website events page
here.
June BBQ Great Success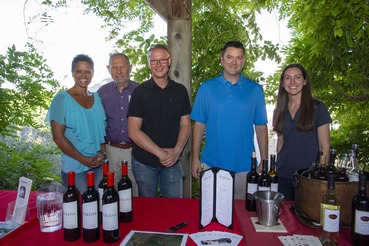 Over a dozen wineries poured at this year's event including Pedroncelli, Forchini, de Lorimier and Zialena wineries.
A big thank you to the crew at de Lorimier Winery and Ken Rochioli of KR Catering for their part in making our June BBQ & Wine Tasting a huge success.
Thank you, too, to Danielle Alexander, our chamber past president and event coordinator extrordinaire, for all the work done by her and her crew on one of the hottest days of summer, so far.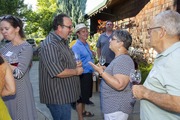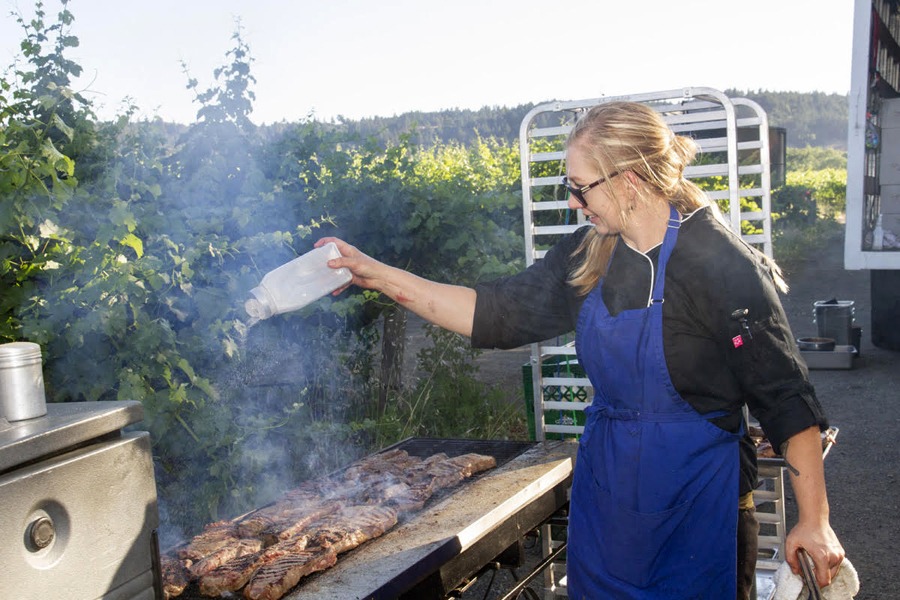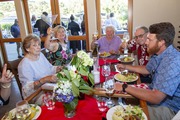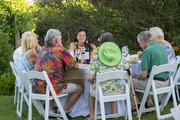 Above left to right: Ken Rochioli talks food and wine with Kathy and Joel Zunino; a member of the KR Catering team works over a hot grill; the Madden Family and friends enjoy one of the indoor VIP tables; a group of Geyserville Chamber members, including the Pedroncelli's and several Geyserville Chamber Board members enjoy their dinner.
Thanks also to Rick Tang for his wonderful photos of the event. You can view and purchase all chamber event photos on
RickTangPhotography.com
. These and other photos of the BBQ should be available soon.

Summer Music at de Lorimier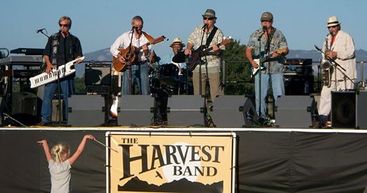 Join Wilson Artisan Wines and de Lorimier Winery this Summer for live music!
Each Friday evening this summer, 6-8pm, there will be a live concert featuring a different band and gourmet food
cart. Please, no outside alcoholic beverages.
Upcoming Concerts at de Lorimier Winery:
July 6th
Harvest Band & Palooza Fresh
July 27th
Delta Rockets and S'wine Country BBQ
August 24th
Pointlyss Sistars and Frachetti's Pizza
September 7th
Rock 'n' Roll Rhythm Revue and S'Wine Country BBQ
Complimentary open lawn seating is available on a first come, first served basis for all. Special seating available for Wine Club members.
Geyserville Planning Committee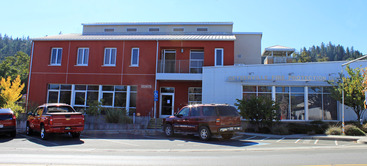 The Geyserville Planning Committee will continue to meet over the summer. Meetings are the 3rd and 4th Tuesdays each month. Agendas will be posted on their website 72 hours prior to the meetings.
Upcoming Meetings:
July 16th, July 23rd &
August 20th, August 27th
Alexander Valley Film Society Presents: Drive-In Series Movies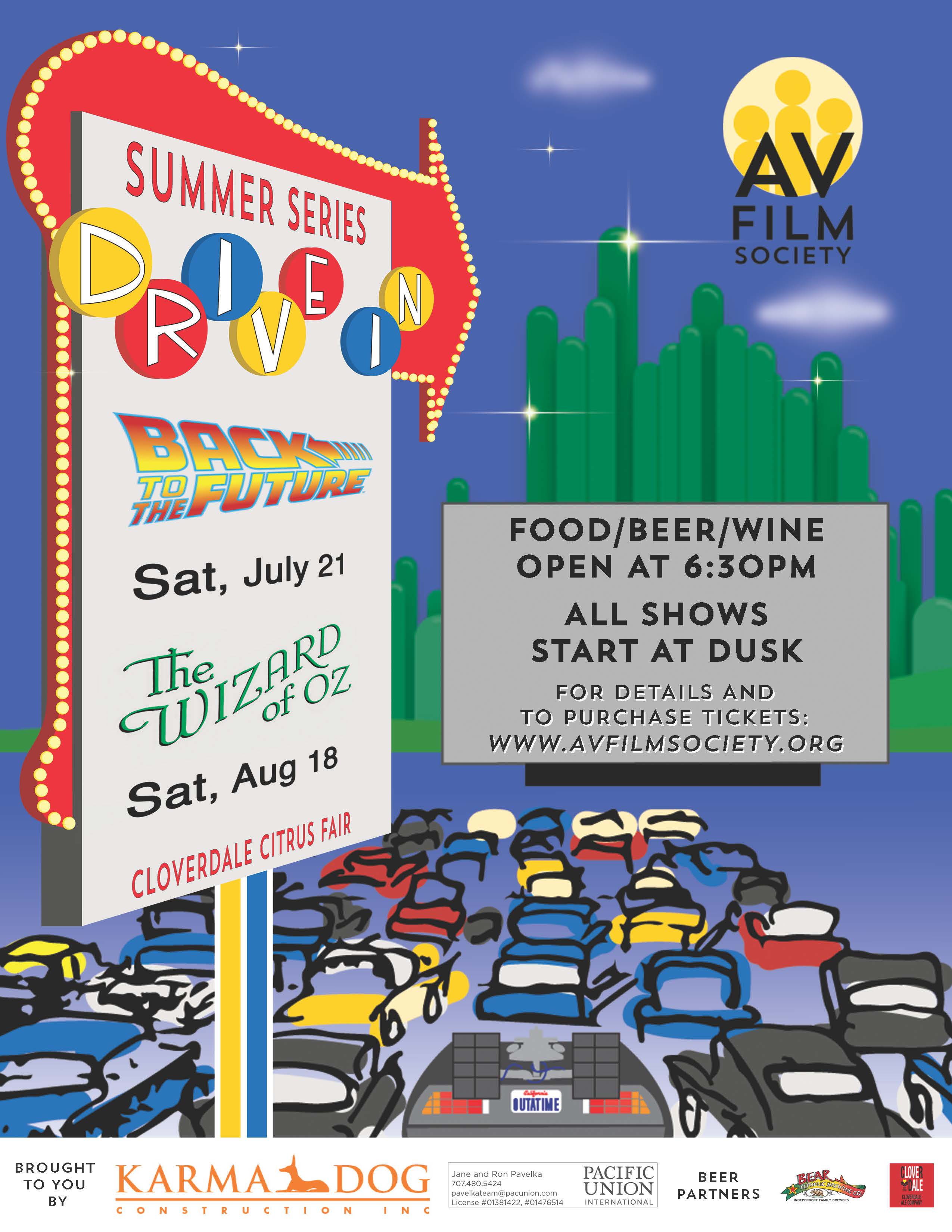 The Alexander Valley Film Society will be presenting a series of family-friendly Summer Drive-in Movies at the Citrus Fairgrounds in Cloverdale. Food, beer, and wine will be available. Drive-in will open at 6:30 pm and all shows start at dusk.
For more details, and to purchase tickets, go to their website.
Back to the Future
The Wizard of Oz
Movies are also being shown after the Music on the Plaza in Healdsburg. More info available on the AV Film Society website.
2018 Wine Country to the Rescue Fundraiser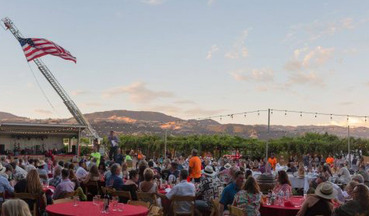 Don't miss this great event! Wine Country to the Rescue is the
fundraiser of the summer, put on by our local firefighters, to raise money for equipment and other needs of our amazing fire department. This event sells out, so don't wait to get your tickets.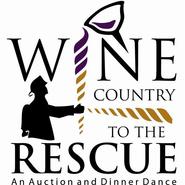 Wine Country to the Rescue
Saturday, July 21st
Trentadue Winery
Tickets are $75 per person
Starts 5:00 pm
Dinner 6:15 pm
The event features a Silent Auction and a Live Auction, with Senator Mike McGuire serving as the auctioneer. It also includes a wonderful BBQ dinner provided by the firefighters along with side dishes, and plenty of wine and beverages available. There will also be fireworks after the auction, weather permitting.
Get your reservations or more info here NOW!
Event info
Geyserville Historical Meeting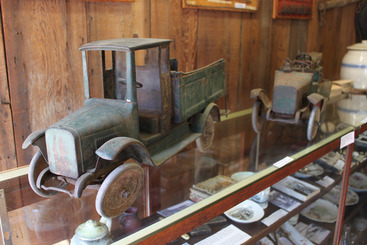 The Geyserville Historical Society will hold it's quarterly meeting on Friday, July 27th at 7:00 pm. For more information, contact Harry Bosworth at the store or via email at harry@bosworthandson.com.
Also, check out the new work in progress on expanded exhibits of Geyserville history at Bosworth's store. Work is ongoing, and though the revamped store is now open, we hope to have news of a grand opening of both the store and the museum to you soon.
Fall Colors SAVE THE DATE!
If you are a CRAFT VENDOR or vintage CAR OWNER, please save
SUNDAY,
OCTOBER 28, 2018
for the Geyserville Fall Colors Festival and Vintage Car Show.
Applications for vendors and car owners should be available approximately one month prior to the festival. If you have participated in the past, you will be contacted by the coordinating group. You can also check our website for updated information as it becomes available:
Summer Wine Events at J. Rickards Winery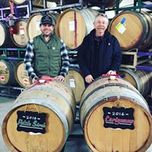 Jug July
Saturday July 21st
11 am to 4 pm
Fill your wine jugs with wine directly from the barrel. Take it home and enjoy! Make an afternoon of it and enjoy live music from The Congabobby Band. Included with your reservation, taste from the tostada bar with their famous roasted pork.
You can also purchase any of J. Rickards already bottled wines.
Tickets are $20--with a $5 discount for wine club members. Contact Lynn at lynn@jrwinery.com for your reservations.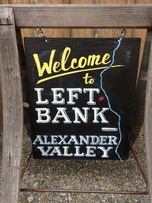 Left Bank Alexander Valley Tasting 2018
Saturday, August 25th
11 am to 4 pm

This event features wineries of Northern Alexander Valley. Sample wines from this historic region along with tasty bites, and take home a logo wineglass. Ticket price of $45 includes $20 towards wine purchases, plus coupons!
Bookmobile in
Geyserville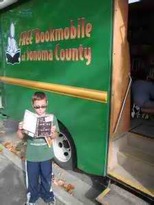 The Bookmobile will be in
Geyserville
this month. Look for them across from the Park & Ride Plaza.
5:00 pm to 6:

30 pm

Geyserville

Avenue Across from the Park & Ride lot
More info on the FREE
bookmobile on their website
Happy Hour Thursdays at Trentadue Winery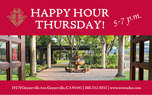 If you have not yet checked out the summer concerts at Trentadue, there's still time. Trentadue Winery will be hosting their Happy Hour Thursday each week of summer for family friendly fun, music, and wine.
Each week they will feature a different live band, a food truck, and exclusive wine specials. These events are open to the public and FREE to attend. Upcoming events are:

Thursdays, July 5th, 12th, 19th & 26th
Thursdays,
August 2nd, 16th, 23rd & 30th
at Trentadue Winery
19170 Geyserville Avenue, Geyserville
SPECIAL LOCATION:
Trentadue's Happy Hour Thursday,
August 9th
at The Ranch at Lake Sonoma
5:00 pm to 7:00 pm
For more information visit their website.
Upcoming Events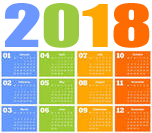 July 5th, 12th, 19th, 26th, August 2nd, 9th, 16th, 23rd and 30th--Happy Hour Thursday Concerts from , at Trentadue Winery, 6:00 to 8:00 pm
July 6th, 27th, August 24th, September 7th--Summer Friday Night Concerts from Wilson Artisan Wines, at de Lorimier Winery, 5:00 to 7:00 pm

July 21st--Geyserville Fire 2018 Wine Country to the Rescue, at Trentadue Winery, Starts at 5:00 pm,
Dinner at 6:15 pm
July 21st & August 18th
--
Alexander Film Society Summer Series Drive-In Movies, Cloverdale Citrus Fairgrounds, open at 6:30 pm, movies start at dusk
July 21st & August 25th
--
Wine Tasting events at J. Rickards Winery, on Chianti Road, 11:00 to 4:00 pm both events
July 16th. 23rd and August 20th and 27th
--
Geyserville Planning Committee Meeting, at the Fire Station, check their website for times.
June
27
--
Historical Society Meeting. 7:00 pm
June
31st
--
Free Bookmobile in Geyserville
, across from Park & Ride lot, 5:00 pm to 6:30 pm
October 28th
--
Geyserville Fall Colors & Vintage Car Show, SAVE the DATE!
THANKS TO OUR CORPORATE GCC SPONSORS:
A Plus Locksmith
Atlas Vineyard
Management
Big John's Market
Calpine Corporation
California American
Water

Cats 4U
Four Seasons
Vineyard
Management
Francis Coppola
Winery
Garzini Welding
Geyserville Inn &
Geyserville Grille
Golden Key Wealth
Management
North County
Properties
River Rock Casino
Syar Industries, Inc.
The Ranch Sonoma
Trentadue Winery
W.C. Sanderson
Ford