Our Recent Placements and Projects


We have the talent to meet your needs
!
Pharmaceutical/Life Sciences

Data Architect/.Net Developers

Rebate Claims Scrubbing

Clinical Information Search Portal
Customer Data Management Application
ETL Architects
Sales Operations ETL Development
Pharmacy Data Load Process
Sharepoint/Nintex Workflow Architect
Custom Workflow Development
Oracle/SQL DBAs
Remote Monitoring Services
Database Server Consolidation


Finance/Insurance
SQL DBAs
SQL 2012 AlwaysOn Cluster Configuration
SQL Server 2012 Configuration
Database Administration Services

Communications
Ruby on Rails Developer
Network Portal Development




Universities/Education
Cognos Banner Consultant
Report Package Development
Hyland OnBase Consultant
Workflow Development -
Security Application
Oracle Banner DBA
Remote DBA Services

Oracle SQL DBA

Bi-Directional Replication between
Oracle and SQL Server using

GoldenGate

Other
Android Developer
Home Security Application Development
Python Developer
ETL Processing/Data Mining
Automotive Marketing Analysis






---
Database Server Consolidation:
Simple Steps to Reduce Operational Costs

As IT organizations search for new ways to reduce costs, more and more organizations are looking to database consolidation efforts to improve efficiency and reduce infrastructure operating costs.

Database Consolidation: A Smart Way to Reduce Costs: Database consolidation is a smart way to reduce costs and optimize resources. Reducing the number of databases and spreading active databases over fewer servers allows you to save money by reducing licensing costs software (e.g. Oracle, SQL Server, OS), and realize costs savings by reducing energy needs and the resources needed for support. But, as more and more organizations are running with a leaner staff, they often don't have the time to dedicate to assess and plan a large scale consolidation effort.

A Simplified Process: read more....

---
Featured Case Study
Database Server Consolidation Exercise
Reveals Path to Significant Savings
Challenge: Optimize Database Environment & Reduce Operational Costs Thanks to years of expansion, the client's SQL server database environment had grown rapidly, with diverse application uses and owners. The company turned to Aspect Consulting to conduct a database server consolidation exercise, with the goal of trimming 20% of its operational budget through consolidation alone.

Solution: Conduct Database Server Consolidation Assessment and Implement an Effective Consolidation Plan Aspect's certified team utilized their proven process to detect the best candidates for consolidation, detecting inactive databases, underutilized servers, and maintenance gaps, and put a consolidation plan in action that retired entire servers and inactive instances, and centralized active databases over the remaining servers.

Benefit: Operational Cost Reductions and Environment Stability Achieved. Aspect reduced the number of servers and database instances within the environment by 25%, leveraging significant savings by reducing both licensing costs and energy consumption.

read more.....
---
Try This: Identify Inactive Databases by Checking Statistics
Recently, after assessing a client's backup statistics, we discovered that over 20% of a client's database instances had not been backed up. Before configuring backups for so many instances, we wanted to discover just how many databases were actually actively in use.

After investigating options, we developed the following query to detect database inactivity. The query uses the command sys.dm_db_index_usage_stats. The query returns the last accessed time for all indexes (including heap). Based on this, we are able to determine the last accessed time for each database. Any databases with a last access data beyond an agreed upon threshold (e.g. older than 1 week) can be flagged for follow up.

One Drawback: If the SQL Server service is restarted, last accessed stats are reset. So, this query is not useful for detecting database activity for servers that are frequently restarted. However, the query also returns the server restart date, which you can use to help you flag those restarts for further analysis.
SELECT DISTINCT
server_restarted = (
SELECT
create_date
FROM
sys.databases
WHERE
name=
'tempdb'
)
, name
, last_access =
(
select
X1 =
max
(LA.xx)
from
(
select
xx =
max(
last_user_seek)
where
max
(last_user_seek)is not null
union
all
select
xx =
max
(last_user_scan)
where
max
(last_user_scan) is not null
union
all
select
xx =
max
(last_user_lookup)
where
max
(last_user_lookup) is not null
union
all
select
xx =
max
(last_user_update)
where
max
(last_user_update) is not null) LA)
, last_seek =
max
(last_user_seek)
, last_scan =
max
(last_user_scan)
, last_lookup =
max
(last_user_lookup)
, last_update =
max
(last_user_update)
FROM master
.
dbo.
sysdatabases
sd
left
join
sys.dm_db_index_usage_stats
s
on
sd.
dbid
= s.database_id
group by
sd.name
having
sd.name not in (
'master'
,'
tempdb'
,
'model'
,
'msdb'
)
order by
1
Consultant Spotlight
Mike McDonnell
Principal Consultant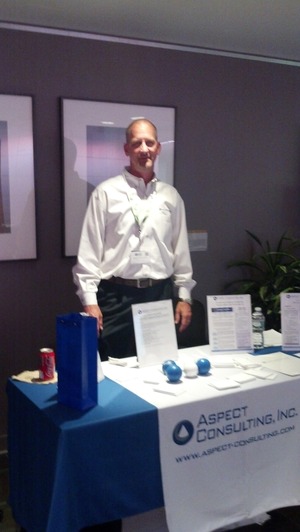 Mike joined Aspect Consulting as a Principal Consultant in 2000. Over the past 15+ years Mike has worked as an Oracle & SQL Server Database Administrator, Data Architect and Project Manager leading teams of developers. He possesses extensive experience with Oracle and SQL Server database design and administration. He has over 23 years of professional experience and a BS in Computer Information Systems with a minor in English from the University of Scranton. We asked Mike a few questions to get to know him better....
What is your primary responsibility at Aspect?

Aspect Consulting is an IT firm of very talented, dedicated and exciting professionals. When you work for a growing organization, you wear many hats. On a day to day basis, I'm usually staffed at various client sites. My roles include Oracle & SQL Server DBA, Lead Data/Technical Architect, Project Manager, database programmer, as well as tester and trainer. In addition, as principal consultant for Aspect, I'm a member of the leadership team which formulates company direction, sales, recruiting and marketing. On an ongoing basis I work to build, maintain and enhance our infrastructure to be as reliable and flexible to support Aspect's continued growth.
In essence, I would say my primary responsibilities include helping clients be more efficient, as well as helping them grow and establish a competitive edge in today's workplace. Lastly, I'm committed do whatever it takes to make Aspect the best place to work.
What did you do before you joined our company?

In my first job I was a consultant at the Philadelphia Naval Base working on Department of Defense contracts. I earned my security clearance building software for aircraft carriers using the C programming language. I had DBA responsibilities, and was responsible for architecting a common installation package for installing Sybase software and databases across multiple Unix platforms. In my next job, I worked for Andersen Consulting as an Oracle DBA / Data Architect supporting a large Marketing & Sales data warehouse. During my tenure, I took on a leadership role, working with the partners to build a more productive and resourceful work environment.


Briefly describe your most interesting project or success story at Aspect:
While working for various clients, I've accumulated years of experience within the pharmaceutical industry. One specific area of expertise is within the Contract Management arena, specializing in services and solutions that perform data scrubbing of prescriber utilization data.
Utilization data scrubbing helps pharmaceutical companies avoid paying rebates on invalid claims, often resulting in significant cost savings for clients. The most interesting and challenging project I've worked on was building a custom utilization data scrubbing software solution for a growing pharmaceutical company. As Lead Data/Technical Architect managing a team of 6 very dedicated and talented individuals, we architected, designed, built, tested and delivered a superior solution to the client in less than 1 year. After less than 2 years of use, the solution generated savings of more than 5 times the cost of the application. It was a great experience being instrumental in a solution that resulted in such a satisfying return on investment for a client.
What do you enjoy most about your job?

The dynamic nature. Every workday brings new and exciting opportunities. I meet interesting people, learn new topics and enjoy the challenges faced within a small organization as well as the lack of "red tape". If we want to build it we do.

What advice would you give to a recent college grad about to enter the IT industry?

A career in this industry does not mean working 9-5. You must put in your time and extra effort in order to earn respect and prove yourself. This means doing whatever is necessary as well as going above and beyond what is expected of you. Hard work, dedication and commitment are what it takes to propel you into a successful career as an IT professional.

What could we find you doing when you're not at work?

You would find me spending time with family and friends. I've coached both of my sons' baseball teams every year for the past 10+ years. I like to spend time fishing, working on home improvement projects, vacationing with my family and playing billiards as a member of the American Poolplayer Association.