As April turns to May...

We hope you are experiencing some nice spring weather to lift your spirits, or the nice weather isn't too far in your future.

In this spring newsletter, our goal is to highlight our growing
Remote DBA Service practice, sharing some insights on how this managed service offering is a cost effective method for organizations looking to improve database environment stability, eliminate the issues associated with DBA turnover, and most importantly lower overall IT spend.

Aspect added several new clients in 2015, reflecting the growth in the Remote DBA industry trend overall, and we will continue to build on this success, making sure we provide our clients with the best support and specialized services that drive down our client's overall costs.

Last year, we uncovered and remediated a serious backup contention issue between two different backup methodologies within a client's SQL Server environment that would have made point in time recovery impossible. As a result, we expanded our monitoring to detect this potential backup contention across our entire customer base going forward, saving all of our clients from the very real disaster of unrecoverable data. Since our approach to monitoring is easy to expand and customize, we were able to act quickly and efficiently to ensure all of our clients' data was protected.

We also continue to place DBAs and other IT professionals for specialized projects in cases where a managed service offering is not the best solution.

Please read on for some interesting articles that highlight the latest trends in remote database administration and outsourced IT services, as well as some of our customer's successes. We hope you find the contents of this newsletter engaging, and, as always, we look forward to working to provide the best IT staffing and consulting services possible.
In This Issue:
Customer Success Story: Read about how Aspect's Remote DBA Services significantly reduced this client's overall administration costs.
Industry Trends: This article describes the rise of remote database administration as a service, and why it's here to stay.

Case Study Spotlight: Read how Aspect detected and remediated a backup and recovery contention that prevented serious data loss.

Featured Articles: Read the top 3 reasons a multi-tiered dba team is the best approach to database support
Recent Placements: Take a look at our most recent placements and projects.
The client, a US-based electrical supply company, is a global leader in electrical material distribution, with over 1.4 billion dollars in revenue. With a 30+ database server environment, securely managed databases are critical. Reducing the costs associated with maintenance and operation was a key initiative faced by the CIO. Read about how Aspect helped the client to reduce database administration costs AND create a more stable environment.
---
After engaging in a server virtualization effort, system administrators had unwittingly created a contention between server-level backups and database-level backups, which could lead to critical data loss at recovery. Read how the Aspect Remote DBA team detected and remediated the critical issue, and then ensured the same issue was not impacting Aspect's entire client base.
---
Aspect News
Recent News and Events
Aspect Recertifies with WBENC
We have the honor to announce our

Re-certification with the
Women's Business Enterprise National Council (WBENC).
Last spring, we become a part of this organization, which promotes diversity throughout many industries, which in turn creates innovation. WBENC opens new channels of revenue and creates partnerships which provide opportunities that fuel the economy.
WBENC Get to Know Us Event-Pittsburgh
Aspect attended the WBENC's networking event on Thursday, February 25th, participating in roundtable discussions with corporations, government agencies, and women-owned resource partners, making new connections with representatives from PNC, Shell Energy, Dollar Bank, and the city of Pittsburgh.
Technical.ly Net/Work Job Fair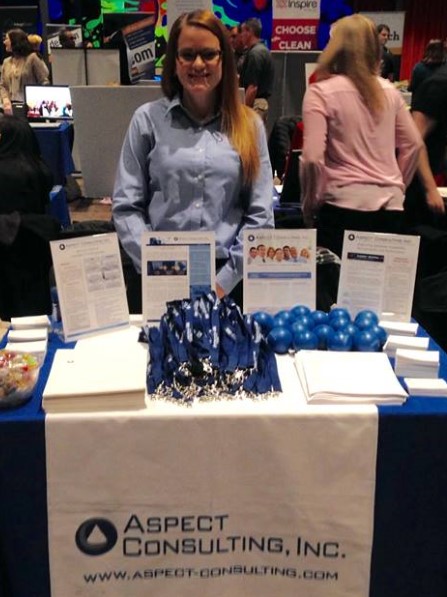 Aspect sponsored the widely attended Technical.ly Net/Work Job Fair on Tuesday, Fe
bruary 23th. Please visit the
Technical.ly Net/Work Job Fair site
for upcoming event information.
SQL Saturday Philadelphia 2016
Aspect will be sponsoring the upcoming SQL Saturday Philadelphia on Saturday, June 4, 2016. This dynamic training event of SQL Server professionals is being held at the Microsoft office in Malvern, PA. For more information, or to register for this event click here.
Recent Placements & Projects
ACI Welcomes...

Timothy Burke- ETL Developer
Manoj Gujjari- Oracle & SQL DBA
Mark Horton- Tableau Developer
Yashwanth Pinnity- ETL Developer
Mahbubur Rahman- Sugar CRM support
Juan Rosario- Datatel Support
Suraj Shrestha- PL/SQL Developer
Universities/Education

Analysts- Contracting Process Audit
Analyst - Banner


DBA- Master Data Repository

implementation
DBA - Banner


Support- Colleague Administration
Pharmaceutical/Life Sciences
Developer- Key Performance Dashboard
Data Architect SAS Support
Developer - Operational Support
Architect & Business Process Analyst- Sales Operations Analysis
Analysts- Contracting Process Audit
Developer- Informatica