Happy New Year!

Aspect Consulting would like to wish you a new year filled with happiness and success! Looking back, 2015 was a successful year for Aspect and we look forward to a great 2016! Last year we focused on the expansion of our Remote DBA and Application Support services, growing to include new clients. We became WBENC-certified as a women-owned business, and we continue to grow the staffing arm of our business, adding staff and opening offices in the Pittsburgh and Baltimore/DC Metro areas.

Another highlight of 2015 was the successful delivery of multiple report dashboard projects for several clients. Dashboards remain an invaluable business tool, and are made even more invaluable when good design is incorporated, so in this issue
we've compiled articles and success stories surrounding trends in Business Intelligence and report dashboard for 2016.
Aspect consultants are expert in designing usable dashboards that go beyond simple reporting--we incorporate the latest in responsive design, help you navigate the muddy waters of data source collection and data warehousing, and we help you find the meaning behind your data with metrics and drill ins designed to unlock the why's.
In This Issue:
Customer Success Story: read how a new Key Performance Dashboard improved Executive Team insight across its business units.
Tips and Tricks: Read about new trends in dashboard design for 2016.
Case Study Spotlight: Read how a custom report dashboard aided a client's Lean Manufacturing improvement initiatives.
Featured Articles: Forbes Magazine describes Six Business Intelligence Predictions for 2016, and Software Advice compares the top Business Intelligence Software tools for 2016.
Consultant Spotlight: Get to know Aspect's Jeremiah Yongue, a DBA/developer with a background in both higher education and big pharma.
Recent Placements: Take a look at our most recent placements and projects.

Key Performance Dashboard Improves Executive Team Insight
The client, a specialty product pharmaceutical company, needed to reduce the amount of effort spent to produce weekly key reporting for its executive team, and replace manual compiling and emailing of reports with a more efficient approach. Aspect worked with stakeholders to centralize needed data, choose the best first look metrics across business units, and make the dashboard available from a secure portal. The result was a clean, easy to read dashboard

.
---
Lean Manufacturing Practices Enhanced via a
Custom Value Stream Management Report Dashboard
After conducting an in-depth Value Stream Management (VSM) mapping exercise, the client, a global company with multiple state of the art manufacturing sites, was charged with tracking multiple new manufacturing metrics. Aspect Consulting was engaged to design a new VSM Reporting Dashboard with a supporting data repository. All metric data is now available from a single, secure portal, saving hours of manual effort that would have been spent gathering data and generating spreadsheet-based reports.
---
Six Business Intelligence Predictions for 2016: In this link, read about the latest BI direction from Forbes Magazine: Read more...

Top Business Intelligence Tool Comparison: Use this link to compare top business intelligence software tools Read more...
---
Report Dashboards have come a long way since their early 70's spreadsheet beginnings. Many popular charting tools take a lot of the guess work out of standardizing common chart elements and choosing a pleasing color palette, but there is still much left up to the designer when it comes to presenting the data in a meaningful way.

As website design principles and aesthetics change (hello Flat Design), so do report dashboard design trends. Find out what trends are useful to incorporate that mean more than just keeping up with trends, and actually add value to your dashboard design.
---
Consultant Spotlight

Jeremiah Yongue
Consultant, Aspect Consulting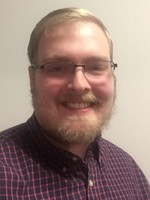 Jeremiah Yongue joined Aspect Consulting as a consultant specializing database administration and data integration for higher education third-party systems. He's become a valued and flexible member of the Aspect team, serving as a SQL Server database administrator supporting multiple clients, and as an Oracle database developer implementing complex backend code for custom applications.

How long have you been with Aspect Consulting?
I joined Aspect in May 2014, so it is coming up on two years now.

What is your primary responsibility as Aspect?
Currently, I'm providing ongoing support as a SQL Server DBA, working on backup and recovery implementation, database consolidation efforts, and day-to-day troubleshooting of issues for multiple clients. I've also worked on custom application projects as an Oracle database developer, and worked on third-party system data integration projects.

Tell us about your background...what did you do before you joined Aspect?
I have a Bachelors in Computer Science from Clemson University (Go Tigers!) and had spent 8 years (including my time as an undergraduate assistant at Clemson) in university IT groups, heavily involved in Banner implementation projects at both large and small universities. My main focus areas were Degree Auditing solutions (especially with Ellucian's DegreeWorks product) and Student Affairs (especially related to housing and integration of legacy web applications) within the new Banner environment.

Tell us about your most interesting project at Aspect...
My second engagement at Aspect was with a major, large pharmaceutical company. I'm responsible for maintenance and ongoing development of their complex electronic claims processing system. This was my first exposure to the pharmaceutical industry and through this project I've been able to learn more about this industry and the intricacies of pharma contracting and claims processing than I ever imagined.

What do you enjoy most about your job?
Since Aspect has multiple clients in various industries, I am always engaged. On any given day, I get the opportunity to tackle multiple challenges. Some people might fear unpredictability, but I feel that I thrive on it.

What advice would you give to a recent college grad about to enter the IT industry?
One of the most valuable things I've learned is that it is ok to say "I don't know, but I can learn." With how fast the IT industry changes, your degree isn't the end of your education, it's the beginning.

What could we find you doing when you're not at work?
I try to play disc golf when I can. I also enjoy anything related to craft beer. When I'm traveling, I always try to challenge myself to find a beer that I haven't had before. When I need a break from technology, I go hunting and fishing with my family.
Aspect News
Recent News and Events
Aspect Becomes WBENC Certified
Aspect is now
certified as a women's business enterprise by the Women's Business Enterprise National Council (WBENC), the national largest third-party certifier of businesses owned and operated by women in the U.S.
Technical.ly Net/Work Job Fair
Aspect will be sponsoring the upcoming Technical.ly Net/Work Job Fair on Tuesday, February 23th. Please stop by our booth discuss future career options. To find out more information for the event, please visit the
Technical.ly Net/Work Job Fair site
.
TD Bank's North American Supplier Diversity Mentorship Program
Aspect participated in TD's Supplier Diversity Mentorship Program on Tuesday, January 12, sharing insight with others and learning new vendor procurement practices within the financial industry.
Howard Community College "Pynight" Event
Aspect was please to participate in Howard Community College's Pynight event on November 13, 2015. The event encourages students to take part in a series of computer-based puzzles, challenging each participant to "hack the system" as quickly as possible to score points.
Aspect Welcomes New Consultants
Aspect proudly welcomes the following new consultants to our team
:
James Almeida - Sr. Developer
Amarnath Avula - Developer
Jeff Blache - DBA
Charles Carwells - Technical Writer
Aul Dhanvelan - Developer
Linda Dickinson - IT Project Manager
Manoj Gujjari - DBA
Ray Loui - PeopleSoft Administrator
Chris Pratt - Sales/Business Development
Laiq Mohammed - Developer
Mahbubur Rahman - Developer
Meagan Sullivan - Sr. Recruiter
William Vancil - Oracle Banner DBA
Robert Wedge - Developer
Our Recent Placements
and Projects
Universities/Education
DBA - ODS Augmentation
Analyst - Banner
DBA - Banner
SQL DBA - Implementation & Admin support
Developer - Application support

Pharmaceutical/Life Sciences
Developer - Operational Support
DBA - Operational Support
Developer - QA & ETL development
Developer - Reporting Dashboard Portal
Project Manager - Application & Infrastructure
DBA - Remote Support
Other
Application Analyst -

Industrial Supply Distributor


DBA Support - Retail QA
QA Analysis - Marketing
Developer - IT Services
DBA -

Industrial & Mineral supply




QA Engineering - Internet Services