---
Letter From the Executive Director


Dear Early Childhood Friends,

November is the time when we pause to give thanks, first to the veterans and then to family and friends on Thanksgiving Day. We have so much to be thankful for. I want to say thanks to all of you for the work that you do on behalf of children. I saw this quote: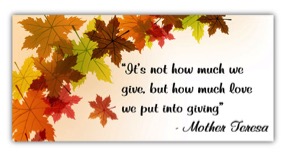 You put so much love into your giving because you know how important it is to positively influence the life of a young child; and, you chose to make this your profession! I love every day of my work here at Gesell Institute because promoting the principles of child development has always been my passion.

Speaking of influences, but on the flip side of good, please read my Blog on screen-time for young children. This is of particular interest to me as it was my dissertation research 30 years ago when television was the main screen we had to worry about. Bottom line: Turn off the screens in the child's life! One hour or less a day for children 2-6 years of age is plenty; and the American Academy of Pediatrics say no screen time at all for birth to age 2. Real-life interactions are so much more important!
Hug a child today and say thank you for being in my life!




Marcy Guddemi, PhD, MBA
Executive Director

---

Breaking News


Dear Friends,

I have written a new book, The Emotional Lives of Animals and Children: Insights from a Farm Sanctuary (Turning Stone Press paperback). It is available on Amazon.com.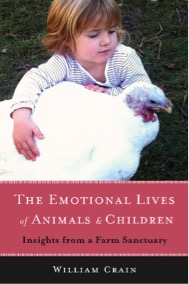 The book is based on my experiences at our farm sanctuary, which provides a home to farm animals rescued from slaughter and abusive conditions. Divided into two parts, the book first describes six emotional behaviors that the farm animals share with human children: fear, play, freedom, care, spirituality, and resilience. The shared emotions suggest that human bonds with nonhuman animals are stronger than people ordinarily assume.

The second part considers children's place in a society that generally devalues animals. Children do not initially set themselves apart from animals, but perceive them with an instinctive empathy. They have to be taught to detach themselves from animals and consider animals as inferior to humans. I suggest that there is wisdom in children's feelings of closeness to animals—wisdom that we can try to recapture.

Best,
Dr. Bill Crain
City Universe of New York
Gesell Institute Board Member

---


Blogs

Dr. Guddemi writes this month on "screen time" for young children:

http://www.gesellinstitute.org/11-10-14-babies-toddlers-preschoolers-screen-time/


The National Lecture Staff Blog continues our series "FIVE Ways to Keep It Developmentally Appropriate" with Part IV: "Play, Play, Play!"

http://www.gesellinstitute.org/10-28-14-play-play-play/


Continue to follow our blogs on our website and on social media! You won't want to miss what is coming up!

---


Tips From the National Lecture Staff

BE ENCOURAGED!
NAEYC Conference Commentary

It is always a privilege to attend a professional development opportunity, especially one with the quality and caliber of the National NAEYC Conference. The Gesell Institute had the opportunity to both present and maintain a booth at the conference. We were struck by the enthusiasm of those in attendance, and appreciative of the interest in and fervor to partner with the Institute on many fronts from trainings to cooperation in joining us in early childhood scholarship. We are especially thankful for the widespread response to our presentation "Pretend Play and Brain Growth: The Link to Academic Success". The topic triggered the anticipated common response among those committed to development and execution of early childhood screening and education - excitement, enthusiasm, and a sense of partnership and community as we each seek to grow in our skill sets to better impact development of young children. Given the coming holiday season, we want to communicate thankfulness for our early childhood community, knowing that we are not alone in our important work in educating young children. When facing the great challenge of teaching today, we are not alone! In fact, be encouraged knowing that we are part of the MOST important work of all!

"Teaching is the profession that creates all others" -Anonymous

Together for the children,





Erin Akers, M.Ed.
Director, National Lecture Staff


---


Bookstore HIGHLIGHT

During our NAEYC presentation we highlighted current brain research, the importance of interaction and PLAY in the early years, and the development of self-regulation skills. Did You Know that we offer a booklet providing this information in a concise and easy-to-read format? Visit our bookstore today to get copies of this wonderful resource for yourself, staff, and parents!

http://bookstore.gesellinstitute.org/index.php?route=product/product&path=42&product_id=152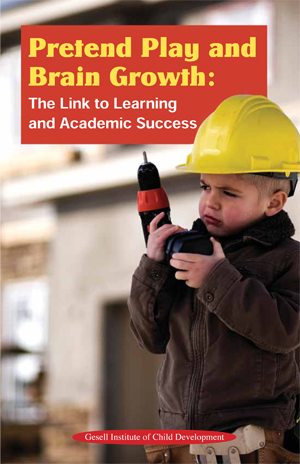 ---


Connect

Visit, connect, and like us on Facebook, twitter, and LinkedIn for regular updates including articles, blog posts, quotes, and relevant information in the field of child development!

Here are some of our recent posts:

http://mobile.nytimes.com/2014/10/22/opinion/the-building-blocks-of-a-good-pre-k.html?referrer&_r=1

http://www.newsweek.com/creativity-crisis-74665



---
---
Gesell Institute of Child Development
310 Prospect Street
New Haven, Connecticut 06511
US


Read the VerticalResponse marketing policy.