Dear Friend,

The Massachusetts Forest and Park Friends Network (MFPFN) is still going strong. Our goal is to connect and support the Friends Group volunteers who give so much time and energy to helping parks stay healthy and beautiful through the good work they do and by encouraging sustainable recreational activities.

We've seen how effective it is when volunteers come together around issues that affect all parks. The MFPFN facilitators are already at work planning the 5th Annual MFPFN Conference—designed to give you the opportunity to discuss what's important to your park with other park advocates.

We are proud to have
Priscilla Geigis, the Massachusetts Department of Conservation and Recreation (DCR) State Parks and Recreation Director/Assistant Commissioner and the newly elected President of the
National Association of State Park Directors
, as the MFPFN 2012 Conference Keynote Speaker
. We've asked Director Geigis to talk about the recent DCR Unification. But please let us know if you have a topic you'd like addressed at the Conference and we'll pass your suggestion along.

Looking forward to seeing you at the Conference!
Save The Date!
The Massachusetts Forest and Park Friends Network Conference
Saturday, November 17, 2012
9:30 AM - 2:00 PM
Central Massachusetts Regional Planning Commission (CMRPC) Conference Room
Union Station
2 Washington Square - 2nd Floor
Worcester, MA 01604-4016
Download Friends Network Conference Registration Form
More about the Conference:


We hope to see every Friends group in Massachusetts represented at the Conference. Your group may submit photos of volunteers in action for inclusion in the Friends Network slide show presentation or your group may reserve a 5-minute slot for an individual presentation. All groups (you don't have to be in a Friends group to be part of the action) will have room to display materials.
The Conference is open to the public and all are welcome!
For more information or questions about the MFPFN 2012 Conference, email us at friend@networkingfriends.net
Conference Registration Form
Many thanks to our friends, Lawrence Adams and Trish Settles, at
CMRPC for hosting the Conference. It's a wonderful place to hold an event and we couldn't do it without them!
---
Friends Groups Receive DCR Partnership Matching Funds Grants
Congratulations to all of the Friends Groups and volunteers whose projects were selected by the DCR Partnership Matching Funds Grant Awards for improvement projects that benefit their special parks. When they win, we all win!
Below are the 24 Partnership Matching Funds Grant recipients for 2012. It's great to visit these sites to find out what else these groups are doing:
Friends of Fall River Heritage State Park
More information:
Patrick-Murray Administration Announces Award of $1 awards more than $1 Million in Partnership Matching Funds Grants
Partnerships Matching Funds Program
---
Who do you know who deserves recognition? Your help is needed to identify a volunteer who has benefited Massachusetts forests parklands in an extraordinary way. Nominees will be submitted to the Friends Network at large for a vote. The winner and nominees will be recognized at the MFPFN conference on November 17, 2012.
Please submit the name of an outstanding public lands volunteer, a brief description of the person's accomplishments, and supportive materials by October 15, 2012 to:
friend@networkingfriends.net
.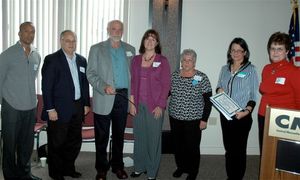 Friends of Scusset Beach Reservation Vice President Paul Loiselle (3rd from left) is awarded the Friends Network Volunteer of the Year Award at the MFPFN 5th Annual Conference in Worcester, October 22. 2011. DCR Commissioner Edward Lambert (2nd from left) and Partnership Director Conrad Crawford (far left) assisted in presenting the award. From the center to the right: FSBR members Linda Loiselle, Linda Porazzo, and MFPFN facilitators Sharl Heller and Ellen Arnold.
Cool Upcoming DCR/Friends Groups Events


—that will make you want to get out and explore other parks!
Boston Harbor Island Alliance
Free Fun Friday
Aug 24, 2012 - Take the ferry to Georges or Spectacle Island for FREE!
Citizens for the Protection of Waquoit Bay
Waquoit Day Celebration
Saturday, August 25, 2012
Friends of Belle Isle Marsh Reservation Ceremony
New Addition Formal Opening
Wednesday, August 29, 2012
Friends of Borderland
Junior Duck Stamp Exhibit
through August 31, 2012
Friends of the Middlesex Fells Reservation,
Art of the Fells
- through the eyes of 23 artists Friday, Sept. 7, 2012
Mystic River Watershed Association
Meet Me at the Mystic
Saturday, September 8, 2012
Friends of Willard Brook
Celebrate the Nashua River Rail Trail
Sunday, September 9, 2012.
Friends of Myles Standish State Forest/Mass Wildlife/DCR
Take Me Fishin'
Free Family Fishihg Derby
Charles River Conservancy presents the 4th Annual
Sunday Parkland Games
through September 30, 2012
Boston Natural Areas Network presents the 7th Annual Harvest Festival & Perennial Divide Saturday, October 13, 2012
---
Are you in the Network?


Find out if your Friends group is networking for Massachusetts forests and parks
www.networkingfriends.net/friendslinks.html