Dear Friend,



We value your contribution to our parks and your participation in the Massachusetts Forest and Park Friends Network. The Friends Network is an all volunteer group of citizens who believe our state parklands and trails benefit from strong public involvement. Together we can make a positive difference for all state parks. Feel free to contact us about parks in Massachusetts at friend@networkingfriends.net.

Happy Labor Day!

The Friends Network Facilitators

---
Green Futures Forestry Tour to precede the DCR Co–Peace Timber Sale Tour at Freetown State Forest, September 4, 2013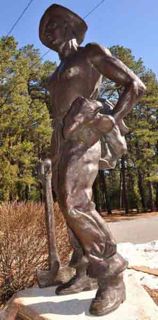 Green Futures will conduct a tour of Freetown State Forest, presenting their group's forest management concerns, preceding the Department of Conservation and Recreation (DCR) tour outlining the Co-Peace Timber Sale in the Freetown State Forest on September 4.

DCR Department of Forestry provides public tours and opportunities for public comment on proposed timber harvesting projects as a result of the 2011 Forest Futures Visioning Process. Why is Green Futures conducting a tour before the DCR tour?

"We believe that DCR's Bureau of Forest Stewardship should not resume what they euphemistically call "timber harvest" until our forested property, each forest that they manage for us, has a current forest stewardship plan," said Everett J. Castro, Green Futures Director of Community Affairs and a member of the Friends of Freetown State Forest.

"The two areas slated for logging are within the Freetown State Forest section of the Southeastern Massachusetts Bioreserve. We believe if commercial logging is to occur here, in a bioreserve, the main reason for logging should be for species diversity," Castro explained.

"Rather than coming up with schemes to continue money losing proposals to encourage the cutting of immature timber off our public lands, Paul Gregory should be tasked with creating a Forest Biodiversity Stewardship Management Plan in cooperation with the Bioreserve Partners and forest stakeholders," Castro said.

All are welcome to attend the Green Futures Forestry Tour.

Green Futures Tour:

Wednesday, September 4, 12:30 PM
Meet at the Civilian Conservation Corps Statue
Freetown-Fall River State Forest Headquarters
Slab Bridge Road, Freetown, MA.


The Green Futures Tour will terminate at the DCR Timber Sale Tour site at 3:00 PM.
Green Futures www.greenfutures.org

More information: Letter from Everett Castro to Peter Church, DCR Director of Forest Stewardship


DCR Co-Peace Timber Sale Tour:

September 4, 3:00 PM – 5:30 PM
Freetown-Fall River State Forest
Freetown, MA


DCR Forester Paul Gregory will be leading a tour of the 48 acre Co-Peace Timber Sale in Freetown State Forest to discuss forest management techniques in a white pine forest type, provide a view of the trees designated for harvest, and explain how harvest operations will take place. A detailed silviculture prescription for the harvesting operation will be provided to attendees. The tour is a follow up to public process that occurred this past winter and included a public meeting and a written comment period.

Meet at the gated entrance to Haskal Path (forest road), which is approximately 0.4 miles east of South Main Street along Copicut Road. After visiting stand 1, the tour will proceed to the State Forest headquarters on Slab Bridge Road to visit stand 2. The tour will be conducted rain or shine. Attendees are encouraged to dress for the weather and to wear sturdy shoes.

For additional information about the tours and DCR forest management on state forests, parks, and reservations, please contact William Hill, Management Forestry Program Supervisor, at 413-545-3891.

For more information see
DCR Forest Management Proposal Freetown Co-Peace

Forest Management on State Lands

Directions
Freetown State Forest is located in south-east Massachusetts. From the north: Take Rte. 24 south to exit 10. Bear left onto South Main Street. Turn left at four corners onto Rte. 79 north and right onto Elm Street which then turns into Slab Bridge Road; continue for 1.5 miles to the forest entrance.

---
Friends Network 2013 Conference—Focus on Friends



Planning is underway for the 2013 Friends Conference. This year, everyone will have a chance to discuss the challenges particular to your Friends group. We will begin the day by reviewing the goals and priorities set at the 2007 Partners in Parks Conference (where the Friends Network began) and evaluate the current status of our original goals for better care of forests and parks in the Commonwealth. Review the 2007 Partners in Parks Report

Focus on Friends Conference goals. How can we:
Strengthen Friends Groups
Strengthen Partnerships between Friends groups
Strengthen Friends groups' partnerships with DCR and other groups
Prioritize action for the enhancement of Massachusetts' forests, parks, trails and beaches
In a few weeks we will distribute a survey to find out what topics are of interest to Friends groups. You'll be invited to present your topic of interest or join those with similar interests for a panel discussion or workshop.

Bring your group's brochures (sorry, no displays) and wear your group's logo clothing for the group photo. We will send out details about lunch options and a modest fee to cover space and materials soon. Please notice the change in location this year to Upton, which appears to be central to the most Friends groups.

We will be opening nominations in September for the Friends Volunteer of the Year and the Department of Conservation and Recreation (DCR) Friend of the Year awards. Look for details in the next newsletter. Meanwhile:
Save the date to join your Friends
at the
Friends Network Conference
Saturday, December 7
9:00 AM to 2:00 PM
VFW Post 5594
15 Milford Street
Upton, Massachusetts
Help Distribute The Massachusetts Off-Highway Vehicle Handbook

The Mass Environmental Police (MEP) has produced an excellent booklet, The Handbook of Massachusetts Off-Highway Vehicle Laws and Safe Operating Procedures for OHVs.

Hard copies of the Handbook are available for distribution by contacting OHV.SafetyCourse@Massmail.State.MA.US. Please help the MEP distribute the Handbooks. Thanks for your help!

---

DCR Stewardship Council




Next Meeting: September 6, 2013, 1 PM - 3 PM
Western Gateway Heritage State Park

The Department of Conservation and Recreation (DCR) Stewardship Council is a thirteen member citizen council appointed by the Governor to oversee DCR polices and programs.

Members of the public are allowed a few minutes to make comments at each meeting. The Stewardship Council holds its monthly meetings at various parks across the state to encourage public participation. Why not take the opportunity to introduce your Friends group to the Stewardship Council when the meeting is held in your area?
More about the DCR Stewardship Council

---

Sign up for the 2013 Massachusetts Historic Preservation Conference

Registration is open for the 2013 Massachusetts Historic Preservation Conference, to be held in Lexington on Friday, October 18.

Does your park contain historic resources? Learn what you can do to help preserve them at this conference. Join your colleagues for sessions, roundtables and case studies focused on current issues, best practices, preservation fundamentals and advanced topics. Visit the Resource Room, and network with fellow preservationists and professionals throughout the day.

Conference details are available here

---

Featured Friends Group - Friends of Myles Standish State Forest

Friends of Myles Standish State Forest, DCR and Mass Wildlife to host the 7th Annual Take Me Fishin' family event.

Saturday
September 28
10 AM - 2 PM

Fishing contests and fun nature activities for all ages. The event will take place at Fearing Pond which is stocked with trout. Come for an hour or stay the whole day; bring a picnic lunch! This family fishing event is accessible, free and open to the public. Fishing poles, bait and assistance are all provided.
Event Flyer
Massachusetts Forest and Park Friends Network