Special Offer

A Special Offer for DWDT Patrons
Our first performance of Aida with Houston Grand Opera is in just a few weeks. It's not too late to purchase your tickets!
As our supporter, we invite you to take 20 percent off of your ticket purchase by using promo code 4222 when you purchase your tickets online or call Houston Grand Opera's Box Office 713-228-OPERA.
---

Aida : A Collaboration
Patrick Summers, Houston Grand Opera Artistic and Music Director says, "I'm thrilled that our artistic collaboration will create dazzling new choreography for HGO's Aida, as well as display the incredible strength and scope of Houston's vibrant arts scene."
In Aida, an Ethiopian princess enslaved to Amneris – the princess of Egypt – has fallen in love with the warrior Radames. As he rides into battle, Aida is torn between her love for him, allegiance to her country, and loyalty to her family. Radames dreams that if he returns triumphant, he will free Aida and marry her. But Amneris longs for Radames' affections, too. Romance and hope turn to crushing tragedy as the story unfolds.
Dominic Walsh will debut original choreography and stage movement for the production and DWDT dancers will help bring the story to life.
"I have a great respect for opera and have really enjoyed working with local organizations Mercury Baroque and Opera in the Heights on their productions in the past," says Walsh. "I'm now happy to partner with HGO and very excited to be a part of Aida."
Aida will run for seven performances through Saturday, November 9, 2013.
---
New Performances?
Would you like to see more DWDT programming in Houston? If so, we need your help!
As a nonprofit organization, DWDT relies on support from the community to bring our innovative performances to the stage. Please consider making a donation today so DWDT can continue offering performances, educational programs and community outreach.
---
Italia!
Thank you to everyone who braved the heat – and the mosquitoes! – to join us September 6 at Miller Outdoor Theatre for An Evening in Italy: Celebrating 2013, The Year of Italian Culture in the United States.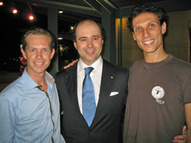 (l-r) Dominic Walsh, Consul General Fabrizio Nava, Domenico Luciano
The program featured Walsh's I Napoletani and Bello and if you missed it, you can watch it here.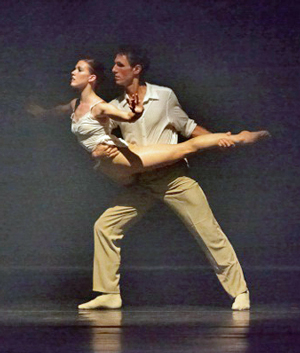 The evening was a success with over 2,500 people in attendance, but it would not have possible without help from our wonderful sponsors. A special thank you to Consul General Fabrizio Nava and the Consulate General of Italy in Houston, Miller Theatre Advisory Board, Intesa Sanpaolo, Saipem America, Eni, Ferrari/Maserati of Houston, Hotel Granduca, Arcodoro and Trips 2 Italy.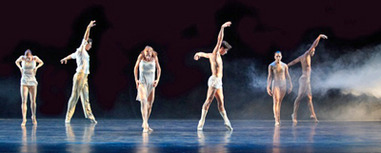 ---
Domenico Luciano
Congratulations to Domenico Luciano, who is dancing the role of Albrecht in
Giselle
as a soloist with Colorado Ballet. If you can make it to Denver, tickets are still available.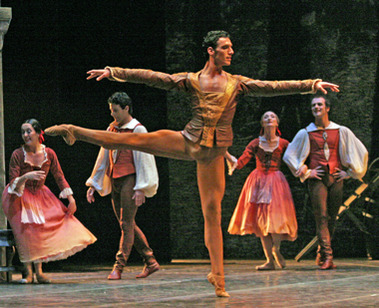 Domenico Luciano in
Giselle
with Teatro di San Carlo, Naples, Italy
---
Looking good!
Now you can look fabulous AND support DWDT. Place an order for your DWDT t-shirts today!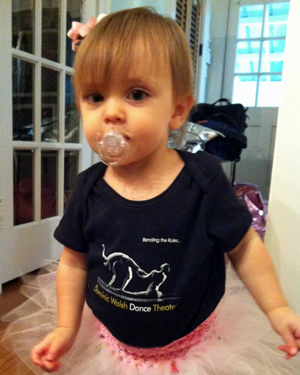 Adult Shirts - $20
Youth Shirts and Onesies - $18
Click here for details on styles, sizes and designs.
---
Open Class Schedule
Class is in session! Join us for one of our open company classes, led by Dominic Walsh and Tina Bohnstedt.
Classes are $15 each or you can purchase a class card – $140/ten classes; $70/five classes.
Week of Monday, October 7 - Saturday, October 12
11 AM – 12:30 PM
Week of Monday, October 14 - Friday, October 18
11 AM – 12:30 PM
Week of Tuesday, October 22 - Saturday, October 26**
11 AM – 12:30 PM (**There will be no class on Monday, October 21)
Week of Monday, October 28 - Friday, November 1
11 AM – 12:30 PM
Week of Tuesday, November 5 - Friday, November 9
11 AM – 12:30 PM (**There will be no class on Monday, November 4)
---
Do you '
Instagram'?
Check out DWDT's amazing photos at
---
---
Dominic Walsh
Dance Theater
2311 Dunlavy Street
Suite 210
Houston, TX 77006
---
---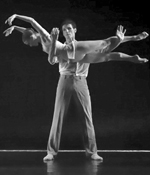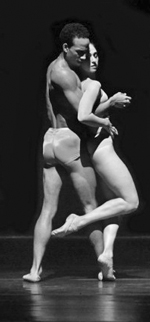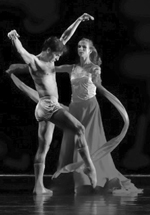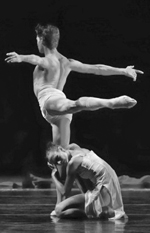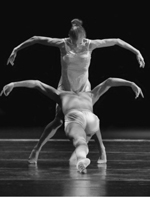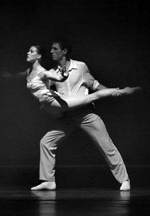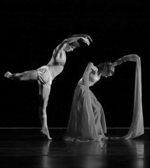 Photo Credit
Gabriella Nissen