Small Business Commission
Upcoming Events
Resources
Hi Carol,

It is hard to believe we are about to close out 2018, but before we do I have a few highlights to share with you. The Office of Small Business, Business Assistance center served over 3300 business clients; 33 long standing and well love businesses were added to the Legacy Business Registry, totaling 152; the Legacy Business Program launched a new logo; and Mayor London N. Breed kicked off the fifth year of the Shop & Dine in the 49 initiative challenging residents to do all their shopping and dining within the 49 square miles of San Francisco this holiday season and all year long. #shopdine49.

On December 10, 2018, Mayor Breed and Supervisor Vallie Brown announced a Citywide Storefront Vacancy Strategy that incorporates new legislation that streamlines the permit review process, supports a broader range of space use, and will enable temporary activation on vacant development sites. It also includes administrative reforms that will make it easier for small businesses to obtain permits and will strengthen coordination between city agencies.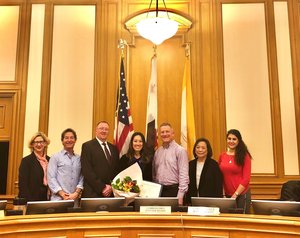 The Small Business Commission (SBC) on December 10, 2018, took the opportunity to honor yet say goodbye to two important and strong advocates for small businesses. District 4 Board of Supervisors, Katy Tang for her legislative accomplishments (too numerous to mention all), focused on small business, such as the awning and pedestrian lighting fee waiver during the month of May, establishing flexible retail as a new zoning definition, the accessible business entryway program, and creating a workplace lactation policy that is workable for all businesses.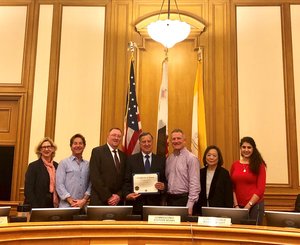 Jim Lazarus, Senior VP of Public Policy for his 13 years at the San Francisco Chamber of Commerce. Not only was Jim a 4th generation San Franciscan, Jim's wealth of experience in business and government made him a formidable force that helped San Francisco's legislature balance its progressive policy goals and still remain an environment in which small businesses can thrive.




From all of us at the Office of Small Business, we wish you a Happy Holiday and a great New Year!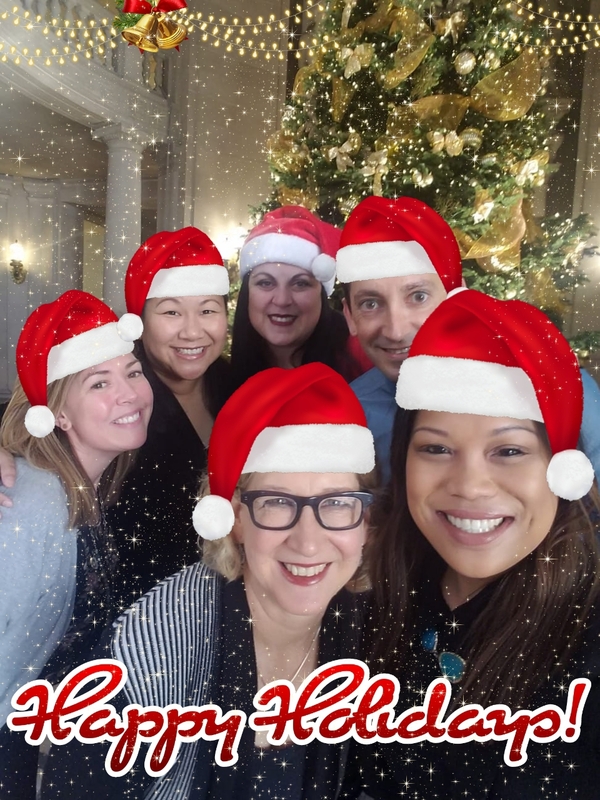 Sincerely,

Regina Dick-Endrizzi,
Director, Office of Small Business
---
News & Announcements
Office of Small Business - Holiday Hours



Due to the holidays and staff availabilities, please note our hours of operation on the following days. We will resume normal business hours of 8AM - 5PM on January 2nd.

December 24 - 9:00AM - 5:00PM

December 25 - CLOSED

December 26 - 9:00AM - 5:00PM

December 27 - 9:00AM - 5:00PM

December 28 - 9:00AM - 5:00PM

December 31 - 9:00AM - 5:00PM

January 1

- CLOSED



We've noted some important upcoming due dates in 2019 for businesses. Click here to view the list so you won't miss any important deadlines. Be sure to bookmark our homepage and check frequently for the latest details, helpful workshops and exciting events.
There is a new legislation requirement regarding Sexual Harassment Training and Education that require action by January 1, 2020. SB 1343 will affect all businesses with 5 or more employees. Employers must provide at least two hours of training to supervisory employees and at least one hour to training to non-supervisory employees by January 1, 2020, and every two years thereafter.

The Department of Fair Employment & Housing (DFEH) will develop two online training courses, one for supervisory employers and one for non-supervisory employees, and make them available on the DFEH website. Although the online training courses are not available yet, DFEH has posted a FAQ page about SB 1343. We'll share more updates as we have further information on this new requirement.

The Health Care Security Ordinance (HCSO) applies to businesses with 20 or more employees or nonprofits with 50 or more employees. The new 2019 HCSO poster and expenditure rates are available on their website. For more information, click here.

The Minimum Compensation Ordinance (MCO) covers most City service contractors and tenants (including at the SF International Airport). Starting November 11, 2018, for-porfit rate is $17.00 per hour. Non-profits pay no less than the SF Minimum Wage of $15.00 per hour. Effective February 1, 2019, public entities (i.e. IHSS) rate is $16.00 per hour. For more information, click here.
Effective January 1, 2019, the Department of General Services (DGS), Procurement Division, Office of Small Business and Disabled Veteran Business Enterprise Services (OSDS) will administer a new certification of Small Business for the purpose of Public Works (SB-PW). Check out the FAQs about this new certification. The application will be available on their website starting January 1st. For more information about the certification, click here.
​Please join us in welcoming Dominica R. Donovan as the new Senior Policy Analyst at the Office of Small Business. Dominica is originally from Boston and has been living and working in Washington, D.C. for the past five years. There she worked with the Federal government at both the Department of Labor's Office of the Assistant Secretary for Policy and the Employment and Training Administration. She also worked at the Department of Education. Before that she was a Peace Corps Volunteer in Tonga where she worked on projects that met at the intersection of education, gender, and economic development. In 2016 she earned her Master's in Public Administration from American University. She also holds a Bachelor of Science in American Studies and Education
.
​
Are you a small business owner impacted by the Accessible Business Entrance Program (ABE)?

The Office of Small Business is here to help. The ABE requires property owners of buildings that have public-serving businesses to make primary entrances accessible to people with disabilities.

January 1, 2019 is the first compliance deadline for Category 1 and 2 buildings. If you are a business that owns your building, review the program requirements for compliance details. If you are not going to make your deadline, the ordinance allows for a request for 6 month extension for reasonable delay; complete and submit the extension request form to DBI as soon as possible.

OSB has ramped up our support services for businesses who are in need of help navigating compliance. We provide one-on-one case assistance to explain compliance steps, identify landlord vs. tenant responsibilities and identifying a Certified Access Specialist (CASp) to survey the entryway. Visit OSB's ABE webpage for information. Contact Rhea Aguinaldo at (415) 554-6408 or rhea.aguinaldo@sfgov.org for help regarding the ABE.
Entrepreneurs of Color Fund

Longtime San Francisco nonprofit community organizations Working Solutions, ICA Fund Good Jobs, and Pacific Community Ventures are partnering with JPMorgan Chase to launch the Entrepreneurs of Color Fund in San Francisco. This initiative aims to make capital and business consulting more accessible to people of color who are starting or growing businesses in San Francisco. For more information, click here.
​
The Office of Small Business is pleased to present the new logo for the Legacy Business Program, which was approved by the Small Business Commission on October 22, 2018.
In 2017,
the Office of Small Business selected design experts Osaki Creative Group to develop the Legacy Business Program logo. They worked closely with a nine-member Legacy Marketing and Branding Committee on logo concepts and color options to develop a design that is bold, dynamic, memorable and timeless. Design elements are as follows:
Flame: The element of "fire" has great power for forging will and determination, and represents the inner light that burns in every soul. We incorporated the flame to depict the "soul of the city" that comes from Legacy Businesses.
Torch: The torch represents the endeavor for protection and struggle for victory. We incorporated the torch to highlight the passing of tradition and strength through Legacy Businesses.
Border: The border represents protection and gives the logo a badge-like quality – a mark of distinction, achievement and membership.
Ribbon: The ribbon is a symbol of awareness and support, representing the City's support of, and commitment to, Legacy Businesses.
Gold Color: Gold is inherently tied to the origin, soul and fabric of San Francisco. Gold signals wisdom, courage and passion which exemplifies the courage it takes to start and maintain a small business for more than 30 years.
Stay tuned for updates, and keep an eye out for the logo as you're walking around the city! The Office of Small Business is developing a marketing and branding plan and a toolkit for Legacy Businesses, including brochures, postcards, plaques, window stickers, a new website and more.
Celebrating Historic SF Businesses through the Legacy Business Program We're pleased to announce the following 15 businesses that were added to the Legacy Business Registry since August 2018. This brings the count to 152 businesses who are celebrated as longstanding, community-serving businesses in San Francisco.
​
A Legacy Business is a locally-owned for-profit or nonprofit business that has been operating for at least 30 years, garners a nomination from the mayor or member of the Board of Supervisors, and gets approval from the Small Business Commission. Businesses must demonstrate their contribution to the neighborhood's history or identity through the application process.
At least 72 hours prior to the Small Business Commission's meetings, agendas and Registry applications can be found at http://sfosb.org/meetings/10.
Interested in learning more out about Legacy Businesses? Visit the Legacy Business Program section of our website, which includes a complete list and map of businesses on the Registry.
Upcoming Small Business Commission Meetings Please join us at the upcoming Small Business Commission meetings in City Hall.

- December 24, 2018 at 2:00 PM - CANCELLED
- January 14, 2019 at 5:00PM (City Hall, Room 400)
- January 28, 2019 at 2:00PM (City Hall, Room 400)

Click here for Meeting Agendas. Attend in-person or watch online with SFGOV TV.
Business Spotlight
The Business Spotlight is a new feature in our newsletter. Every month, we will feature a small business in San Francisco. In the spotlight for this issue is The Job Hackers.

OSB staff assisted business owners in setting up The Job Hackers, a non-profit organization that provides a free six-week class which covers a wide range of topics that prepares participants to pass the Professional Scrum Master Certification and becoming Scrum Masters. They refer to as the "Agile MBA" class that takes participants much deeper into what it means to make effective decisions in the complex, knowledge-based world of software development.

The range of study is both broad and deep, allowing participants to not only apply this knowledge to software development, but to other complex, knowledge work. The class, by design, is free, though participants are encouraged to "pay it forward" through donating 18 hours of their time (the number of classroom hours they received for free) to local nonprofits and NGOs. As more and more companies move towards more Agile ways of working, The Job Hackers is providing excellent training for participants to be placed at such companies and aid in their transformations to Agile.
Upcoming Events
​

How to Start a Small Business in San Francisco - January 9, 2019, 11:00AM - 12:30PM




In this informative class you

will hear directly from the San Francisco Office of Small Business on rules, regulations, and important considerations for starting a business in San Francisco. Learn how to register your business, file a fictitious business name, and obtain other permits and licenses. You will also receive information on city programs and resources, including small business loans, tax credits and incentives, and technical assistance providers.

Click here to register.


Facebook for Small Business Workshop - January 10, 2019 Co-hosted by Supervisor

Vallie

Brown and

Divisadero

Merchants Association, this fun and educational event provides free in-person training, advice and digital skills to help grow your business. Every business starts small but dreams big. Learn directly from Facebook experts about the most up-to-date tools, insights, and best practices for achieving success on Facebook and Instagram. You will walk away with the resources you need to grow your business. Although the workshop is currently full, you can register to be added on the waitlist. https://divisadero.splashthat.com/