As always, I welcome any comments you may like to share with me.
---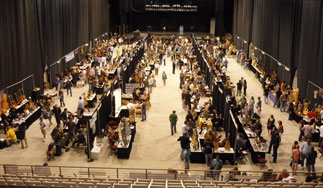 The foot traffic was very light at this year's show, but on a positive note, our table was well patronised and I had the pleasure of meeting many proud owners of williams guitars. Thank you, to all of you who stopped by for a chat.
I also had many great players stopping by the table to play "the guitars they had heard so much about". It is a thrill to see the excitement and surprise when folk actually play the New Generation Tui models and get their first taste of the tone.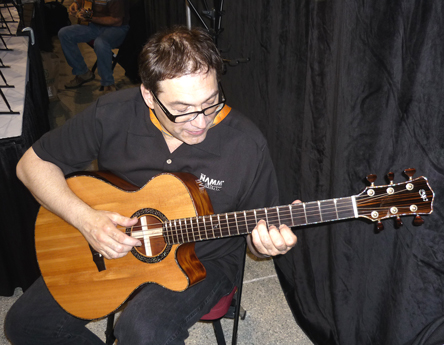 Don Alder and Richard Gilewitz in particular, spent quite some time playing and chatting behind the table, while fans stood around soaking up the impromptu, free performances. Richard is a bit of a fan of all things Kiwi, as he has been down under several times. Maybe it is time to do a tour on a williams....
I also had the opportunity to meet Simon Fox for the first time and hand-deliver his own Tui model. Simon played for me in a couple of mini concerts and also drew stares, playing at my table.
But I guess the highlight for me was the second mini concert Simon played. It was scheduled immediately after the concert of a little known production company by the name of C.F.Martin. You may have heard of it. They had somehow managed to enlist the services of Laurence Juber and the theatre was full. It was a great performance to be sure, but when Simon got up and played straight after, his music really let the guitar speak. There were more than a few honest ears in the audience able to appreciate the superior (am I allowed to say that!) tone of Simon's Tui.
There were some luthier's who did not like the presence of the big companies, but I say "bring it on!" It really helped contrast the differences.
I would like to say a big "thank you" to the show organisers, for giving me that slot.
---
Believe it or not, this is an artwork, a "sculpture" if you will, that I was commissioned to build by a New Zealand sculptor, Michael Parekowhai, a decade ago (where did the years go!). The sculpture proper, consists of ten arch top instruments. It was a great little apprenticeship for me personally and, as it was officially an artwork, it gave me the flexibility to experiment. After the first ten instruments were built (subject to a crushing deadline!) I used what I had learned to build four superior (and unhurried) additional artist proofs. The last (and best of all, I might add), I kept for myself as the "Luthiers Edition"and it has a few special features that I added; like the ancient kauri machine buttons and volume knob. You can view a slide show on my website here. Click on the picture (at right) to access the slide show.
I have been approached by several people recently, asking whether I would consider selling it. So for the very first time I have decided to offer it for sale. This "luthiers Edition" will be auctioned through an art dealer in July. If anyone would like more details, you are welcome to email me.
---
Some of you may be aware that from time to time there are some used instruments that are offered for sale, most often through various dealers. Sometimes I am asked about these instruments as to how they compare to my latest models. It is a delicate topic, as I do not wish to offend my loyal clients who have been enjoying their williams for many years. However, I am, naturally, always looking to improve my craft and the tone of my instruments and it would be dishonest of me to downplay the very real key advances I have made over recent years. Advances that have led me to label my new models as New Generation models. To me the differences really are that great.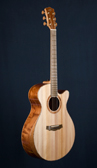 My New Generation models represent a significant step forward for me both in design and tone and these instruments date from around 2008. Instruments just prior to this time were using some of the design elements but it was not until 08 that several different elements were merged to produce what I consider my finest work. In many ways, I feel that the years prior were an apprenticeship to the guitars I am now building.
Finally I offer the following quote, from an email I received recently.
"I ... purchased your guitar from Robin at Guitar Gallery in Nashville, and also had looked at the used guitar at Dream Guitars. I just wanted to drop a line and tell you I enjoyed meeting you, and I am really enjoying your guitar. It is spectacular. It plays great and sounds better. I will definitely say that it plays and sounds better than the used one I tried in NC. Anyway I enjoyed meeting you- it is great to meet the brains behind the guitar that I am quickly learning to love. "